Lives of great men all remind us,
We can make our lives sublime,
And departing, leave behind us,
Footprints on the sands of time.
'Psalm of Life' by H.W.Longfellow

Down Memory Lane1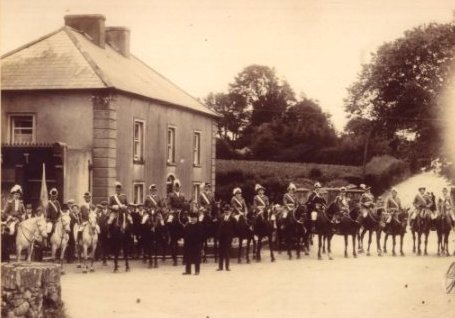 Catholic Emancipation Centenary march 1929
A picture of Horeswood horsemen assembled in Campile for the Centenary of Catholic Emancipation in New Ross.In Front: Canon Redmond and Matt Hart
On horseback: Major John Barnwell, Phil Murphy,Willie Murphy, Jim Boggan, Captain Heneghan, Tommy Quinn, Ml.Shannon,Paddy o'Connor,Peter Kehoe, Mikie Rowe,Larry Sinnott, Johnny Sutton,Paddy Barron, Tom Howlett and Jimmy Howlin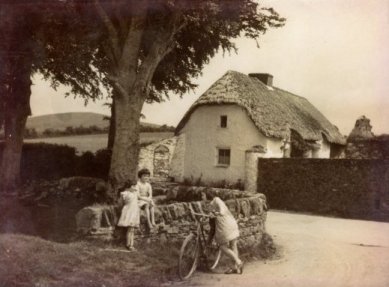 Griffin's Cross in the 40's
Sitting:Phyllis Kavanagh Standing:Teresa Kavanagh and with bicycle is Peggy Cleary.
It was customary for crowds to gather at the cross to play toss,skittles and road bowling.Mumming and dancing also took place here.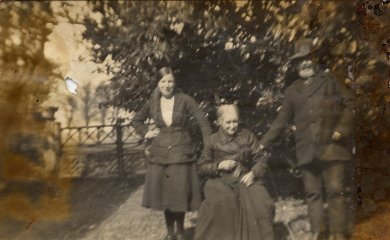 Honor Maddock, Mrs.Catherine Foley and Larry Foley
This photo is from around 1919. During the eviction at Foley's Fort in Oct.22nd 1887 Larry Foley led the tenants in the defence of his father's estate.After spending six months in prison he went to live in Ballykerogue Castle the seat of the Sutton Family. Foley's Fort is now the residence of Victor Murphy and the Castle is on Philip Murphy's farm.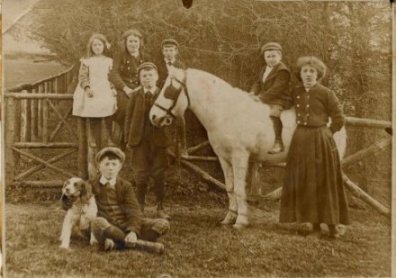 Murphy Family, Ballykerogue
Sitting on fence:May, Nell and Phil. John with the dog. Nick holding the pony.William on pony and Peg standing. This photo was taken around 1910. In the background is the double lime kiln which is still in fine working order in Jimmy Murphy's field.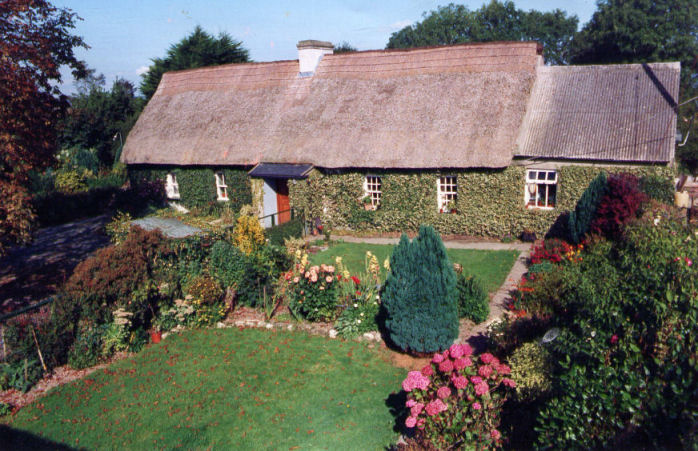 Warner's house in Ballyvelig is a fine example of a thatched house. This was the home of the late Chrissie Warner and the oldest house in the parish.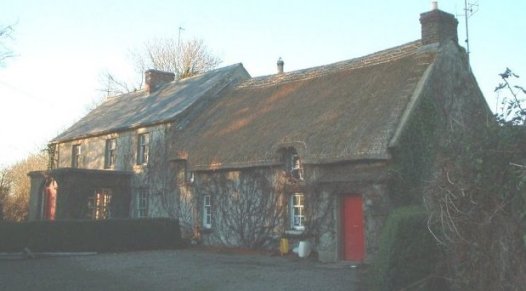 Jimmy Murphy's house in Ballykerogue mixes the old with the new.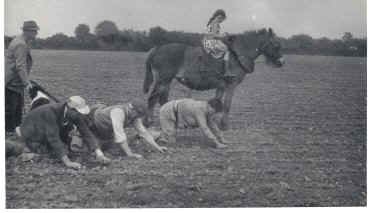 Thinning beet in Pat Grennan's of Ballykerogue
At this hard work in the 1950's are Paddy Grennan,Pat Howlin,and Pat Walsh,Aclamon. Bridget Lineger is on the pony which is pulling a drill cleaner driven by Pat Grennan.The workers moved on their knees using knee bags tied with binder twine for protection.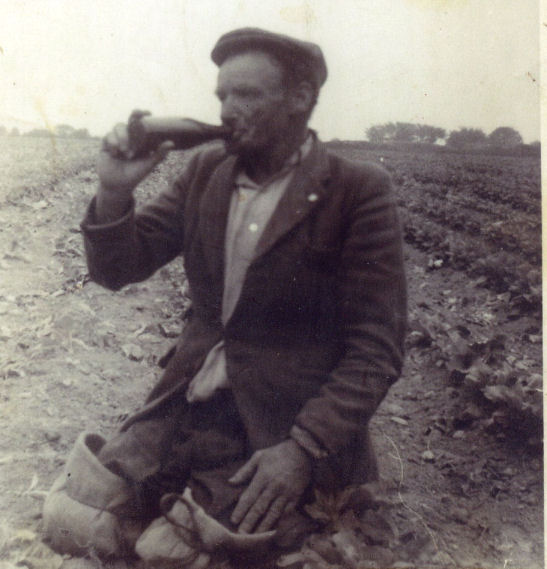 Well known and liked traveller, Mylie Cassidy, takes a break from the back breaking work of thinning beet in Paddy Barron's in the 1940's. Note the knee bags which were tied with binder twine.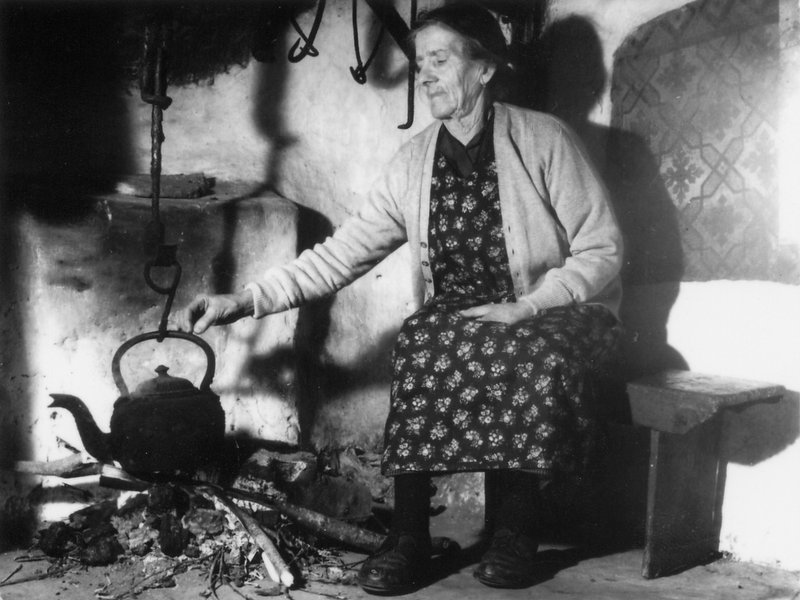 Maggie Whitty is seen at her open fire in Camblin. Níl aon tinteán mar do thinteán féin. Note the crane, the form, cast iron kettle,old style apron and sturdy shoes.
Thanks to Tommy Grennan, Denis Cadogan and Horeswood Historical Society for Photos which are included in Horeswood Historical Calendar 2004