Great Island Power Station

Picture of Great island Power Station
Great Island power station is about 3 miles from our school. The signpost for it is right outside the school. Great Island was once called Hervey's Island after the norman knight Hervey de Monte Marisco. The island no longer exists. Great Island was the first oil power station to be built outside our main cities of Dublin and Cork.
The building of the station started in 1963 and finished in 1967. It was opened by P.J Lawlor in Nov.1968 and blessed by Bishop Donal Herlihy the then Bishop of Ferns. It is built on 168 acres of land.The station is built near where the River Barrow joins the River Suir.The fuel used is oil. It was built on the River Barrow so that oil tankers can bring oil in. The oil is stored on oil farms at the station. There are 2 small generators of 60 megawatts and a larger one at 120 MW. There are 5 huge storage tanks and each holds 17,000 tons of oil. There are two compounds with transformers also.
The oil is heated to a temperature of 135°C in the burners. The steam made is then used to turn blades in the turbine and this drives the generator. A generator is like an electric motor with a magnet surrounded by coils of wire which spin. Next, the electricity made is sent to a transformer and then is fed to the National Grid. All the power stations feed into the grid.
The chimneys are 450 feet high. Huge silencers were installed so that local people will not be annoyed by the noise when the sets or generators are starting up.
In 1993 they refurbished the station and it cost 9 million pounds. All waste is treated at the station so that there is no pollution.
At the moment the E.S.B employs 70 workers at Great Island station.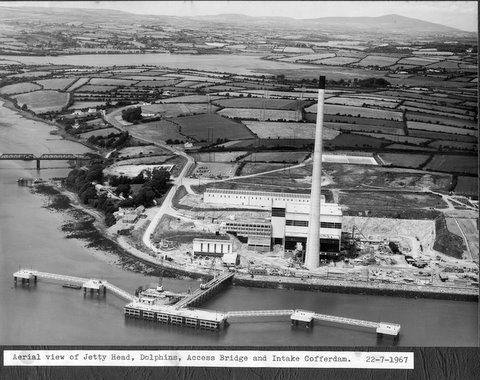 The Power Station under construction in 1967.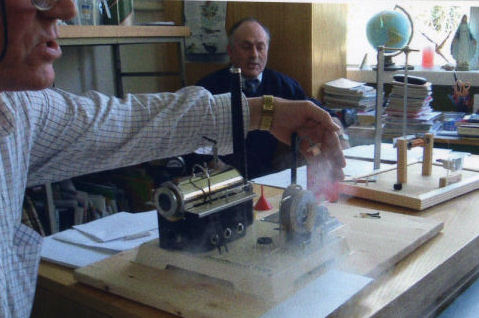 John Stafford, a worker in Great Island power station, demonstrates the working of a miniature steam engine for 5th and 6th class pupils. This is the same principle that the power station uses to generate electricity.
Please return to Local History