"St. Fechin was probably the most active and influential of the Irish saints of the seventh century. He is the first priest that is named in the Third Order of the Irish saints on the famous Catalogue published by Ussher in the Brittanicarum Ecclesiarum Antiquitates.

"Unlike his master, Nathy, who has never found a biographer, Fechin has had his life written by several persons. Colgan gives three lives of the saint; one composed by Augustine Magraidin, who was a Canon Regular of the island of All Saints, in the Shannon, and died there ... in 1405; another in twenty seven Latin hexameters, ... and a third, compiled by Colgan, who tells us he made the compilation from four different lives of the saint." (O'Rorke)

Those who have written about Fechin are almost unanimous in stating that he was born in Bella, a townland in Collooney (Kilvarnet) parish. Traditionally his mother's name was Lassara and she also is venerated as a saint. Fechin's name still lives on in parts of the locality: an area called Parc-Ehin (Fechin's field); Fechin's Well in the neighbouring townland of Kilnamonagh; Fechin's Bed, once a place of pilgrimage; Fechin's Strand near Ballysadare.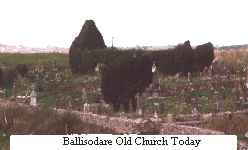 It is probable that Fechin belonged to the O'Hara family, and that his early education was directed by St. Nathy. Later he joined Nathy at Achonry and acquired his learning there. After becoming a priest he founded Ballysadare and several other churches in his native territory of Leyney.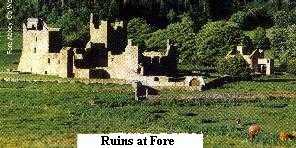 Fechin then left the West of Ireland and some time later set up his most famous foundation, that at Fore in Co. Westmeath. Fechin is so closely associated with this - later famous - abbey that he is generally called 'St. Fechin of Fore' (Naomh Féchín Fabhar). There are considerable ruins still at Fore, though they are almost entirely of buildings much later than Fechin's foundation.


In later life Fechin returned to the West where he was associated with foundations in Cong - later a famous abbey - and in west Galway and at High Island and Omey Island off the Galway coast.

St. Fechin died of the Yellow Plague on 20th January 664. O'Rorke says, "From the frequent mention of the holy man, ... it is clear that this fame continued unimpaired down to the period of the Reformation, when we find Dr. Hammer in the Chronicle of Ireland observe: "Ireland remembreth the feast of St. Fekin, that he was the king's bloud, and an Abbot, cured many of the flixe or fluxe, and dyed thereof himselfe."

St. Fechin's feast day is 20th January.

Short life of St. Fechin: Catholic Online Saints



---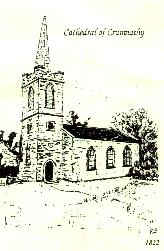 The Cathedral of the
Church of Ireland
diocese of Achonry.
(This is still in old Achonry.)

Back to Achonry
Back to home page