PARISH HISTORY



(A somewhat longer version of parish history may be accessed by clicking here.)

Before 1978 our present parish of Collooney (Kilvarnet) was part of the parish of Ballysadare and Kilvarnet, which, as its name indicates, was the union of two pre-Reformation parishes. Our parish history starts in that wider context.

Ballysadare (Irish Baile Easa Dara, the town of the waterfall by the oak) first receives mention in the records for the visit there of St. Colmcille in 575.


There is no mention of a church in Ballysadare at the time of Colmcille's visit. The first church that we hear about is that founded by St. Fechin, which was commonly called the great church. &nbsp (O'Rorke) &nbsp (For more about this church, and much else besides, see the work of the Highwood Community Resource Center at St. Fechin's Church .) The village grew up around the church and attached monastery. The ruins that remain on the site today may incorporate some of the earliest church.

As well as the "old church", there are today some distance away the ruins of another church called the Abbey. This may have been built in the thirteenth century when the monks, or "canons" as they were called, who had lived in separate cells throughout the town began to live under the same roof.



------------------------------------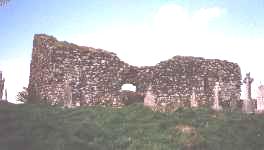 KILVARNET PARISH: The old parish of Kilvarnet got its name from the church of Kilvarnet (Irish Cill Bhearnait, the church of Barnet [O'Hara]). The ruins of an old church still stand today, probably of one built not long before the Reformation.

The Catholics lost the use of the old church at the Reformation. Its eventual replacement, the Church of St. Fechin and St. Lassara, was situated at Ballinacarrow at the other end of Kilvarnet parish.



---------------------------------



The Act of suppression of monasteries became law in 1537, but it took several years before the Act could be enforced in remote areas. By a lease dated 26th August 1588 we find that the Ballysadare Abbey and its property was granted for a term of 21 years to a Bryan Fitzwilliams, Esq., "one of her Majesty's servants". Some years later part of this property was granted by King James to John Crofton, Ballymurry, Co. Roscommon. His son Edward inherited this property and also got the O'Hara land at Temple House in 1606.

PARISH PRIESTS IN MODERN TIMES

The records of priests working in the parish in post-Reformation times begin in 1683. In that year separate priests are given for Ballysadare and Kilvarnet, James O'Connell and Patrick Henry, respectively. John Fitzmaurice, Parish Priest of Ballysadare 1768-1794 was the first to live in Collooney and from that time on the parishes were united into one parish, Ballysadare and Kilvarnet, sometimes loosely called Collooney parish.

In 1978 the united parish was divided into two parishes

        1. Collooney (Kilvarnet) comprising Kilvarnet and part of Ballysadare

        2. Ballisodare comprising the remaining part of Ballysadare.






Back to home page