Keane

of

Kilnamona

Australian migrations

Michael: The three brothers, Matthew, John and Michael were recalled in family lore in that order. Thus as the third and last son of Jack, and according to the 1901 census John was born about 1830, Michael's birth would have occurred about 1831 or so. In time, i.e. about the late 1840s or early 1850s, Michael inherited a third portion of Jack's land but family lore has it Michael's portion reverted to his mother Catherine (who in fact had held title to both portions of the farm after Jack's death and which eventually was inherited by John), and probably emigrated to Australia. An inference may be drawn from an 1896 Ennis court (see here) between Johnny Matthew (plaintiff) and his uncle Jack (Fady) (defendant) in a dispute over one of two church pews in the sole use of Johnny Matthew's family for the stated previous thirty years. Michael was stated in court to have originally owned one of the pews (then in use by Fady's family) the dispute would point to Michael's departure from the scene as about 1866. However, in view of the court evidence, it would seem unrealistic for such a young man to be able to subscribe the stated £4. 10s for the pew - perhaps he may in fact have been much older than John (thus filling that large gap of years between Matthew's and John's birth).

As yet there is no information on Michael's subsequent whereabouts or on his demise. Emigration to the United States cannot be ruled out but it is very probable that his nephew of the same name was drawn to Australia because of his uncle already lived there - see following.

Michael: In the next generation a son of Matthew's, again with the name of Michael was born December 1855 (per transcribed parish records) or 1858 (see as follows), emigrated to Australia died within a few (7!) years in 1883. His death notice read as follows: KEANE.—On the 10th March, at Jamestown, of consumption (tuberculosis) , Michael, third beloved son of Matthew and the late Margaret Keane, Kilnamona, Ennis, County Clare, Ireland, aged 25 years. Home papers please copy. R.I.P. Source web search: South Australian Advertiser (Adelaide, SA : 1858 - 1889) Thursday 15 March 1883 p 4, Family Notices (my thanks to nephew Finbarr Power, Kilnamona for this productive lead).

Francis (Frank) Keane


The second family in Ballyashea (with land adjoining each other) recorded in the Clare Tithe Applotments was that of Frank Keane into which Patrick Keane Deniliquin, Australia, was born. Frank (Francis) it seems was much younger than Mathew (1750's-1830's), perhaps a nephew and thus a first cousin of Jack! - see table of Keane families in Kilnamona over two centuries (19th and 20th) compiled in Forbears. As there is no trace of the Frank Keane family in the 1855 Griffith's Evaluation survey, and surmizing from Patrick below that he had a large family, it may be that the family fell on hard times and were evicted as others were in the 1830/40's.

Patrick Keane:-
Patrick Keane was born in Kilnamona in 1831to Francis Keane and Ann (nee Shannon) - most probably the same Frank listed in 1827 as a Tithe payer at Ballyashea (see table given in Forbears). Patrick was the 7th son of 13 children. He came as a warder from Albury, Australia to Deniliquin gaol (jail) NSW, in 1870, retiring in 1904. He resided in Deniliquin for nearly half a century. He died on 14 August 1919 at the age of 88 having been totally blind for some years before his death (Pastoral Times Newspaper, Deniliquin, 16 August 1919). His grave and headst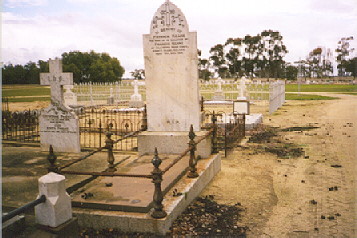 one is shown here.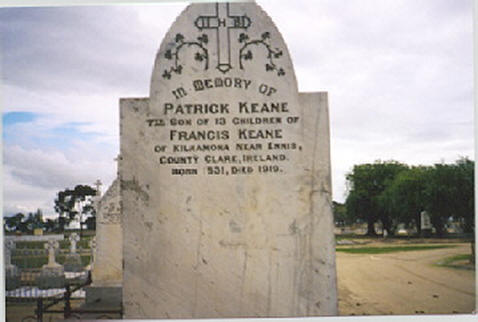 -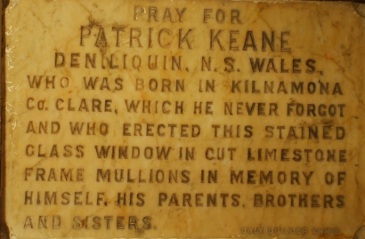 -

It seems Patrick was not married as there is no reference to a wife or children, or as to how he came to Australia. Several references to Patrick exist in Deniliquin mostly concerning church donations including 'a buggy and pair' for the church. In 1882 he was witness to a hanging in Deniliquin and in 1878 was admitted to hospital with a bullet wound in the leg. Patrick donated a stain glass window to St Joseph's Church in Kilnamona (probably around the turn of the 19th/20th centuries) where it can be seen to this day and a marble plaque is placed on the church wall in acknowledgment.

Above: Stain glass window and the marble slab donated by Patrick Keane in memory of his parents in St Joseph's Church, Kilnamona

It is not known where Patrick lived in Deniliquin from then until his death in 1919. His sibling Keane's in their entirety emigrated from Kilnamona, although one suspects that due to Patrick's loyal gift to the parish, the parents were buried locally. It would be intriguing to hear what happened to the remaining 12 children of the family.



The following is a for sale notice, extracted from a local Deniliquin newspaper, at the Royal Hotel at 12 o'clock sharp on January 21, 1904:-

Mackenzie Brothers

House & Land
account Mr P. Keane

One comfortable 4-roomed brick cottage, with pantry, bathroom and detached kitchen, verandah back and front, also W B. room 17 x 10. All securely fenced and situated on Allotment 3, section 205, containing one rood, and immediately opposite Mr O. Wilshire's private residence.


Grateful thanks:- to Sharon Keane, Darwin ex-Deniliquin and to Michael Keane (see below) and to the Deniliquin Family History Group Inc., especially Frank Nolan & Pat Smith (PO Box 144, Deniliquin NSW 2710). For additional information on Patrick Keane visit here



Michael Keane:-

Michael believes that his ancestors came from Kilnamona but has no definite evidence to support his claim. Michael says that the Patrick Keane described above who settled in Deniliquin, Australia was not directly related to his family (maybe a distant relationship!). Michael's father went to work in Deniliquin in the 1890's and knew Patrick, the only other Keane in Deniliquin at the time.

Michael's Great, Great Grandfather, Denis Keane (b. 1807) married in 1830 Susan Powell (Drumcliff) (b. 1810). A daughter Maria was born in 1832. The family sailed from Liverpool aboard the ship 'Clide' on October 18th, 1835, arriving at Port Jackson on 7th February 1836. Michael's Great Grandfather, Patrick was born in Yass, Australia in 1836, a few months after arrival. Denis set up a pub in the Yass area, but died in a typhoid epidemic (in the Yass area) in 1840. His wife took over and renamed the hotel 'Erin go Bragh'.

Michael thinks he may be of the Manus O'Cahane (Keane), gent. Leckane, Kilnamona - see the 1659 Census of Ireland. It is more plausible that the above Michael Keane is a descendant of Dennis Keane, Derroolagh, listed together with Thomas and Michael Keane in the Clare Tithes Applotment (1827) (see Data Table on Keane's of Kilnamona reproduced in Forbears). As Dennis is listed first, it may well be that he was the senior person and had a son named Denis (as was the custom of the times family names tended to be continued down through generations). The 1901 census lists only one Keane family in Derroolagh, that of Michael Keane (b. 1840), probably a son of Thomas, listed in the 1855 Griffith's Evaluation. The dates also fit very well.

updated March 2014