Keane of Kilnamona
Jack (Fady)
As we have seen earlier, Jack (John, 1790s-1850s) divided his Ballyashea farm between the three sons, Mathew, John and Michael. Michael seems to have gone to Australia or died young, or both, and John got his portion of land somehow. John remained on in the old house with his mother Catherine, on a farm which was then twice the size of Matthew's.
John, also known as Jack or Fady, was born in 1830 according to the 1901 census (where he was recorded as John Kane senior) and married in 1864, aged 34 yrs. His wife Susan (Linnane) was born in 1840. Their daughter Catherine was born in 1865, (possibly others), son John in 1870 and Mary (1873 but see headstone below!). The farm was transferred from Catherine's name to that of John in 1880 (perhaps only after Catherine's death which would then seemed to have taken place, probably in 1879).
According to the 1911 census both John (Fady) and Susan were still alive, then aged 80 and 73 years respectively.
Chapel Pew Dispute
A family dispute over a chapel pew (seat) ends up in the county Petty sessions (courts) as reported in the county newspaper 'The Clare Journal' in the autumn of 1896. The families in question were Johnie Matthew Keane and John senior (Fady), his neighbouring uncle. A dispute arose over parcel of land which Johnie Matthew had use of and for which he paid Fady an annual sum of money; after 12 years he ceased payment which led to a dispute with Fady but apparently matters settled between them a few years before the court case in question - apparently Johnie Matthew retained under sufferance! possession of this parcel of land for his own use.
Note: The plot of land of some four acres existed near the public road but at some short distance from Johnie Matthew's (and his descendents) farm; this parcel of land comes up again in a temporary transfer to Pat to facilitate his eligibility (applicant needed to be a land owner) in his quest for a share in the distribution of Crowe's farm in 1917/18!

From the newspaper report of the Assizes it appears that Jack, father to Matthew, Michael and John (latter known colloquially as Fady), derived ownership of a family pew when the Kilnamona chapel was being renovated in the 1840s; surprisingly from the court case it also appears that Michael purchased a pew at that time (stated by one of the parties to be 48-50 years before the court case) at a cost of £4 10s (a princely sum then!). As the church was built in 1842, the pews may have been purchased about then or soon afterwards, most likely before the great famine. As noted before in due course, either on Jack's death or when Matthew got married in 1847, each of the brothers were given equal shares of the farm although John and Michael continued to live at home with the mother. When Michael left the scene, as stated in the first paragraph his portion of the farm reverted to his mother (and thus in time to Fady).
It appears from the evidence that the Keane mother and Fady's family were in the habit of using Michael's pew while Johnie Matthew's family occupied the family (the late Jack's) pew. The upshot of 'disgraceful conduct in a Chapel' on July 26, 1896 was that Fady's family, deemed to be perpetrators of the row on that day, were fined and bound to the peace while no direction was given as to the rightful ownership of the disputed pew. Thus, Johnie Matthew presumably retained occupation of his pew (possession being nine points of the law!). A useful snippet of information for the webmaster from the evidence is the statement (on oath) that Johnie Matthew had occupied the pew for the previous 30-years; this seems to point to the years of 1865/6 as to the time that Michael left the scene. Another intriguing inference is that whereas the row over the pew took place on Sunday July 26th, 1896 the case was heard at least by August 2nd, i.e. within one week of the incident, solicitors briefed etc!!
Another Keane court appearance is recounted in the Petty Sessions of 1903 but some doubt still exists as to which Ballyashea Keane it referred to. see more.
------------------------------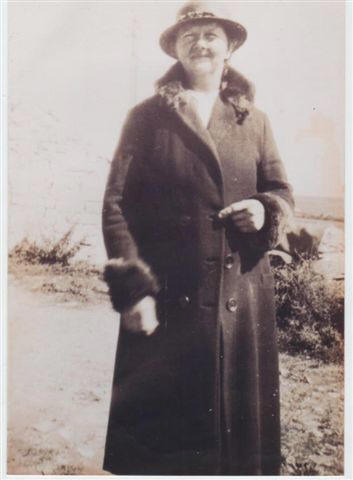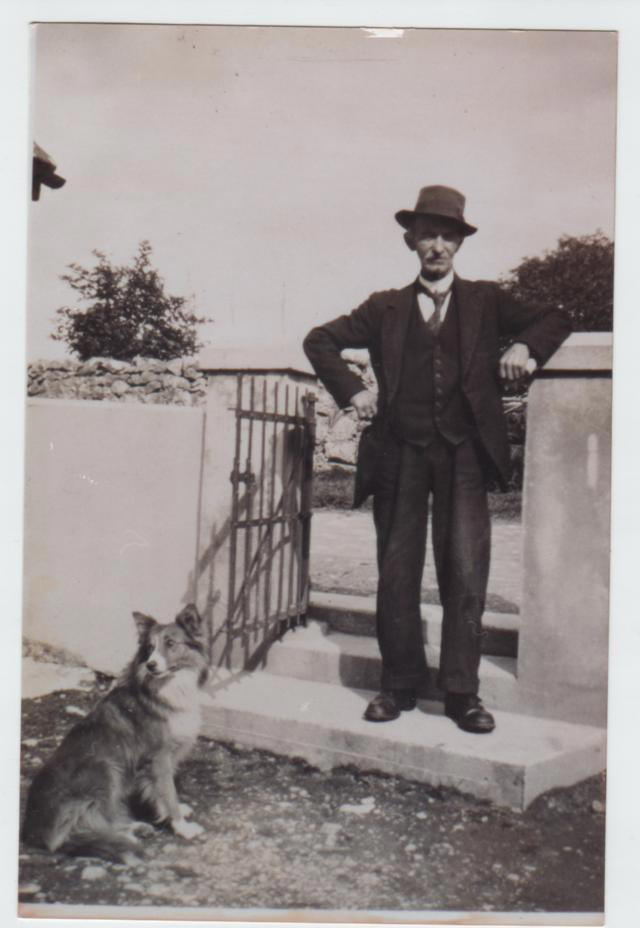 John Joe Keane (Fady's son, born 1870) and his wife Johanna (Leyden) ~ 1927. photos courtesy of Steve Cummins steve.cummins@people.net.au
-
-
-
-
From Feedback page, msg 42: My name is Steve Cummins & I am a grandson of John & Johanna Keane. My mother (r.i.p.) was Gretta Cummins ( nee. Keane ) She passed away last March (2007), here in Brisbane, Australia, aged 85 & 6mths. My grandmother was known to all the family as " Muddie " & she lived with us for a while in Dublin, after leaving Ballygriffey, & later moved with us to Manchester. I was actually holding her hand when she died at 85yrs on Christmas Day 1961. She is buried at Moston cemetery, as is her sister, known as Sister Mary Agnes of the Sisters of St. Francis. Muddies eldest daughter Norah is also buried in the same cemetery, with the name of Norah Lynott.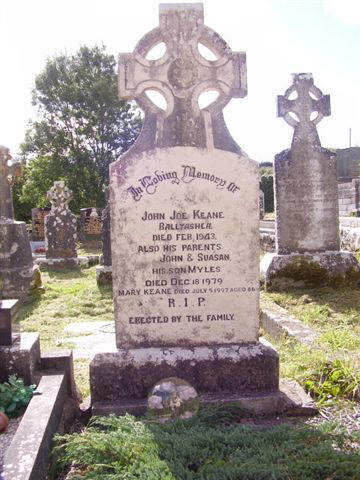 It is interesting to note that in the 1901 census the name was recorded as Kane. This is not so unusual as there was a tendency in rural areas of the west at that time to speak in a broad accent. In 1900, Mary (27) married John Keane (30), Derroolagh (Derula, see table in Forebears). Fady's son John (32) married Johanna Leyden (22 ), Inagh, in 1900. By 1911 census it seems they had 9 children, 7 surviving, namely, Frank (b. 1902), Norah (1903), Myles 1904), Mary (1905), Andrew (1906), Catherine (1908) and Susan (1910) (1911 census, National Archives, Dublin).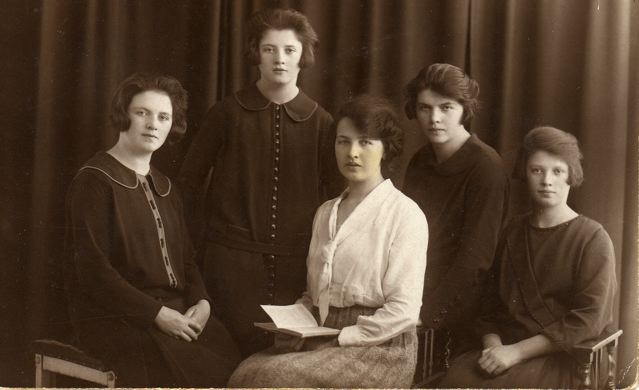 Above Left: Headstone over the grave of John Joe Keane & his parents, & also son Myles, in old cemetery Kilnamona (courtesy Steve Cummins, Queensland). Photos courtesy Steven Leyden, New York and Sheila Pickwell, Calif.

Right: Keane sisters in 1925, daughters of John Keane and Johanna Leyden. From left: Norah, May (Mary), Susan, Kitty (Catherine) and Gretta. Gretta was born in 1911 or later, hence her absence from above census.
Steven Leyden's Aunt Norah Leyden standing between two male Keane cousins (we're guessing that Frank may be on the right since he is oldest, Mylie or Andy is on the left). (surprisingly Mylie might be expected to be in uniform being in the National Army in the 1920). photographs courtesy of Mary Leyden, 99 years old in 2007, via her nephew Steven Leyden, New York (great, great grandson of James Hegarty and Brigid Kelly (see odea and Gretta), who added that his Aunt Mary possessed lots of information about her Uncle John and Aunt Johanna's family, including the girls and their brothers.)

Below: John Joe and Montage of the John Joe Keane Family of the 1920's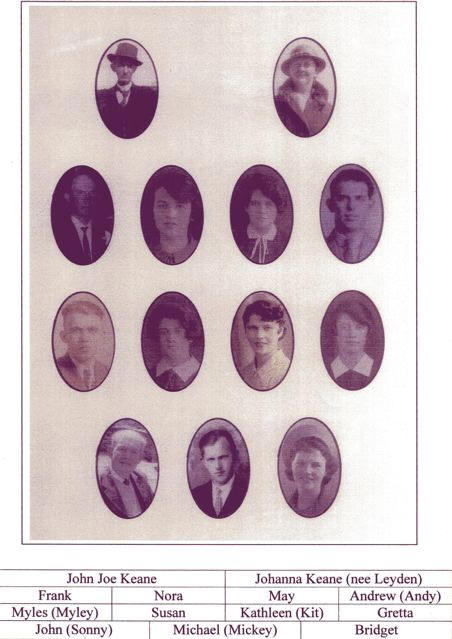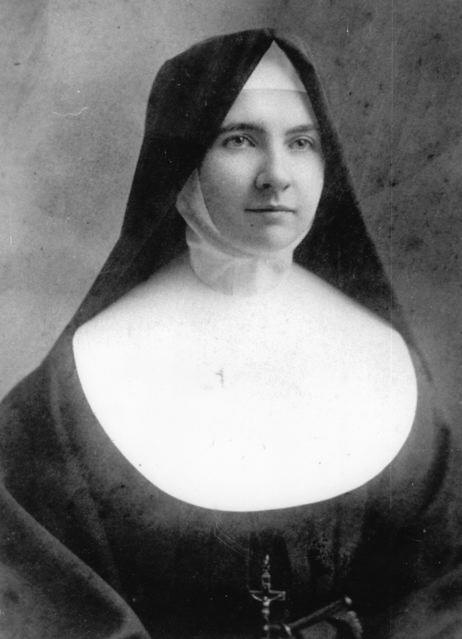 Photos:
Headstone, courtesy Steven Leyden Steven.Leyden@us.ngrid.com
Sr Agnes, courtesy Shiela Pickwell spickwell@ucsd.edu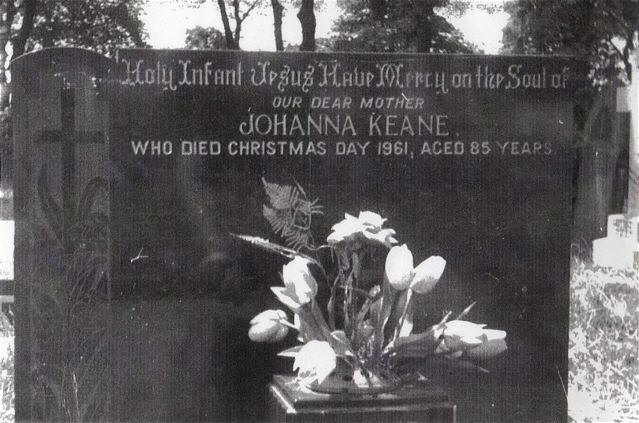 -
-





- -
-

-
-
-


John Joe & Johanna Keane Family

They had 11 children

Frank was the oldest. He married a Bridget Sullivan.

Frank Married into the farm of Brigid O'Sullivan, of Drumcreen, Kilnamona. They had 9 children - Maisie, Eileen, Paddy (Ennis, deceased), Jessy, Joe (Ennis), Frank (Francie, Ennis), Bridget, (Bibby), Susan, & Stacia. Of the five in family two, Francis and Joe, were very skilled Gaelic hurlers (national sport using stick and ball ) for the parish and county in the 1960's/70's.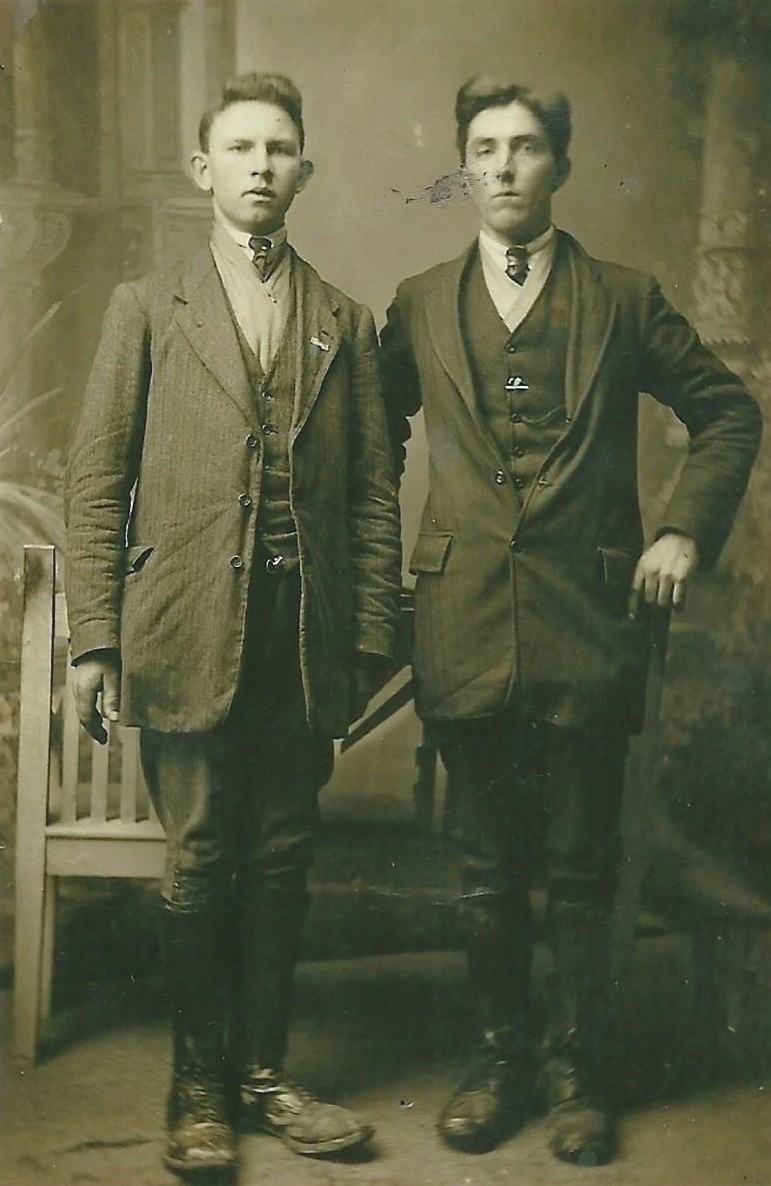 Frank took an active part in the Irish War of Independence, 1917-1922 (see Pat's extended Testamonial published in the Clare Library historical webpage). He was a member of the Kilnamona IRA Company (Coy). For example, one engagement he took part in June 1921 with his first cousin Paddy O'Keeffe (mother Leyden of the above family), Toureen East, Kilnamona was an attempt to disarm two British Black and Tan soldiers on duty outside a shop in Ennis. It seems that this attack was undertaken without Coy authorisation. The attempt failed and a running firefight broke out as the Volunteers rushed through the streets into a dead end. Trapped, they continued to fight until they were wounded and taken prisoner by the troops chasing them. Unfortunately, a six year old child was killed in the crossfire. Taking up the story from Pat who was then Kilnamona O.C Coy: 'Two volunteers from my Coy were dangerously wounded in an encounter with Black and Tans on the streets of Ennis on the 26th June 1921. I visited them at the Hospital, Ennis a few hours later getting through the guard to make arrangements for their removal. On (local hospital GP) Dr McClancy's advice they were not removed for two weeks'.
Pat also classed Frank as one of nine most active members of Kilnamona Coy (with membership 64) during the War of Independence. Frank also took the republican side during the Civil War period following Irish independence while his brother Myles (Mylie) joined the National army of the newly formed state.
Above: Comrades in Arms: Formal photo of Frank and first cousin (once removed) Pat, both active members of the IRA. Dating the photo from ~1920 - Frank (b. 1902) appears to be about 18 years of age and thus Pat (b. 1894) would be about 25/6 years!
Norah married a Martin Lynott.
They had 10 children - Rita, Norah, Sheila, Anne, Margaret, Susan, Martin, John, Patricia, & Mary.
Myles Keane was married to a Mary McInerney (Cork).
They met while Mylie was stationed in Cork when serving in the National Army. They had 6 children, Loretta (England but regularly holidays with husband in old home, Kilnamona, Delores, Michael, John (deceased), & Vera (deceased), Delores, Michael & Vera emigrated to N.Z. many years ago & they brought their mother out later. Michael now lives on the Gold Coast here in Queensland,

Myles (also known as Mylie) also took part in the War of Independence, 1917-22 (see listing in Clare Library) and subsequently joined the National army of the newly formed Irish State where he remained for about ten years. His first posting was at Ennistymon where he got into some difficulties assisting Pat's abortive effort to retake the Barracks (see account of this incident in Pat). His later posting to a Cork unit led to his meeting his future wife Mary McInerney. Mylie's excessive drinking lead his family emigrating to England in the early 1950's, he remaining in Ballyshea until his death in 1979. A number of very enjoyable Christmas 'wren dance's' (Céili) was held in Mylie's house.
Andy married Kitty (deceased 1951) Conlon
They had 4 daughters - Maureen (resides in Ennis), Philomena (in England), Kathleen (a Nun with Little Company of Mary), Mona (in N.Z.)

John's third son, Andrew - known locally as Andy John Joe - in turn inherited the home farm. Andy's wife Kitty, died in 1951 and later in the 1950's, Andy sold the farm (to Paddy O'Keeffe, Derula) and emigrated to England where he settled and remarried and lived to 1980's. He was buried in Kilnamona cemetery.

May married a Mr. Ali in Canada
They had 1 daughter, Anne, who now resides in Austin, Texas.
Catherine (Kitty) married a Mr. Harvey
They had a daughter - Susan who lives in England.


Susan married Edward Coleman
They had one daughter - Catherine (a doctor) who resides near Leighlin Bridge, Co. Carlow.
Margaret (Gretta) married Stephen Cummins
They had 1 son, Stephen jnr.*

John (known as Sonny) & ?
They had 2 children - John & Marie. Marie is in England & John is here in Brisbane & is with the Australian Federal Police.
Michael never married & lived most of his adult life in London.
Bridget married a Leslie White but no children.
They lived mostly in England until about 1985, then widowed she moved to Leighlin Bridge, Co. Carlow & set up a farm near her sister Susan.
(*Family information gratefully received (March 2009) from Steve Cummins, Queensland, Australia as obtained from his mother Gretta - most of her siblings now all deceased.
A Listing of Keane's interred in the old Kilnamona Cemetery

Keane, Andrew, d. 30 Nov 1951, Husband of Bridget, [AR]
Keane, Bridget, d. 14 Jul 1988, Wife of Andrew, [AR]
Keane, Bridget, d. 27 Oct 1982, age: 86yr, Wife of Patrick, [AR]
Keane, Cornelius, d. 7 Nov 1970, age: 38yr, Son of Patrick and Bridget, [AR]
Keane, John Joe, d. Feb 1943, Son of John and Susan, [AR]
Keane, Josephine, no dates, Daughter of Andrew and Bridget, [AR]
Keane, Mary, d. 5 Jul 1997, age: 86yr, [AR]
Keane, Myles, d. 18 Dec 1979, Son of John Joe, [AR]
Keane, Patrick, d. 18 Jan 1952., age: 58yr, Husband of Bridget, [AR]
updated March 24, 2009; latest update, November, 2014