Keane of Kilnamona
Kilnamona Keane's

Brigid Philomena, National Teacher
b. 4 March 1927; Secondary School Colaiste Muire, Ennis and Mary Immaculate Training College, Limerick, from 1950 Philomena taught for short spells in various national schools such as in south Galway, and then in Co Clare schools such as Killuran, O'Callaghan Mills, Kilnamona until numbers attending fell short, Newmarket on Fergus before becoming permanent in her native parish of Kilnamona; In her early years as a teacher in Kilnamona, she assembled and directed a local drama group, staging a number of plays both in the parish and in neighbouring parishes. In 1957 Philomena married Amby (Ambrose) Power, Ballyduffmore, farmer, and they live in Toureen, Kilnamona.
Family: Finóla (married, three children), Finbar (married, three children), Kieran, infant (deceased), Cathal and Senan (married, two children and one infant deceased).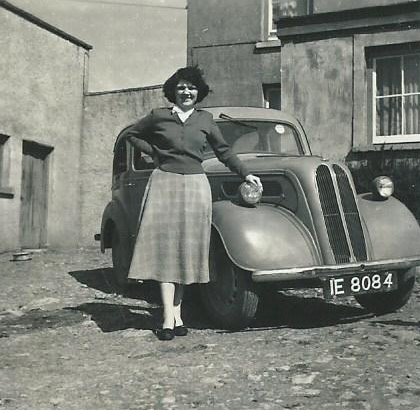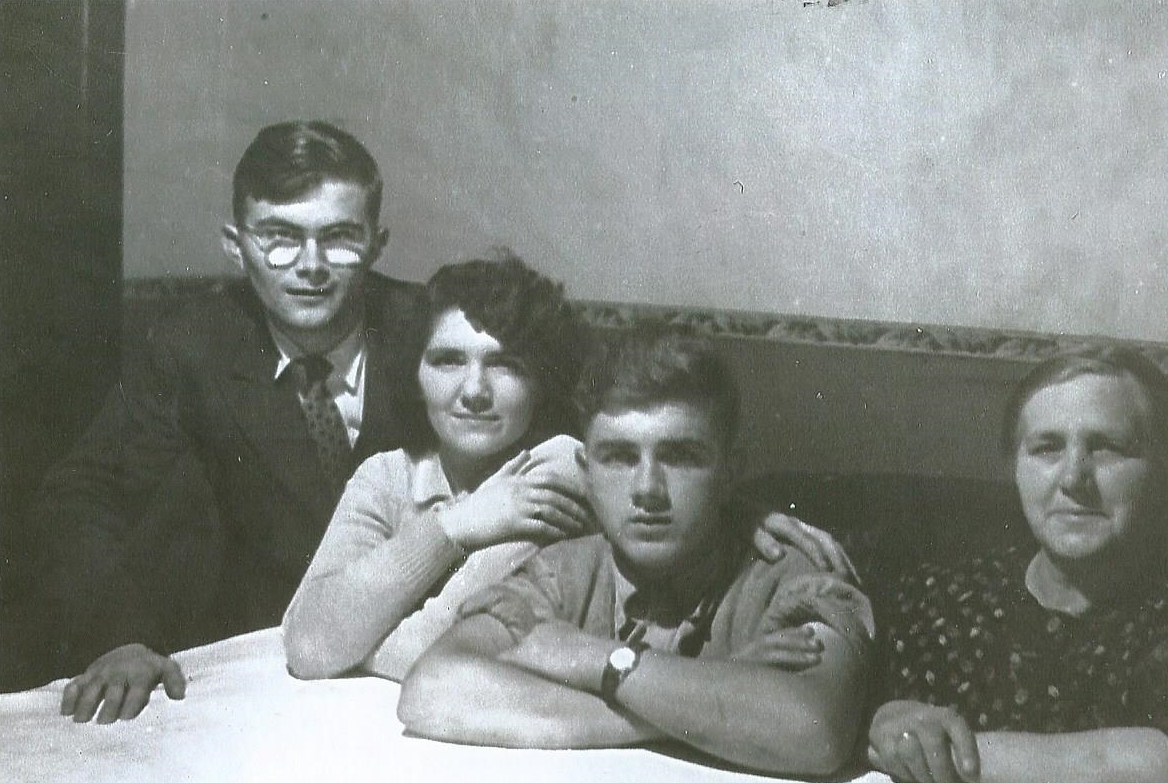 Over: Philomena with first new Ford Anglia car (1952); Philomena, her mother Bridget and brothers Thomas and Brendan (1956)
----------------------------------------------------------
William John, Farmer and Haulier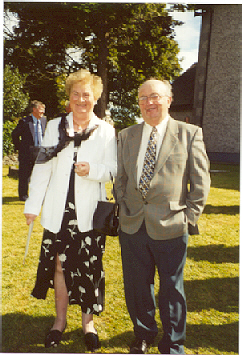 b. 22 June 1928; married to Kathleen O'Dea*, Kilnamona, 1960. Trained in 1940's as a mechanic, became a transport haulier, mainly for cattle in later years. Early heart conditions, which was rectified later in life. A farmer and raconteur, Willie has an interest in thoroughbred horses. He lost most of his sight some years before his death. Willlie died of a pulmonary respiratory condition in January 17, 2013 (RIP).

Family:- Declan, Fintan, Angela (married, four children), Aidan (married), Ann (married, two children, one infant deceased) and Colin (married, one child) (2014).

Photo taken of Willie and Kathleen at Mary Keane's wedding on September 31st, 2001
-
-
------------------------------------------------------------------

Paul Joseph, farmer.
Born on 25 June 1929, Paul was the fourth child of the family. After completion of national school education he remained on the home farm at Balymongaun. Marrying Bridget (Brid) O'Dea, Kilnamona (sister of Kathleen (see Willie), psychiatric nurse) in 1966, Paul inherited the home farm. A committed modern farmer, he concentrated mainly on dairying, supplying the local town of Ennis with daily fresh milk. Paul's farming system prospered greatly in the improving economic conditions that followed Ireland's entry in the early 1970's into the EEC (European Economic Community, now EU (European Union)). This he did by increasing greatly his farm holding through purchasing additional land including a farm adjacent to Ennis (a later to be rewarding investment) and modernizing his milking enterprise. Paul and Brigdet had five daughters in family.
Family:- Marie (married, two children), Deirdre (married, three children), Niamh (married, three children), Eithne (married, three children) and Maeve
-------------------------------------------------------------------
Brendan, Victualler and Abbatoir Proprietor
Born on 19 January 1940, the last member of Pat and Bridget's family. After second level studies, he trained as a Victualler in Galway city in the late 1950's. Returning to Ennis in February 1961 he established a victualler business in the county town which continues to date (now managed by son Bernard). He married Nancy Flanagan, Inagh. As well as being also engaged in extensive farming, Brendan acquired and has operated the Clare Abattoir, Ennis since 1986. Brendan and Nancy are expert 'Irish set' dancers. Bernard successfully received a liver transplant in 2012 (forever thankful to the donor, RIP).
Family: Bernard (married, two children), Mary (married, two children), Diane and Patrick.

-----------------------------------------------------------------