Keane
of
Kilnamona

The Dublin Keane migrants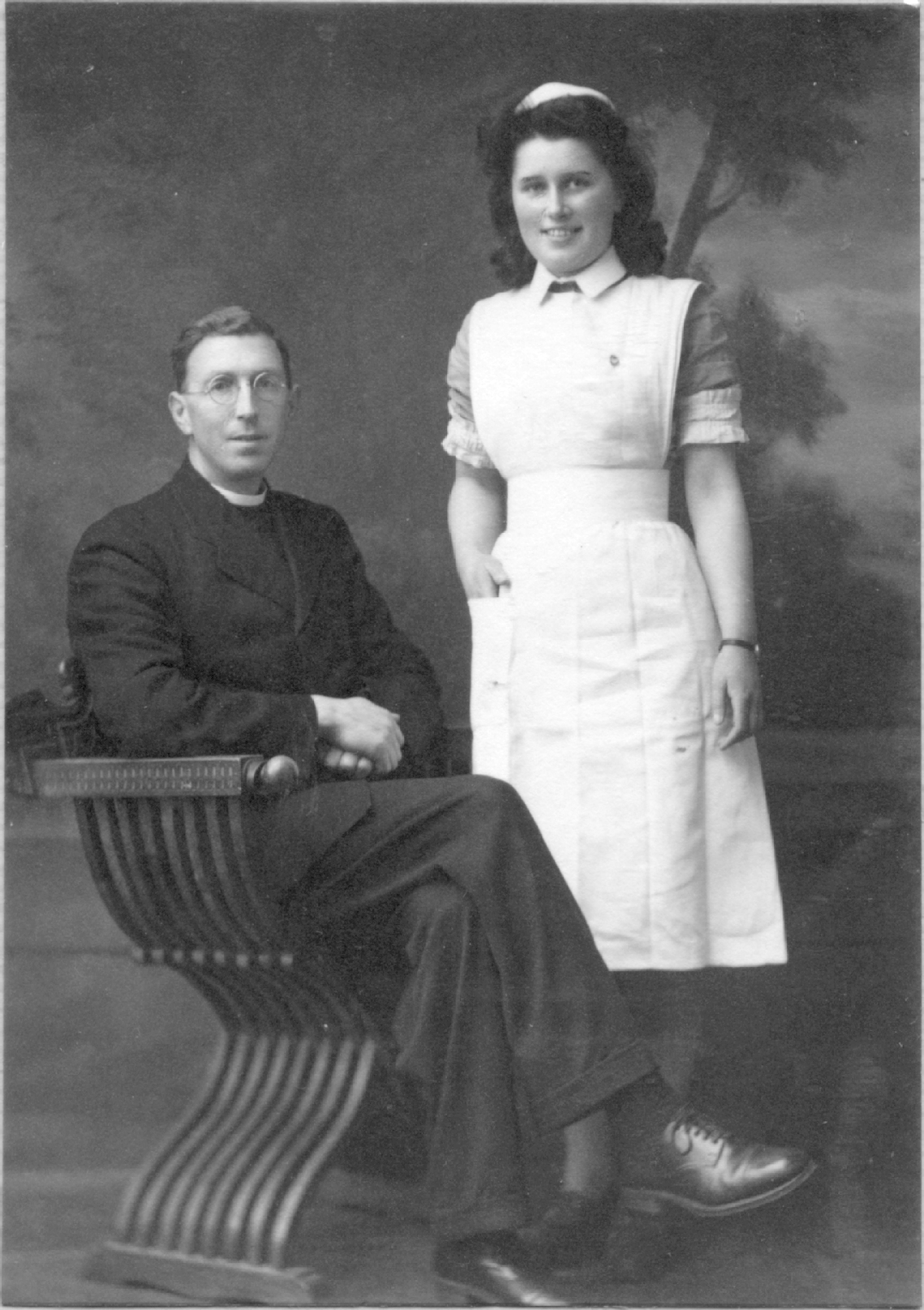 Mary Angela Nursing Home Matron. Born 2nd April 1926; Graduated Secondary level Leaving Certificate from Coláiste Mhuire, Ennis in 1944; Graduated as a General Registered Nurse (GRN) at Waterford County Hospital in 1947,and subsequently specialized in Tubercular nursing in Newcastle and Ballyowen Sanatoriums, Dublin. Married in 1956 Tom Conlon (from Westmeath), Insurance Agent, Dublin (deceased, 1993, RIP). Angela practised private nursing from the 1960's (e.g. Eamon DeVelera, long time leader and former President of Ireland). She became Matron of a Blackrock nursing home in the 80's and subsequently she became Matron of Newtownpark Nursing Home, Blackrock, Co. Dublin, from its opening in 1990; retiring as matron in 2003 she continues to be Director of Services there well into her '80's.
Angela as a young nurse at Waterford County Hospital with her uncle Brother Thomas, about 1948.
Children: Ann and John
-
-
-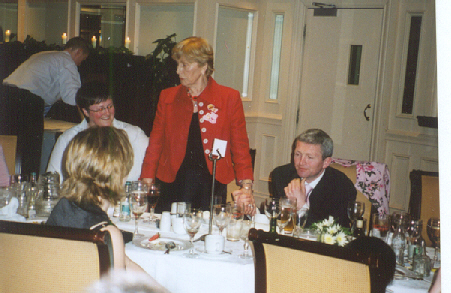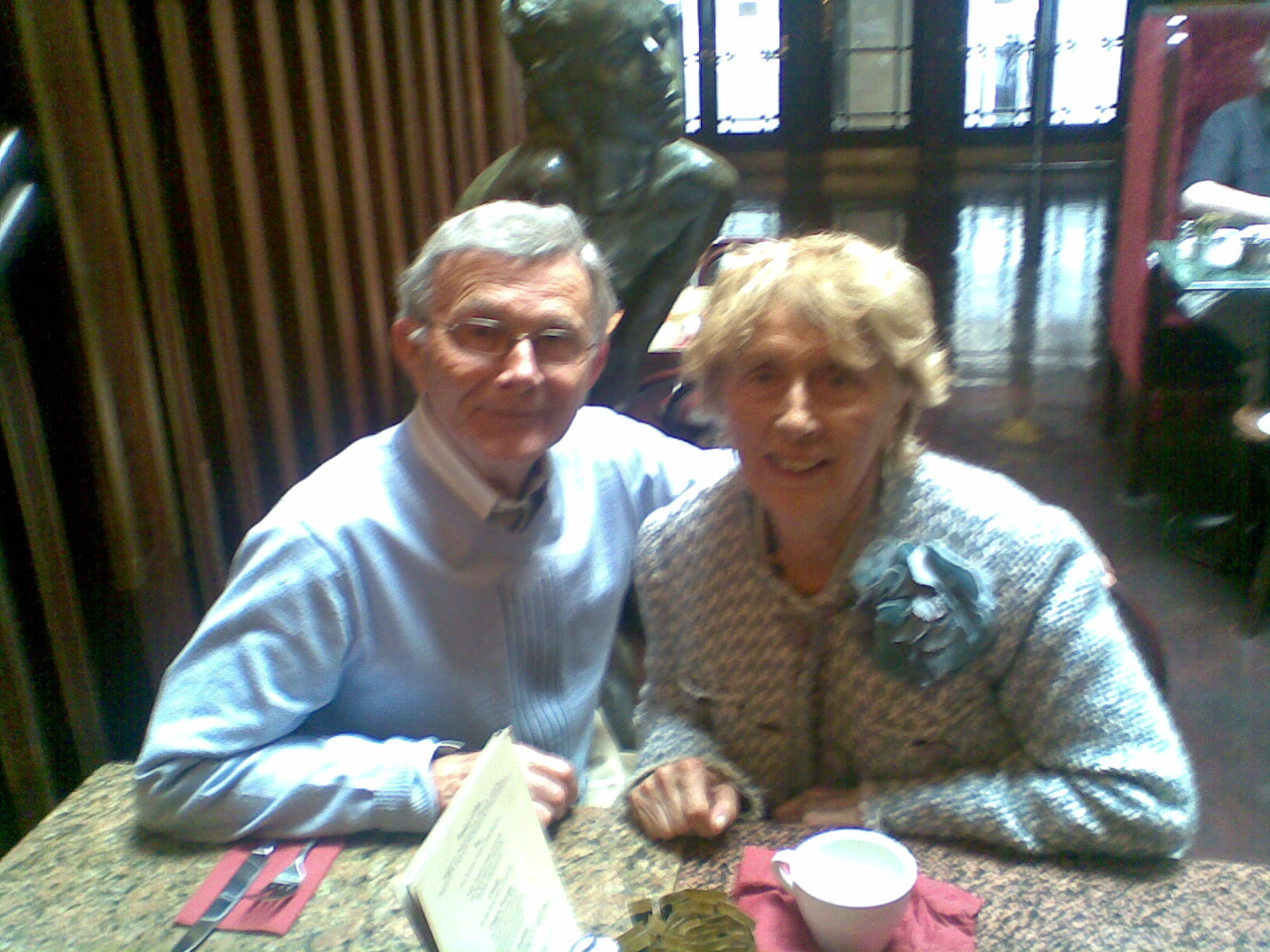 -
-
-
Above: Angela and Thomas (see below) meeting for morning coffee at Bewley's Grafton Street, Dublin, July 2007
Left: Angela responding to toasts at an extended family celebration of her eightieth anniversary at the Old Ground Hotel, Ennis, April 1, 2006. Her children Ann and John sit on either side of her.
- - - - - - - - - - - - - - - -
Michael Matthew (Matt) Property Developer and apartment landlord. Born on 29 September 1932 as per birth certificate but family lore has it that to comply within legal time limit for registration, it may indeed have been 29 August). Matt started his career on the home farm after national school, then emigrated to the U.S in late 1957. After some three years there, he returned to Ireland and started work in insurance sales in Dublin. Within a few years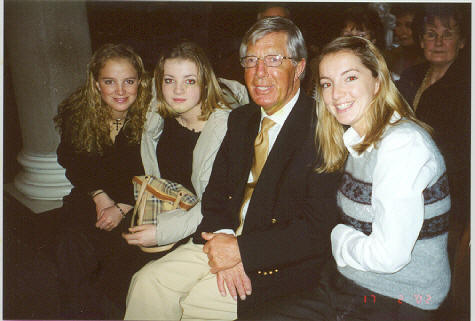 he concentrated wholetime on property development and apartment renting in the city. Over the years, Matt developed a large apartment/property portfolio in Dublin, mainly in the Rathgar and Rathmines areas (his buddies suggested Rathgar should be renamed Mattgar!) and also in other Dublin locations, and in later years Matt invested in office property in the UK. Matt married Catherine Edge, Dublin in 1974.
Children: Emma, Rachael, Catherine Ann, Michael, Elizabeth, David and Rebecca
Above: Matt with daughters Elizabeth, Rebecca and Rachael, January 2002
Matt died from complications of Mesenteric Arterioscelerosis, coronary artery disease and Mesenteric Ischaemia on 20 February 2013 after turning 80 years. A faithful follower of Clare hurling and much loved for his quirky ways managing his business and money there was an exceptionally large attendance at his funeral.
Over: Headstone erected over Matt's resting place
.
Over: Photo taken at the wedding reception for Elizabeth Keane and Andrew Roy (Sydney, Australia) held at the Spanish Armada Hotel, Spanish Point, County Clare, June 1, 2014.
Back row: from left; Andy Roy (groom), Paul Johnson (Rachael) and Peter Kearns (Emma); Front row: Catherine (mother of bride), Angela (aunt), Emma (sister), Kevin (US Keane cousin (US)), Elizabeth (bride), Mary Keane (cousin), Matthew (US), Rachael (sister), Thomas (Tom) (uncle) and Robert (US) with his wife Cathy.

--------------------------------------------------------
Thomas/Tom University Graduate, Senior Meteorologist, Irish Meteorological Service (Met Éireann). Born 8 December 1934, Tom contracted polio in 1942; In 1965 Tom married Maureen Kielty, Sligo (known later as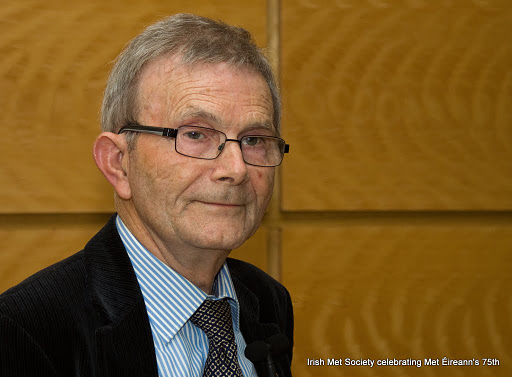 Dr Máire Uí Chatháin, Lecturer in the Education, St. Patrick's College, Maynooth (National University of Ireland Maynooth (NUIM)). Agrometeorologist in Met Éireann from 1979, and Senior Meteorologist and Head of Research and Applications Division from 1995, he founded the AGMET Group and participated in various related national and international working groups; and variously editor and contributor to agrometeorological publications. Tom retired at the close of the twentieth century continuing to be active in various capacities such as in Howth Sutton Lions Club. For a fuller curriculum vitae on Tom go to here.
Children: Damian, Fiona and Sheana.
-----------------------------------------------------------
Padraic (Pat) Property Developer. Born on 9 March 1936, Pat contracted polio in his childhood in November 1942 (together with his brother Thomas) which necessitated extended stays in hospital in Ennis (1943) and Dublin (1948)and left him with a noticeable step. Pat trained in Ennis as a cabinetmaker and emigrated to London in 1955 and to New York, US in 1958. Pat married Sheila O'Donnell, from Donegal in U.S.A in 1960. Returning to Ireland in 1965, and after a few years as an insurance agent, he started in the business of house conversion into apartments in the Rathgar and Rathmines areas of Dublin.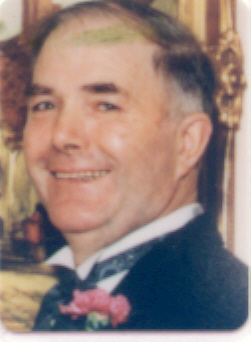 In the 1970's/80's he undertook various major projects as sub-contractor in city centre property developments, e.g. Powers Court Shopping Centre and the conversion to a shopping centre of the former Wicklow Hotel, Dublin. Setting up Pat Keane Construction Ltd, he purchased Blackrock House, Co Dublin in the late 1980's and converted it into a senior citizens' nursing home and senior citizen housing complex. Open to business possibilities and a risk taker, Pat was a perfectionist in his business, demanding high standards of himself and his employees. He was vivacious, readily engaging and easily made friends. Pat took up golf later in life. Pat died from a protracted coronary heart condition on 13 March 1993 and interred in Shangannagh cemetery, near Bray, Co Wicklow (RIP). Sheila died in 2008, aged 67, and interred in the same plot.
Above: Pat at Kathleen's wedding in 1992

Children: Patrick (deceased after birth, 1963), Thomas, Maureen (deceased, 1980) and Kathleen. (see Sheila top right hand of Matt's family photo above.)