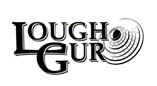 The legends and faery tales that have grown up around the Lough and the area are rich and complex.Gearoid Iarla the enchanted son of one of the Earls of Desmond and Aine, his mystical mother figure largely in local lore.
Gearoid mystical powers caused his father to show surprise; something Aine had warned him never to do. Gearoid disappeared beneath the water at this mistake and every 7 years he rides around the lake on a white horse of the silver shoes. When the shoes are finally worn out, the glory of the Desmonds will be restored.
Another tale relates to a man who tries to sell his horse at market for £5 but fails. On the road home, he meets a gentleman offering £4 10s. The man accepted the deal and was taken to a fine, spacious castle to be shown the horse of the Earl of Desmond. The horse had only three horseshoes; once he had the fourth the Earl would return for his horse complete with his armed guard.

To learn more tales, come to the annual
Halloween storyfest
.A seanachai will entertain you with the tales.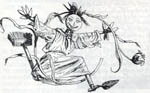 Ask about pishogues -local superstitions-and find out how to safeguard yourself against ill fortune.