Our Visit to Morton Stadium
We went to Morton Stadium on February 15th to learn more about athletics and to see just how fast, how high and how far Olympic athletes can run jump and throw.
Thank you George for a great day!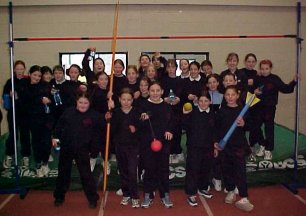 We are standing under the high jump bar, set at 2.05m, which is the Olympic record for women, set by Stefka Kostadinova, from Bulgaria, at the Atlanta Games in 1996. (The Olympic Record for men is 2.39m)
Warm -Ups

by Rachel and Caitriona

The first thing we did was a 400

metres jog to warm up.

We went around in twos.

We had to go around the track slowly.

Then we did exercises.

The exercises we did were back stretches, arm swings,

leg stretches, star jumps and neck stretches.

In the back stretches you had to put your arm down your back and you put your other hand on your elbow and stretch.

We did a star jump where you had to open your arms and your legs at the same time and jump.

We moved our heads and bodies from side to side. In the leg stretch we pushed up against the wall. We stretched one leg out and one in. We had to keep our heels on the ground and bend our knees and keep one leg straight. Then we sat on the ground and put our legs out. Then we had to touch our knees with our chin.

We also had to stretch our legs behind us and hold them with our hands.
Sprint Drills

by Stacey and Joanne

We did sprint drills after the warm ups.

The first one we did was like the sprint in slow motion we moved our arms and legs very fast and lifting our knees high.

Then we did the bottom kick we did the same except we kicked our bottoms. George also showed us adult sprint drills. They put their legs over hurdles just like they're stepping over it in fast motion.
Learning to do the High Jump

by Aileen and Ciara

George (our coach) put up a flexible bar instead of a metal bar. He did that so we wouldn't hurt ourselves. George taught us three different jumps. He put the flexible bar up to 70cm. Then we had to take off on one foot. We lifted up our arms to make us go higher. Then we had to land on our back.

On the third one, the scissors we landed standing up. It was hard.

On the second one we landed sidewards on our bums.

Then George said we could pick our favourite jump and do them. George raised the bar to one metre. Joy was the only one in the whole class that didn't touch the bar. A lot of people came close though. Joy did the scissors jump.

George showed us the women's Olympic record and it was 2.05m! That's really high.
Learning to Throw the Javelin
by Dena and Karen
The sport I enjoyed most was javelin.

There was an indoor and outdoor javelin. Joanne threw the indoor javelin the longest distance of 18 m.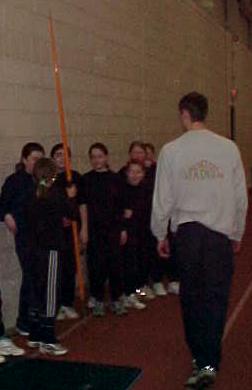 The indoor javelin was smaller and much softer. The outdoor javelin was longer and very sharp, both were very light, the womenís javelin only weighs 605 g., the menís javelin weighs 805g.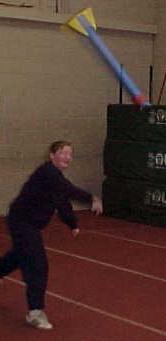 When you are about to throw a javelin you must find the right balance by holding it on the top of your hand without it falling off.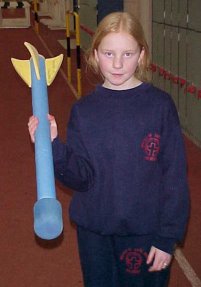 When you want to throw it you must run side ways like a crab and at a fast speed you let it go and see how far you can throw.
Even though javelin sounds fun it can also be very dangerous because the top of a real javelin is very sharp, so when coming to-wards a javelin donít run because look what would happen if you fall, (ouch!)
Our Mini-Olympic Records set at Morton Stadium on February 15th 2001
100m - Karen O Keeffe

- 16.72secs.

Florence Griffith Joyner set the Olympic record for 100m in 1988 in Soeul. Her time was 10.62 The time difference between Florenceís time and Karenís time is 6.10secs,
High Jump - Joy O Connell - 1m.

Stefka Kostadinova from Bulgaria set the Olympic high jump record in 1996 and she jumped 2.05m, The difference between them both is 1.05m
Javelin - Joanne Corcoran -18m
Trine Solberg-Hattestad from Norway set the javelin Olympic record in 2000. She threw it 68.91m The difference between them both is 50.91