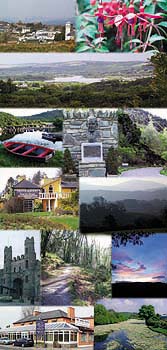 To those interested in archaeology, there are over 220 recorded sites in Múscraí, from liosanna to cromlechs, gullanes, crannógs and neolithic sites dating to 4,000 BC. Pre-history was a very busy time in Múscra&iacute ! But the visitor of today can step back, slow down, and drink it all in.

And speaking of drink! As you will see, we have numerous pubs to cater for the thirsty visitor, where a well-pulled pint and good conversation is the order of the day - or night. Equally, for those who have worked up an appetite, good local food is the pride of our hotels and restaurants.

Have you ever seen a hurling match? Or seen road-bowling played? Now's your chance! Whether it's fishing, hill-walking, cycling, swimming, set-dancing, or more sedate activities; visit the local Craft Shops, Heritage Centres, Art Galleries, and Visitor Centres. Also, we are ideally located for touring West Cork and the many attractions of County Kerry and Cork - there's just always plenty to do !! And when you're tired (and you will be after all that!) our warm and friendly hotels and B&B's will see you get the best night's sleep ever.

Above all - come for the Craic !!