West Cork Table Tennis Assoc.
NEWS 2002-2003
Archive: 2001-2002 Season
Archive: 2000-2001 Season
Archive: 1999-2000 Season
Irish Selections Emma Jane Helen and Andrea Shorten were selected for the Irish Schools Team to travel to the 6 Nations Schools International in Scotland. Coach Owen Kelly was also selected as coach for the U16 Girls Team that will include Emma Jane Helen. Both girls have performed well this season and this was acknowledged with another Irish Cap for the both of them this season. Both girls reached the semi-finals of the Consolation events, while the U18 boys team took Gold for the first time in a number of years and the U18 Girls took bronze. David Hayes who is a member of the Kinneigh Club and has family connections in Bandon, represented England, as players are selected from the schools they are attending and David is in England at present. David reached the semi-final of the U16 boys event and had a good series of matches during the weekend. David and Emma Jane will be in action again as part of the Munster Youth Squad when they travel to Brittany in August.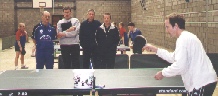 MUNSTER TRAINING CAMP was held in Dunmanway on 12 tables with over 60 players taking part throughout the day. This was also the first visit by Irish National coach Colum Slevin. Colum put a number of the top juniors through their paces during the day and this gave the growing number of West Cork Coaches an opportunity to observe and study new techniques from the best in Ireland. Camp Co-ordinator Owen Kelly was very pleased with the turn out as well as the level of support from the local clubs and schools. It is hoped that a number of these camps will be held through the season and that many more players and coaches will be able to benefit from this increased level of support
WCTTA Coaches Attending: Ivan Shorten (Kinneigh TTC), Iain O'Neill (Dunmanway TTC), Kurt Lyndorf (Goleen & Bantry TTC), & Owen Kelly (West Cork)



Munster Special Olympic Table Tenis player, Michael O'Grady from Bantry was given the opportunity by the Munster Branch to take part in a full Munster Training Camp. Michael was introduced by his coach Owen Kelly to the National Irish Coach Colum Slevin. Michael trained for two hours with some of the best juniors in Munster at the convent sports hall in Dunmanway. This was the first Munster training camp to be attended by the National Coach and was a welcome opportunity for all the West Cork coaches to gain further experience from one of Ireland most successful players.



Munster Caps 4 Kinneigh players were selected for the Munster Junior Interpros Team. Ruth Cocoran (U12), Andrea Shorten (U14), Emma Jane Helen (U17) and Alan Hurley (U17). Club Chairman Ivan Shorten Captains the U12 Boys Team. 2 Goleen TTC players were also selected Kloe Wood (U14) and Eliza Wood (U12).


Emma Jane Helen TIBHAR had an excellent Championship beating Sabrina Conway (Leinster) for the first time and helping the team take an unexpected Gold medal. The full team of Emma Jane Helen, Rachel O'Connor, Yvonne Hurley and Kelby Duggan managed to win without leading Munster Junior Anna D'Arcy who was unable to travel to Ulster.

Munster Senior Cap
West Cork player and coach Owen Kelly won his first Munster Senior Cap when selected for the Senior Interpros held in Dublin. Owen joined Kinneigh's Ina Shorten playing on the Veterans team. Owen who had been selected on three other occasions and had not been able to travel took the opportunity for the first time. Owen finished the season as Munster No.2.

WEST CORK OPEN TABLE TENNIS CHAMPIONSHIPS
15th - 16th MARCH, IMMACULATA CONVENT HALL, DUNMANWAY

The West Cork Open sponsored by Celtic Table Tennis, moved from the traditional February date still proved to be one of the largest Munster Tournaments this year. With competitions at U10, U12, U14, U17, U21, Senior and Veterans levels. West Cork players were once again to the fore with a number finishing in the top places.

Andrea Shorten (TDC Financial Services/Celtic Table Tennis) from the very strong local Kinneigh TTC took her second U14 title beating Munster No.2 Katie McSweeney in the final. Sara Dorney (Beech Hill) put in her best performance of the season to finish third. This means Andrea Shorten remains undefeated at U14 level in Munster this season, with maximum 2000 points. Kloe Wood from Goleen with some very good results finishes as Munster No.3. Marie McSweeney (Kinneigh TTC) finished No.6 in Munster this season. Andrea Shorten also had her best finish at U17s where she finished 4th, this moves her up to No.5 in Munster and will leave her seeded No.2 for next year with the top three girls moving on to U21. Teammate Emma Jane Helen (TIBHAR) returned from her break over exams and finishes No.4. Emma Jane will be likely to receive her 6th Munster Cap in a row at the Interpros next month and will start next season as Munster Junior No.1.

Alan Hurley West Cork Junior of the Year 2002 from Kinneigh TTC playing in his last U17 ranking put in his best performance of the season. Alan took out No.1 seed Eoin Hegarty (Ballincollig TTC) in the ¼ finals and then Killian Healy (Ballincollig TTC) in the ½ final. David Buckley who won his second West Cork Open title (U14 in 2001) and moves himself up to Munster No.3 halted his excellent run of form. Alan proved his ability and will have little trouble moving up an age category, when the Senior Rankings were published he moves into No.3 Senior in Munster.

West Cork is very well represented at U12 level with Ronja Bailey finishing 3rd. This added to her win at UCC is unlikely however to put her in the running for a Munster selection. Eliza Wood (Goleen TTC) finishing 4th over the weekend moved her into the Munster No.2 spot and Ruth Cocoran (Kinneigh TTC) who did not have the best of days (6th) still holds onto her final 3rd place position. Most improved U12 Susan Harvey (St. Angelas) lost the final to Evelyn Mullane (Beech Hill) who takes the top spot this season.

The U10 Boys competition caused a surprise when Aidan Grabbe (Ballincollig TTC) defeated Scott Shellard (Beech Hill) in the final. Scott still retains his No.1 position on past results, with Dionnacha Gleeson (Ballincollig) in 3rd. Local boy Robin Smiles (Dunmanway) finishes as Munster No.4 and Jonathan Reidmuller (Kinneigh) 5th.

Ian Shellard (Beech Hill) had his best tournament and took advantage from the absence of Munster No.1 Ross Griffin (Spanish Point, Clare). Ian beat Fiachra Landers in the U12 final and pulled off his best win of the season when he made the double defeating Munster No.1 U14 Denis Mullane (Thurles CBS) in a very exciting U14 final. U12s Eoin O'Callaghan and David Shorten both from Kinneigh TTC finished 5th and 7th respectively in the final rankings of the season.

The Senior event also threw up some excellent results for West Cork players. Philip Shaw (Beech Hill) made the double when he won the Veterans competition and then went on to win the Senior event as well. This leaves Philip as Munster Senior No.1 for season 2002-03. Donal O'Leary (Macroom) playing in his first tournament of the season reached the final and Owen Kelly (Goleen TTC) finished 3rd, this moves him into the Munster No.2 position and his best ever senior ranking position. Kurt Lyndorff (Goleen TTC) had an excellent result in the Veterans to finish 2nd and 3rd overall for the season.

Top 3 West Cork Open Results:
Senior Men: 1.Philip Shaw, 2.Donal O'Leary, 3.Owen Kelly.
Senior Ladies: 1.Louise Long, 2.Kelby Duggan, 3.Claire O'Callaghan.
Veteran: 1.Philip Shaw, 2.Kurt Lyndorff, 3.Ina Shorten.
U17 Boys: 1.David Buckley, 2.Alan Hurley, 3.Mike Spitere.
U17 Girls: 1.Rachel O'Connor, 2.Anna D'Arcy, 3.Yvonne Hurley.
U14 Boys: 1.Ian Shellard, 2.Denis Mullane, 3.Shane Minogue.
U14 Girls: 1.Andrea Shorten, 2.Katie McSweeney, 3.Sara Dorney.
U12 Boys: 1.Ian Shellard, 2.Fiachra Landers, 3.Scott Shellard.
U12 Girls: 1.Evelyn Mullane, 2.Susan Harvey, 3.Ronja Bailey.
U10 Boys: 1.Aidan Grabb, 2.Scott Shellard, 3.Donnacha Gleeson
U10 Girls: 1.Aisling O'Callaghan, 2.Aisling Healy.

Narrow Defeat for Kinneigh in Semi Final Team Kinneigh travelled away to Beech Hill on Wednesday, with Owen Kelly, Alan Hurley and Darren Buttimer taking on Milos Soukup, Philip Shaw and Louise Long. The match was a topsy turvey affair which came down to the last game of doubles, with Kinneigh needing to the win to draw. Hurley/Kelly took the first set 13-11 but Owen appeared to injur himself in the effort and without him able to move freely the pairing of Shaw/Soukup was too great and Beech Hill move on to take on either Harlequins or C.I.T. in a match delayed by an injury to David O'Rourke.
O.Kelly, bt P.Shaw, L.Long
A.Hurley bt L.Long
D.Buttimer bt P.Shaw

Kinneigh in Semi Final
Section 2 of the Cork Senior League has been completed and Kinniegh eventually finished 2nd behind CIT. It all appeared to be going down to the wire when UCC unexpectedly gave a 10-0 walkover to CIT. who they had beaten earlier in the season. This meant that Kinneigh would have to beat CIT 8-2 to finish top. Kinneigh could only manage a 5-5 draw and will now meet Section 1 winners Beech Hill A away in the semi-finals on Wednesday 12th. CIT will play Harlequins in the other semi-final. (Kinneigh Team: Ivan Shorten Cpt, Alan Hurley, Darren Buttimer, Donal O'Leary, Victor Anderson, Owen Kelly.

West Cork Ranking
The first West Cork Ranking was held in Dunmanway on the 15th February. Rankings

West Cork Schools Cup 2003 Full Results
The West Cork Schools Cup was divided into sections this year with Mixed, Boys and Girls National School Divisions and an U19 Open and U15 Open for Secondary Schools. 17 Teams overall entered the 5 Divisions, with a new entry from Hamilton High and Coppeen National School.

Clonakilty C.C. made it 3 in a row this year, they were pushed closer than they had been before when Sacred Heart a girls school also from Clonakilty put in an excellent performance in the final. The new Maria Immaculata C.C. in Dunmanway took the new U15 title from debutantes Hamilton High from Bandon.

The very strong West Cork National School competition saw last years winners St. Mary's Enniskeane win a very close mixed final with newcomers Coppeen N.S. An all Gael Scoil, Bantry girls final also went close with the "reds" winning out over the "blues." Bantry Gael Scoil also caused a surprise when they beat Togher A in the boys final to make the double.

LOVE ALL AT WEST CORK SCHOOLS
The West Cork Schools Cup is scheduled for the 14th February, Valentines Day, at the old Immaculata School Hall in Dunmanway. The event which, has been running for a number of years has proved very popular with a large number of schools. 15 Secondary School teams and 10 National School teams as far apart as Bantry, Goleen and Macroom have taken part. This year a number of schools also took part in the Munster Schools Cup with Schull community College taking the U15 Girls title and Bandon Grammar the U19 mixed title. Clonakilty Community College are hoping to make it three in a row and will be sending a second team to the event this year as well. For more information and entry form check out the www.ttireland.com website or contact Owen Kelly 028-35371

A West Cork Ranking tournament is being held at the same venue on Saturday 15th and any juniors living in West Cork are very welcome to enter on the day. Contact Vicky Ridgeway 026-49287 for further information.

The West Cork Table Tennis Association in conjunction with Munster Special Olympics are offering a quality table tennis training facility for any Special Olympic Host town Committees to enable them to provide quality training for their visiting international players. Please contact Munster Special Olympics Head Coach Owen Kelly for further details.

West Cork team Kinneigh are currently topping Section 2 of the Cork Senior League. With only one defeat against C.I.T. in Cork the team made up of players from all over the region (Kinneigh, Clonakilty, Coppeen, Goleen and Macroom) look set to make the league play-offs at the end of February.

West Cork Players at the Top of their game.
It has been a very busy time in the world of table tennis for West Cork players. The third Munster Rankings were held at UCC over the weekend of the 30th-1st December. Events were held at U10, U12, U14, U17, U21, Senior and Veterans and the event had one of the highest entries on record with players competing from 5 of the 6 counties with only Limerick not being represented.

The Goleen Table Tennis Club the most westerly club in Europe had a particularly successful event with all three players travelling reaching finals in their age group. 11 year old Eliza Wood put in an excellent performance reaching the U12 final where she was beaten by club mate Ronja Bailey. This was Ronja's first event of the season and Senior No.1 Linda Mountjoy presented her with the trophy. However Eliza remains at the top in Munster with her previous performances counting in her favour. Ronja Bailey went on to play in the U14 girls' event where she reached the semi-finals loosing to Katie McSweeney (Beech Hill) and finishing 3rd. Kloe Wood became the third Goleen player to reach a final when she played Katie McSweeney in the final. Kloe eventually lost 3-1 to finish second.

The West Cork U14 girls took full advantage of the absence of West Cork and Munster No.1 Andrea Shorten (TDC Financial Services) who travelled with the Irish team to the Liverpool Grand Prix. This event attracts some of the top players from all over the UK and is an English National Ranking event. There was great excitement at the UCC Open when the news of Andrea's results from Liverpool was text over. Andrea reached the semi final of the U14 event defeating No.2 seed Sophie Byron from Cheshire in the ¼ finals. Fiona Dennett, who has recently declared for Irish selection, eventually beat Andrea in the semi-finals. Fiona is currently based in Cheshire. Andrea who is currently Irish No.2 finished in third place.

Back at UCC and as the results in the U10 girls was completed it was clear that Aisling O'Callaghan (Kinneigh) had managed to retain her Munster No.1 position. Robin Smiles (Dunmanway) consolidated his 4th place position in the U10 Boys event. Ruth Cocoran (Kinneigh) completes a West Cork 1-2-3 in the U12 Girls rankings. Eoin O'Callaghan (Kinneigh) is the highest placed West Cork player in the U12 boys at 6th and is joined by club mate David Shorten in the current top 10. Andrea Shorten still remains No.1 at U14 and has been undefeated for the last 2 years in this age group. Kloe Wood moves up to 3rd with Marie McSweeney (Kinneigh) taking another top 10 place.

Barry Horgan (Kinneigh) put in the best performance of the U14 boys finishing 3rd. Alan Hurley had a disappointing finish in the U17 boys but still manages to retain his 3rd place Munster Ranking. Kieran McCarthy from Dunmanway put in a good performance and is ranked 12th overall.

The U17 girls sees a trio of West Cork girls, with Emma Jane Helen (Kinneigh) who recently was awarded sponsorship by TIBHAR Table Tennis, finishing 3rd over the weekend and she moves up to 4th overall, with team mate Rebecca Shorten in 5th and younger sister Andrea in 7th. With all three girls available for selection at the same age next year the future looks very bright for all the West Cork Clubs.

In the Cork Senior League Kinneigh are only 1 point from the top of the section with C.I.T. topping the group. Kinneigh's next match will be against 3rd place team U.C.C. who will make the long journey to Kinneigh's home venue, "The Round House" on Wednesday 5th December. Action starts at 8pm and spectators are welcome.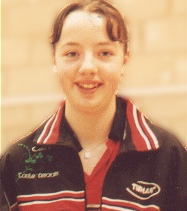 West Cork Players climb the Ping Pong Charts
West Cork's leading junior Emma Jane Helen has had an extraordinary start to the new season. Following up on her performance on the Enniskeane/Ballineen Community Games National championship winning team she travelled to Belfast for the first Irish Rankings of the season.

Emma Jane was at her very best as she eased her way into only her second junior semi final and a 3rd place finish putting her into the top three players in Ireland at U17 while still only an under 15 with two more years to develop. It was unsurprising that she received her first call up for an Irish squad travelling to the Roskilde Open in Denmark. She again proved her early season form when she reached the another semi final in the Junior B section of the event narrowly missing out in the fifth set to finish 3rd over all. Emma Jane learning from the experience met her opponent a second time in Junior A and this time beat her in three straight sets.

Emma Jane Helen has just confirmed her first exclusive equipment sponsorship deal with TIBHAR one of the Worlds leading equipment manufacturers, which will provide her with the very best equipment. Ted Bollard, Director of Celtic Table Tennis, who are the distribution agents for TIBHAR in Ireland, congratulated Emma Jane her recent success and hopes that with the support of a top European company like TIBHAR. He hopes that Emma Jane will be able to build on the tremendous successes that she has already achieved, all the more remarkable at such a young age.


Emma Jane will be joined by Kinneigh team mate Andrea Shorten at an Irish National Training camp in Dublin on the 23rd November. Andrea has also begun the season in excellent fashion and is sponsored by Celtic Table Tennis and TDC Financial Services, Cork. Andrea who is an U14 Cadet this year established herself as one of Ireland's leading cadets last season, with a final 3rd place ranking and representing Ireland on a number of occasions. This season she has gone on better finishing second in the recent Irish Ranking in Belfast.

Both girls will be in action on the 16th of November, again in Belfast for the STIGA Ulster Junior Open and looking to maintain their strong positions. The girls will be joined by Alan Hurley and Kieran McCarthy.

Dunmanway Open.
There is never a dull moment when the Munster players journey west in search of ranking points. The second Munster Rankings of the season certainly lived up to expectations with the largest entry for a Munster Ranking (other than West Cork Open) there were a number of shocks and thrills.

The Senior Men's Open was dominated by Ex Irish No.1 Brian Fitzgerald who beat West Cork Open Champion Tom Elliott in a high quality final. Tom put out West Cork's leading hope Owen Kelly in the ¼ finals. Owen went on to beat Killian healy and Eoin Hegarty to finish in 5th place. Kinneigh Team-mate Alan Hurley also had a good win over Killian Healy to finish 7th. Other West Cork players finished as follows: 12th Kurt Lyndorff (Goleen), 13th Jason Crowley (Kinneigh), 14th Ivanshorten(Kinneigh), 15th Kieran McCarthy (Dunmanway).

With nine other events from U10 to the over 40's it was a busy day for the organisers but with the best in the business Vicky Ridgeway running the desk and assisted by a number of volunteers both days went very smoothly.

The U10 Girls saw a good entry with local girl Rain Sherlock (Dunmanway) putting in a good performance to finish 3rd and Aisling O'Callaghan beating Cliodhna Kelly in the final. The U12 girls saw West Cork's first Champion of the weekend with Eliza Wood (Goleen) taking the title. Ruth Cocoran (Kinneigh) finished 4th.

Andrea Shorten (Kinneigh) sponsored by TDC Financial and Celtic Table Tennis took her 7th U14 Munster title in a row with Kloe Wood (Goleen) finishing in 3rd place.

Barry Horgan (Kinneigh) finished the best of the West Cork players in the U14 Boys event in 6th place. Dunmanway players Joe Sherlock finished 13th, Robin Smiles 14th and Finbarr Cronin 15th.

West Cork number 1 U17 Girl Emma Jane Helen was unable to play as she had been picked for an Irish selection for Roskilde in Denmark. Team-mate Andrea Shorten after winning the U14 title finished an excellent 4th in the U17 event with her sister Rebecca in 6th.

Alan Hurley headed up the West Cork players in the junior boys with a good win against Killian Healy of Ballincollig to finish 3rd. Kieran McCarthy (Dunmanway) finished 10th and Finbarr Cronin (Dunmanway) finished 11th.

Robin Smiles from Dunmanway had his best result ever finishing 4th in the U10 boys with Cian Edgeworth (Bantry) in 8th and Darragh Schwartz (Dunmanway) 9th.

Eoin O'Callaghan (Kinneigh) topped the West Cork entry in the U12 boys with a creditable 7th place, Joe Sherlock (Dunmanway) finished 9th, David Shorten (Kinneigh) 11th, Padraig McSweeney (Kinneigh) 14th, Gordon Forbes and John Coffey (Kinneigh) and Finn Glenn (Dunmanway) equal 17th. Eoghan O'Keefe (Bantry) and Darragh Schwart (Dunmanway) 24th, Robin Smiles (Dunmanway) and Shane Edgeworth (Bantry) 27th equal.

Kurt Lyndorff (Goleen) put in a good performance in the Veteran event finishing 4th, Ivan Shorten 5th and Ina Shorten (Kinneigh) 6th.

The next Munster Rankings are on the 30th of November so there is plenty of time to get in that practice!

IJR Ulster West Cork Style West Cork Dude
The Maysfield Leisure Center in East Belfast was the venue for the first Irish Junior Ranking Competition in Table-tenis this past weekend. Boys and Girls of all ages poured into this vast complex hopeing that their technique and table time would be good enough to project them into the higher echelons of Irish Table-tenis. First into the tournament were the strong contingent of 36 from Cork later the Leinster Connaught and Ulster players arrived. It was very evident from the outside this was going to be a long arduous task by the time all these players had been ranked

Junior Boys started with P Graham, C Fahy, A Bolland, J Boyd and "chinese dude" K Healy and E Mc Nally showing excellent form. E Mc Nally beat Shane Dolan in the quarter finals and "chinese dude" beat K Healy. In the final "chinese dude" beat C Fahy who had already beaten K Healy.

Junior Girls Sabrina, Amanda, Rachael, Emma Jane, Fiona M,and Andrea playing well.

Semi: Amanda beat Rachael, Emma Jane lost to Sabrina after falling behind by two sets and then fought back to level game. Amanda beat Sabrina in the final? with Emma Jane achieving a very creditable third

Under 12 b. D Keenan,M O Flynn,G Maguire and "ulster dude" played well M O Flynn beat D Keenan, "ulster dude" beat M O Flynn. Darren Casey, Ian Shellard, Eoghan O Callaghan finished high in the rankings.

Under 14 G. Fiona Amy Danielle and Andy came through groups fiona beat Danielle in the quaters, semis: Andy beat Fiona in 5 setter with time out called at 2-7 then 7-10 to win 12-10 SUPERB! Final: Amy beat Andy sorry dont have any other results

A Young Table Tennis Talent

Andrea Shorten a 13 year old from Castletown Kinneigh has had a remarkable month within Irish Table Tennis. Beginning with a third place finish at the Ulster Junior Open this was followed up with an excellent performance representing Munster at the Junior Interprovincial Championships in Ballina, Co. Mayo. During the Championships Andrea beat the current Irish No.1 Amy Tobin from Leinster. Andrea returned from the championships to represent Ballineen/Enniskeane in the CMP Cork Community Games finals where they won the title and will represent Cork in the provincial finals in Limerick.

Andrea continued her winning ways playing for her school Bandon Grammar in the Munster Schools finals against St.Angela's College, Cork. Bandon Grammar pulled off a surprise victory which took them onto the All Ireland Finals in Dublin, where they repeated their excellent performance to take the All Ireland U13 title from their debut performance in the competition.

Andrea Shorten was then selected for the Irish U14 girls team at the International Youth Cup in Belgium, the event brings teams from all over Europe and this year also included players from as far a field as Egypt and South Africa.

Andrea has performed extremely well during every competition and has had to travel to nearly every corner of the country this season, she has been well rewarded with a number of outstanding results finishing No.3 in Ireland in the overall rankings of the season.

To put the icing on the cake Andrea has also been selected for Ireland in the Schools International Championships in Cardiff at the end of June. The physical and mental demands that are placed on top junior athletes are considerable at this high level. The financial demands are also difficult for those that have to travel so much in pursuit of excellence. Andrea has been well supported by her family and club but also owes a lot of her success to TDC Financial Services who have sponsored her over the last couple of years. It would not be possible for Andrea to continue to compete at this level without the generous support of her sponsors, which also include her equipment sponsor Celtic Table Tennis.

Owen Kelly who has coached her for the last 5 years says, "Andrea is a remarkable talent and living so far away from the major tournaments has had to overcome many difficulties that players based in Dublin, Belfast of even Cork have not had to. Any athlete that endeavours to play at the highest level has to make many sacrifices in order to achieve those goals, without the support of her family, club, school, local community and sponsors it would be nearly impossible to achieve what she has managed this season. I am sure she would like to thank all those who have helped her during her career so far."

Back To Top