2000AD

presents
This page is under construction.. I'm trying out using tables to visually represent an index.
Crisis crew: Editor - Steve MacManus,(then Peter K. Hogan followed by Micheal W.Bennent)
Design - Rian Hughes, Public Relations - Igor Goldkind
Published by Fleetway.. ISSN 0955-6885
2000AD's Political fortnightly comics was launched on 17th September 1988, with much hype (in 2000AD anyway).
But eventually the comic meet it's end in 91 after 49 fortnightly issues ( 28-page ) and 14 monthly issues (48-page). [that's 63 in all.]
For the first 14 issues had only two stories 14 pages per issue as follows...
Issue 15 (1st-14th April 1989) Changed cover design, free stickers and three stories instead of two.. covers painted by Simon Bisley and Glenn Fabry. Price 65p

| | | | | | | | | | | | | |
| --- | --- | --- | --- | --- | --- | --- | --- | --- | --- | --- | --- | --- |
| 15 | 16 | 17 | 18 | 19 | 20 | 21 | 22 | 23 | 24 | 25 | 26 | 27 |
Third World War : Book Two
writer: Pat Mills & Alan Mitchell,Malachey Coney - Artists: Carlos Ezquerra,Sean Philips,John Hicklenton
| | |
| --- | --- |
| New Statesmen :Prologue | Third World War |
Angels
amongst us

True Faith

Her parents
Millar
McCrea

The clicking of high heels

Two pretty names

Squirrels

my brother
?

Suburan Hell
Banged up
True
Faith
| | |
| --- | --- |
| Backpage: Crooked Mile by Philip bond - weird painting with a Angel amongst us cartoon as here | |
Issue #39 '3rd - 16thMarch 1990 Amnesty International and Art & Society special (based on true stories)
The Death Factory - Pat Mills/Sean Phillips p21
A Kind Madness - Pat Mills/Sean Phillips p7
A day in the life - Igor Goldkind/Glenn Fabry p4
---
Murky Waters by James Robinson and Tony Slamons <!An Alaskan seeks revenge for Exxon Valdis>
Brighton Gas
Crisis in China by Tony Allen/Dave Hine
The Ballad of Andrew Brown

Soldier and the farmer
by Igor Goldkind

Crisis in China by Tony Allen/Dave Hine
The New Adventures of Hilter
Third World War book III
Faceless
Sex chatlines
Third World War book III
---
Next is the almost complete index of the last 14 issues of Crisis from September 1990 to October 1991. Issue 50 was the first monthly with increased page count (from 36 to 52) and increased prices. Issue 60 saw an increased magazine width to accomadate "Trip to Tulum".
I'm missing Issues #49,#51 and #58 so unless I find these issues or someone gives me deatils there will remain gaps.
| | | | | | | | | | | | | | |
| --- | --- | --- | --- | --- | --- | --- | --- | --- | --- | --- | --- | --- | --- |
| 50 | 51 | 52 | 53 | 54 | 55 | 56 | 57 | 58 | 59 | 60 | 61 | 62 | 63 |
Straitgate John Smith & Sean Philips 50-53 (16,?,10,12)

insiders
Story : Mark Millar
Art: Paul Grist, Colour: David Hill

Lord Jim (Igor Goldkind Steve Sampson)
Trip to Tulum by Federico Fellini/Milo Manara (Translation: Stefano Gaudiano Editot Bernd Metz)
(No messing with rupert (11p) oscar Zarate and Carlos Sampayo
The Power of the Pen by Alberto Breccia

Sinner in "Viet Blues" (Carlos Sampayo/Jose Muñoz, colours:Steve Whitaker, Translation: Derorah Bonner and Kim Thompson

Bible John (Grant Morrison/Daniel Vallely)

Worms (Dave Hine)

The Big Voice
by Nick Abadzis Edmund Perryman
Third World War, Ivan's Story (11p)

Suddenly, Last Week
Nicholas Vince & Paul Johnson

Amnesty: Prisoner of justice
Alan Mitchell & Glenn Fabry

WWIII
ryan's story mills/ mitchell & hicklenton

The general and the priest (Igor Goldkind/Jim Balkie)

The Real Robin Hood (micheal Cook, Gary Erskine Colour:Bernie Jaye)

Strange Hotel by Si Spencer & Adrian Dungworthy
-

Wroom
writer IZ Artist DIX

.

Saad's pictures

Waddle on the wild side by Al Davison

Commuter's Journey by Nick Abadzis
| | | | | | | | | | | | | | |
| --- | --- | --- | --- | --- | --- | --- | --- | --- | --- | --- | --- | --- | --- |
| 50 | 51 | 52 | 53 | 54 | 55 | 56 | 57 | 58 | 59 | 60 | 61 | 62 | 63 |
Your Death, My life [Creator: Manara, translation: Frank Wynne]

.

The Happiest Days
by Martine d'Ellard & Caroline Della Porta

The school
by Martine d'Ellard & Ed Hillyer

In Cages, there is no escape (paul johnson 4pages of art)

Passing through (M. Prado) tranlsation Frank Wynne

Happenstance and Kismet (Paul Neary/Steve Parkhouse/Bernie Jaye)

The Body snatchers
written by Ian Abinett & Alan Cowsill artist: Andrew Currie
Operation Massacre (F & G Solano Lopez Translation: Nina Feldman)
---
The monthly overflow

feature poll tax

feature russian revoltion

martin rowson talks about comics

The Death of Ideology
Charles Shaar Murray

Feature: Anarchy in the Urkanine
by Tony Allen

author about fellini

Feature: Making Killing by Tony Sankel
Text Story: The Devils in the sand
by Philip Swarbrick and Igor Goldkind

Dare by Grant Morrison & Rian Hughes


Up on the roof
(by Dave Hine)

Rainbow Cafe by Simon Harrison

Unlikely stories, mostly... endgame
by Miguelanxo Prado

Light me
by Garth Ennis Phil Winslade
Charlie lives with.. Fang and Snuggles (Garth Ennis/Ian Oldham
---
---
Third World War
: The world at 2000AD after 12 years of the multi-nationals gaining power. they Eve has a slow conversion to the thinking that multi-national are evil. The introduction of Finn as the eco-warrior. Book I sold as 6 part mini series 28 pages each 257mm x 168mm format Sold as a monthly for $2.50/ £1.25 by Fleetway

Quality ISBN 1-85386-231-2

"Take up the white burden - the savage wars of peace, fill full the mouths of famine and bid the sickness cease." Rudyard Kipling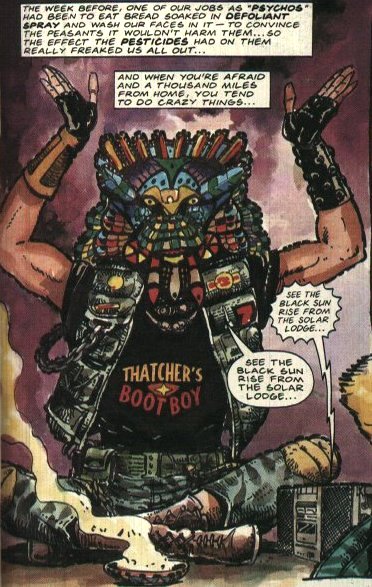 Unless changes are made it may not be far from truth to say that, rather than feeding the hungry, pesticides will be poisoning the hungry to feed the well-fed.
A Growing Problem, David Hull, Oxfam 1982

Book II based in Britain, the characters from book one get six weeks leave the story continues to follow eve. This time she returns to country civil liberties are seriously undermined. She learns about injustice and multi-nationals "more fact based storytelling with Sean Philips using collage of photos to help re-enforce the p point. The story deals with New Anazia, skinheads, Jamaica, Africa, Coffee, Baby Milk, Fanta, Tea, Sugar. Less of a fiction story and more of prediction with real accounts used. Truly political comics. The number of sources quoted for Third World War is well MASSIVE and varied.

Book II also sees Pat Mills starting co-writing stories with Alan Mitchell for better insight into black issues and Malachey Coney on Northern Ireland situation.

Book I Created by Pat Mills & Carlos Ezquerra
Hamburger lady [#1-2], Coola Cola Kid [#3-4], The Killing Yields [#5-6], Blood Money [#7-8], Danse Macabre [#9-10], Made of Maize [#11-12], Sell Out [#13-14].

Book II

written by Mills & Alan Mitchell (expect #22-23)
Here be dragons [#15-16], Back in Babylon [#17-18], Liat's Law [#19], All about eve [#20-21], Symphony of Splintered Wood [#22-23] (written by Mills & Mal Coney)
Remembering Zion [#24], The word according to ryan [#25], Liat's Law II [#26], Book of Babylon [#27], The Dark other [#29], The Rhythm of resistance [#30], The Calling [#31], The Beast of Babylon [#32], The man with the child in his eyes [#33-34]
BookII Epilogues -> Black Man's Burden #35, Ivan's story: Why Me? #36, Too late the hero #37, Baiting the dragon #38

Book III (written by Pat Mills & Alan Mitchell)
Rebel with a cause [#40-41], Killing us softly [#43-44], Sinergy [#45-46], Dollarology [#47-48], Ivan's Story: The Anchorman [#50], Ryan's story part 4 : The final problem [#53]

Artists on Third World War - [ Artist Crisis issue ]

Robert Blackwell     #37
Glyn Dillon          #32, #40-41, #43-44
D'israeli            #7
Carlos Ezquerra      #1-6, #9-14, #17-18, #20-21
Duncan Fegredo       #19, #26
John Hicklenton      #16, #21, #29, #35, #53
Shaun Hollywood      #31
Tim Perkins          #38
Sean Philips         #22-24, #27, #31, #33-34
Richard Piers-Rayner #30, #38
Steve Pugh           #36 ,#50
Jim McCarthy         colours #16, #21
Angie Mills          #8, #15 colours #25, #29

Book III focused on the previous hinted at 'Green Army'
The characters re-appeared in Finn
---
Third World War was accompanied by these sort of facts ( and conjectures into the future beyond the time of writing in 1988. )

1950s - Britain uses Poison to destroy crops of rebels in Malaysia.

1962-1971 - Operation Hades: the United States destroys 50% of the Vietnamese jungle with Agent Orange, a poison containing Dioxin. one of the most toxic substances known to humankind.

1972 - DDT banned by the US (but still used in the Third World).

1977 - In a midnight raid, a guerrilla army of the poor in Guatemala destroys 22 pesticide planes responsible for spraying inordinate amounts of poison on crops and Indian farmworkers.

1980 - Farmworkers in Honduras strike over the multinational United Brands' use of dangerous pesticides on bananas. Their leaders receive death threats and are fired from their jobs.

1984 - A report shows pesticide residues in British foodstuffs are well above acceptable levels.

1985 - US servicemen responsible for spraying Agent Orange on the Vietnamese receive approximately $180 million for their resulting cancers, diseases and deformities of their children. Vietnamese receive $0.

1986 - Agent Orange still being used on plantations in the Third World.

1988 - 250,000 cases of pesticide poisoning in the Third World. Symptoms include muscle paralysis. nervous disorders, blurred vision, brain damage and death.

1990's - Use of poison reduced in US and Europe. following mounting evidence of its dangers. Farmers start to go back to organic farming without major financial loss. Poison still used in the Third World in overcome insect resistance.

1945-1960s - Decolonisation of the Third World. Countries gain their freedom from the West. End of National Service in Britain as it no longer has an empire to guard. Motive for colonialism: to
"Take up the white man's burden, the savage wars of peace, fill full the mouths of famine and bid the sickness cease."
Kipling

1979 - Attempted by United States to colonise Vietnam through military force fails. Third World lent money at low interest rates by the West.
1979 - The West doubles interest rates and forces down prices of Third World exports. So the Third World has difficulty paying its debts.

1980s - Debt crisis. The West forces harsh austerity measures on Third World poor resulting in misery, starvation and death. Third World industries and assets are taken over by multinationals in lieu of interest payments.

[ From here obviously a story written in 1989 has to speculate, as to the future ]

1990s - Multinationals continue to acquire or control the Third World's farming land - dictating which crops shall be grown for export to the West. Peasants are turned into slaves of the multinationals.
1996 - Global riots.

1997 - Recolonisation of the Third World continues. Countries lose their freedom to the multinationals. Start of youth selection schemes to provide troops to guard the multinational empires. Motive for the free aid: "So that today's young men and women can bear their share of the burden...fighting terrorism and subversion...helping to free the Third World from famine and sickness." British Prime Minister 1997

---
Classic science-fiction is supposed to get the reader thinking as to 'What if' and the consequences of advances in science and technology. New Statesmen does this for human genetic engineering to create the new super weapon - The optimen.
Created by John Smith & Jim Baikie
Artists and issues painted
Jim Baikie #1-4, #9-12, #28
Sean Philips #5-6, #13-14
Duncan Fegredo #7-8

This story is slow moving at times.. after all it does last 200 pages. Plus 12 pages of related information like book & movie reviews and story stories. The comments on the crisis letters seem to credit the scene changes in the strip. But it also sees John Smith's power of description and use of poetic text. later seen in Tyranny Rex: Duex Ex Machina.
#28 New statesman - epilogue/prologue New statesmen - Here is some of Jim Baikie's artwork
---
Sticky Fingers - (from #15-20,#22-27) less than optimistic real-life drama in Camden Town. Set in the 1980s. Myra Hancock and Dave Hine returned with Tao Moto.
Troubled Souls

"A hard-edged and realistic tale straight from the streets of the city." - Belfast telegraph
This is the first Garth Ennis story published, it tackles the troubles in Northern Ireland head on and manages to maintain unbiased yet realistic perspective. The art of John McCrea, another native of the 'six counties', develops as the story goes (the above picture is from Part 7).
Here is a page of from Trouble Souls (959x1503xJPG)
First printed in Crisis Issues #15-20, #22-27, 8pages per issues

The follow-up series A few troubles more also by Garth Ennis/John McCrea and is a comedy surrounding wedding preparations also set in Belfast with some of the same characters.. Both stories were reprinted in Fleetway 96-page graphic novels.
---
To Serve and protect - Written and Drawn by Floyd Hughes Lettering by Tom Frame
A womb's-eye view of Britain in this the 50's, as recalled by this talented new artist. - This story represents a shift of crisis towards fact based strips. Rather than Fictional political situations (WWIII and New statesman) and Fictional characters in real political situations
---
The Geek Written by Mal Coney, Art by Jim McCarthy page 7 Crisis #22 Everyone needs somewhere they can belong. Even our sponoymous protagonist. - Written by Mills' WWIII book II co-writer
---
The Student Konstabel - Both script and art by Philip J. Swarbrick
'In 1976 Philip, like all white school-leavers, was conscripted into the South African Police for eighteen months of national service. The 'Student Konstabel' draws on this experience, as it does of a conscript's induction.'
Issue 28, 8 pages
---
True Faith - Garth Ennis & Warren Pleece
Set in 1980s London. Tells the story of a cynical teenager and Terry 'father to be' Adair as they want to do something about this whole 'god' thing. Unlike Garth Ennis later more famous work the Preacher there is no supernatural aspects, so the violent ending has impact. Maggie Thatcher also makes an appearance
Crisis #29-34, #36-38

3 short Stories by Garth Ennis (in 1990 and 1991) Suburban Hell: The Unusual Obsession of Mrs. Orton Story: Garth Ennis & Art: Philip J. Swarbrick - Issue #36 pages 7.. fairly tame

Light me Story: Garth Ennis, Art:Phil Winslade - Issue #61 (8 pages)
Set in America, it really gives the Garth does not the Culture. Which is worst (and wins) the american need for TV,war, guns,drugs or political correctness? Read it and see. Also features 'Fuck Communism' as Preacher.

Charlie lives with.. Fang and Snuggles Story: Garth Ennis, Art: Ian Oldham - - Issue #62 (8 pages) --- Maybe it's because have a dog,a neighbour with rabbits and access to power tools but the story hit me that most.
Note: Ian Oldham won an Amenesty International Competition in Issue #39, and got work with Garth Ennis the results are impressive.
---
In issue #30 True Faith had 16 pages, because......
This issue had some trouble surrounding the McCarthy/Milligan Creation 'Skin'. First the 'first episode of SKIN. all we can say is sorry, since it visibly ain't here ..The reproduction company who make our printing film refused to handle the strip because of the content. We are currently taking legal advice, trying to find another repro house and understandably miffed creators.'
Because of this and complaints, crisis gained a 'Not for sale to children' from Issue 31.
The Clicking of High HeelsStory: Sarah Bramely-Anderson Art: Floyd Hughes p7, Crisis #32
Two pretty names - Si Spencer/Sue Swassey and Phil Laskey/Carol Swain p5, Crisis #33
Squirrels in Carroll street [Soldiers of Misfortune] Story & Art by Floyd Hughes
issue 34 page 7
Didn't you love my Brother - Written by Tony Allen, Art by Dave Hine
Issue 35, 11 pages - 'Straight from the outer Fringe, ace funny man and snappy dresser Tony Allen presents a night in the life of stand-up comic.
Banged up Story: Jack Blackburn & Art: David Lloyd
One day at a time, you watch the minutes chip away at your sanity. You're on remand.
17th-30th March 1990 #40 WWIII - Book 3 starts Pat Mills/Alan Mitchell & Glyn Dillon
Murky Waters - James Robinson/Tony Salmons Back page : Reflexions by Oscar Zarate Revolver
Insiders - Story by Mark Millar, Art by Paul Grist, Colour by Daiv Hill #54-59
Waddle

---
I took the following text from some web-page unfornaturily can't find please direct me the orginal page and I'll link to it intead.

---
Revolver was a very short-lived 'groovy' outlet for the 2000 A.D. artists. It had a great Dan Dare story written by Grant Morrison and drawn by Rian Hughes which eventually concluded in Crisis.
Revolver folded after the seventh issue.
Revolver: No.1 Jul-1990 - No.7 Jan-1991 (Complete)
Excerpt from the "Outro", Revolver No.1 July 1990
Why Revolver?
"Because what goes around comes around, and looking out my window it appears to be 1966 again (which means - with any luck - we should be in for a couple of good years ahead of us). Because maybe - just maybe - comics might now occupy the slot that rock music used to. Because everything is cyclical and nothing lasts forever (goodbye Maggie). Because the '90s are '60s upside down (and let's do it right, this time). Because love is all and love is everything and this is not dying. Any more stupid questions?" - Peter K. Hogan
Excerpt from "Goodbye, Farewell and Amen", Revolver No.7 January 1991
"Now is the time to yield a sigh, good people, 'cause this is the last issue of Revolver. We have absolutely no regrets about this little magazine, and in hindsight there's nothing we would change. [...] as far as we're concerned, Revolver was a success. A lot of you thought so too, but according to the men with the pocket calculators, there just wasn't enough of you. And so we check into the Hotel Oblivion, where Strange Days and Warrior are already propping up the bar. At least we'll be in good company." - Peter K. Hogan
Crisis
In 1989 I was working in North Sydney and a few 2000 A.D.'s had turned up at a local newsagent. I asked them if they could get a regular subscription for me. After a few weeks I went in and they gave me my "2000 A.D. magazine". It wasn't the Judge Dredd weekly, but Crisis. A small logo in the top left corner said "2000 AD Presents", so I couldn't really complain. I'd simply asked for "2000 AD".
Crisis was for a while subtitled "Third World War". The stories dealt primarily with planetary concerns: environmental, technological and societal problems. "Finn The Ecoterrorist" - recently featuring in 2000 AD Weekly - first appeared in Crisis. One of my favourite stories in Crisis is called "Troubled Souls"; about ordinary people in working-class Belfast getting caught up in the 'troubles'. The most memorable story is "The Soldier and the Farmer" set in Cambodia during the reign of Pol Pot. Crisis: No.15 April 1989 - No.63 October 1991