LINK BACK TO:

PALS Front Page
Brainteasers
BREAK OUT!



HOW TO PLAY:


First, select play speed - fast or slow. Then try to keep the ball bouncing, using the purple paddle (which moves as you move the pointer), and see if you can clear the entire field of blocks.


You can use one ball after another, up to a total of five. The computer will keep score!



JavaScript provided by
The JavaScript Source


This is a screenshot of Break Out.
To open the game, click on the button.
The game will then open in a new window.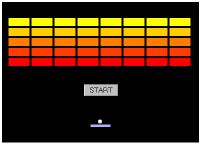 When you finish playing Break Out,
close the new window.
That will bring you back to this page.
You need Internet Explorer 4+ in order to play this game. Not suitable for Netscape Navigator.