Hearing Tests

Theresa Pitt, Aud.D., F.S.H.A.A., Audiology Services in S.E. Ireland.
E-mail theresapitt@eircom.net /Phone 053-33571 for Clinic Details or Sound Advice !
---
Tests of Hearing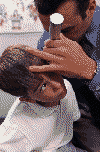 WARNING!
Examination of the Ears is NOT a hearing test!!



Babies and others may be tested by having probes inserted in the ear canal (Oto-Acoustic Emissions) or electrodes on the scalp (Brain-Stem Evoked Response). These tests may be used as screening tests rather than to assess the exact level of hearing, although a newer test, ASSR also done using electrodes will enable threshold measurement without the patient's active co-operation.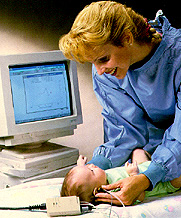 Do remember that some babies with perfect hearing are just not very interested in general environmental noise for weeks or even months after birth, although most will startle to some loud sounds.
As babies reach about 2-3 months, their normal reaction to environmental sound will become more obvious and behavioural responses to particular sounds can be used - e.g. distraction testing or visually reinforced reactions to certain tones or sounds from about 6 months of age. Avoid repeatedly checking a baby at home - they may respond perfectly to their name being called but miss other speech sounds totally, or they could have a unilateral loss for example.
As children grow, speech tests can be used, and from about three years onwards, Pure Tone Audiometry. This testing is relatively specialised as children may not always co-operate!
Audiometry is usually involved in the testing of adults too. It provides full details of the exact tones which can be heard, and information about where the site of a hearing problem is - provided the person is co-operating fully. They do this by responding to barely audible tones in both ears to obtain a 'threshold', but they may also be asked to respond to louder levels by describing the sound quality of the tones. Other tests under headphones can add to the basic knowledge. Many tests can be adapted for those wearing hearing aids to help the audiologist adjust the aids to the best settings.
Imaging and scanning techniques can be used in cases of hearing loss which may need surgery.




Site design & copyright, 2005: Theresa Pitt