Errigal Truagh Churchyard
The final resting place for many McKenna's of Truagh. To the right is the stone of Arthur or Atty McKenna. Atty McKenna was a powerful man, possibly a Taoiseach or Tanaiste, Chief or a Chieftain in waiting. He was recorded in 1591 as a freeholder owning seven townlands in the Ballyoisin district. Mullanannalog Ringfort in Errigal Truagh was likely his principle dwelling and Astrich Crannog is where he would take refuge if under attack. The message for assistance was delivered by lighting a large fire in the ringfort which was visible to many other ringforts across the county.
Atty and his people would make haste down the hills to the island dwelling called a crannog, which was easily defended, until assistance arrived. The crannog would be reached by dugout canoe or by an underwater pathway. These lake dwellings may have been used as retreats as early as the Bronze Age. Reconstructions of crannogs are open to the public in Craggaunowen near Ennis in County Clare and in the Ulster History Museum just north of Omagh, Co. Tyrone.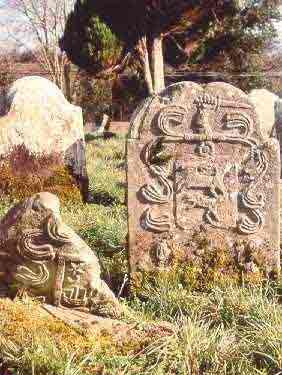 Errigal Truagh Churchyard Carving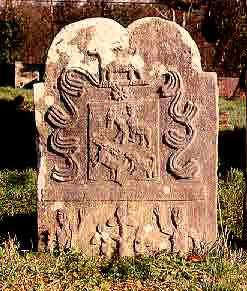 The carvings of arms on the McKenna stones represent the history of the name. The McKenna's and their party from Meath chased a stag into Truagh, townland of Liskenna, Kenna's Fort, in County Monaghan. They settled there as their leader fell in love with the local chieftains daughter - a Traynor . This is thought to be in or near the 8th century.

The symbols include the stag, a man on horseback, a dog in chase, and often a dirk or a dagger. In this case there is a representation of a flax flower and the two human-like characters at the bottom of the stone, each with one arm raised.