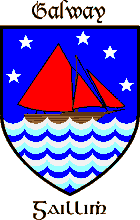 The heart of Gaelic Ireland
RUINS SERIES
Page Five
---
The Madden Clan

The Madden clan were a very numerous & powerful Gaelic clan in east Galway, where they built many imposing castles including Longford, Lismore and Dun an Eochta.
---
Ardfry Castle
Ardfry was a 13th century deBurgo Castle granted to the Blakes in 1612; located on the innermost shore of Galway Bay.
---
Castle Creevy
Castle Creevy was a Burke castle from the 14th century, near Corrundulla.
---
Ballydonlon
Ballydonlon was the home of the Donlon or Donellan clan from the 10th century.
---
Moycola Castle
Moycola castle, close to Craughwell, was an early hall-house, possibly from the 12th century.
---
Muckinish Castle
Muckinish Castle on the southern shore of Galway Bay was a 15th century tower house castle of the O'Hynes clan.
---
Ballymulfaig Castle
Ballymulfaig castle was an early O'Shaughnessy tower house, of which only portions of the bawn wall remain.
---
Cooltymurraghy Castle
Little remains of the 15th century Cooltymurraghy castle of the O'Kelly clan, near Aughrim.
---
Oldcastle
Oldcastle, near Athenry, was a very large Norman fortress of the 13th century.
---
Spanish Arch
The blind Arch, or the Spanish Arch, was part of the fortification of Galway port carried out during the 15th century.
---
Wallscourt
Wallscourt was the seat of one branch of the Blake family.
---
All these photographs are copyright © Patrick Larkin March 2000.
---
Don't go away yet - there are more Galway Castles here...
---
Content by Patrick Larkin
---
Layout by Loralla Webdesign
---