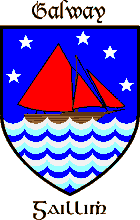 The heart of Gaelic Ireland
RUINS SERIES
Page Three
---
The Colgan Family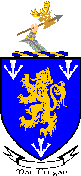 The Colgan or McColgan family were a Gaelic clan from the Offaly & Tipperary areas bordering the Shannon, which allowed them a foothold into County Galway. They built numerous castles, including that on the Galway side of Banagher bridge.
---
Attyslaney Castle
Attyslaney castle, near the Clare border, was a 13th century keep, now reduced to some mortared lumps of rubble.
---
Claddagh Castle
Claddagh Castle, outside Dunmore, was once a fine tower house of the 15th century, now reduced to rubble.
---
Ballydavid Castle
Ballydavid Castle was a small tower house serving as a guard-house to nearby Bermingham court at Athenry.
---
Derryowen Castle
Derryowen Castle was the 15th century tower house of Owen O'Heynes at the Clear border.
---
Doon Castle
Doon Castle outside Clifden, was the western outpost of the O'Flaherty clan.
---
Dunkellin
Dunkellin was an old 12th century Norman stronghold, upon which Clanricard built a later keep. Only the four corners now stand.
---
Eyrecourt Castle
Eyrecourt Castle was originally a 15th century castle of the O'Maddens, later purchased & extended by the Eyre family.
---
Feartamore Castle
Feartamore Castle was an extensive 14th century Burke castle, north of Tuam.
---
Flaherty's castle
Flaherty's castle on Ballinahinch Lake was an early tower house, erected by the O'Flaherty clan in a well protected location.
---
Isercleron
Isercleron is the ancestral home of the Burke family, in their hands since the 14th century, to this day.
---
All these photographs are copyright © Patrick Larkin March 2000.
---
Don't go away yet - there are more Galway Castles here...
---
Content by Patrick Larkin
---
Layout by Loralla Webdesign
---