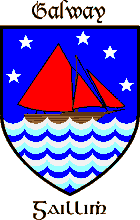 The heart of Gaelic Ireland
PHOTO SERIES
Page Eight
---
The Lynch Family
The Lynch family are so well known as to need little introduction as one of the Tribes of Galway. They arrived in Ireland with Hugh deLacy, and were sufficiently well established to supply the majority of the Mayoys of Galkway during the 15, 16 and 17th centuries. Fine castles and seats remain in Shop street, Newcastle, Barna, Drimcong, Lydican, Moycullen, and Shannonbridge.
---
Ballybroder
Ballybroder, close to Loughrea, is a fairly plain tower house of the Burkes, from the 16th century.
---
Ballymore Castle
Ballymore Castle in Lawrencetown was originally a Madden tower house of the 15th century, to which a house was added in 1620 and much altered since. Ballymore Castle was built by John Lawrence in year 1585. on the land he acquired through his marriage to the daughter of O'Madden. It was damaged in subsequent wars and repaired by his son, Walter, in 1620. John Lawrence Jnr. was dispossessed by Cromwell in 1641. he having espoused the royalist cause in the war of that time. The castle and much of his estate was given to Sir Thomas Newcomen. He leased the castle to the Lawrences for many years. On his death it passed to Nicholas Cusack of Cushinstown, Co. Meath. who sold it to John Eyre of Eyrecourt about 1720. The Seymour family settled in the castle around 1700. The castle was modernised and a large house added in 1815. Thomas Seymour purchased the castle and lands outright from Giles Eyre around 1824. This family were to remain in possession of the castle until the early part this century. Mrs. Hale, a relative of the Seymours, inherited the estate which was somewhat reduced at this time a large portion having been acquired by the Irish Land Commission. Still inhabited.
---
Blackgarden
Blackgarden was a massive & imposingly tall tower house from the 14h century.
---
Clooneen Castle
Clooneen Castle was a 14th century tower house, part of the manor of Headford.
---
Dunamon Castle
Dunamon Castle was originally built in the 12th century by the O'Finnaghy clan. It changed hands many times, and is thought to be the oldest continuously inhabited building in Ireland.
---
Garbally
Garbally was a 15th century O'Kelly tower house, demolished by Cromwell & never repaired.
---
Isserkelly
Isserkelly was originally a 14th century O'Kelly stronghold, which later became the main residence of the McHubert Burke family from the 16th century.
---
Kilcolgan Castle
Kilcolgan was built in 1801, and replaced a FitzGerald castle from 1241. Now an hotel.
---
Lismore Castle
Lismore was the principle seat of the O'Maddens in the 15th century; it later passed to the Burkes, and later to the Daly family who added a large mansion to it. Now quite ruined.
---
Longford Castle
Longford was another O'Madden fortress from the 15th century, which saw many battles in its environs.
---
All these photographs are copyright © Patrick Larkin March 2000.
---
Don't go away yet - there are more Galway Castles here...
---
Content by Patrick Larkin
---
Layout by Loralla Webdesign
---