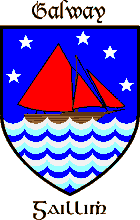 The heart of Gaelic Ireland
PHOTO SERIES
Page Nine
---
The Martin Family

The Martin family arrived in Ireland with Strongbow, became important merchants and one of the Tribes of Galway. They subsequently moved into the County, leaving fine seats at Ballinahinch, Dangan, Ross, Spiddal and Tulira.
---
Cong Castle
Cong Castle was originally built in 1228 by the O'Connors, and added to by several parties to become Ashford Castle today.
---
Ballylin Castle
Ballylin is a small Burke tower house from the 15th century, close to Craughwell. Now quite ruined.
---
Castlekirk
Castlekirk was a very early Irish castle of the O'Flaherty clan, dating from the 12th century. Built upon a peninsular island in Lough Corrib, it was almost impregnable.
---
Cashlaundarragh
Cashlaundarragh was a 15th century O'Kelly castle in the Monivea area; now very ruined.
---
Creagh Castle
Creagh castle was a massive early tower house, immensely strong. Much plundered for cut stone, but the fabric is still in good condition.
---
Fiddaun
Fiddaun was the massively fortified stronghold of the O'Shaughnessy clan. Built in the 15th century upon what was then a island, now drained land. Still in good condition & very impressive.
---
Lackafinna
Lackafinna was a 16th century tower house of the Earls of Clanricard family, now very ruined.
---
Mannin Castle
Mannin Castle, or Ballymannin, was an early tower house of the Burkes, built in several stages. Parts are in good condition.
---
Moyne Castle
Moyne castle was a 16th century castle built on the Black river on the Mayo border, to which a much later mansion was added. Both are now ruined.
---
Parkbaun Castle
Parkbaun was a late 16th century well-equipped Burke tower house, within the Ardrahan manor area.
---
All these photographs are copyright © Patrick Larkin March 2000.
---
Don't go away yet - there are more Galway Castles here...
---
Content by Patrick Larkin
---
Layout by Loralla Webdesign
---