Known as the 'the Capital of the Carberies', Skibbereen is a town located in the South West of Ireland.
Skibbereen Fire Service has long been linked with the town. Our Brigade was formed in 1944/45 by six men from the town. In the past fifty six years, a total exceeding sixty men have been members of the service in Skibbereen and there is currently a crew of ten.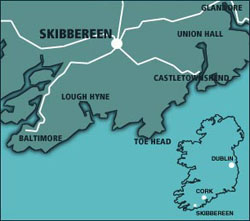 We are justifiably proud of the service we provide to our community. Our first priority is the preservation of life and property and in this regard we have to date, an outstanding record. In the fifty six year history of the brigade, we have attended almost 3500 incidents. These incidents have ranged from the humble but underestimated chimney fire to house fires, industrial fires, RTA's (road traffic accidents) to the Betelguese Tanker Disaster at Whiddy Island in which 50 people lost their lives in 1979. We have also, courtesy of Baltimore Lifeboat, attended fires on Cape Clear, Sherkin and Heir Island and on trawlers, yachts and other craft in Baltimore Harbour and Union Hall.
The future is also looking bright. In 2002 we moved from our old Station at Townshend Street to a new station in Marsh Road, the building of which began in November 2001. We also hope to have a new Scania Fire Tender allocated to Skibbereen early in 2003. The combination of these two events will breath new life into the brigade and allow us to continue to provide an even higher level of service to the people of Skibbereen and the surrounding areas.