The Blackeney Family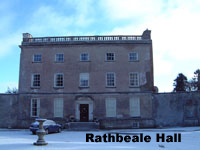 The site of Rathbeale Hall or Rickanhore has been inhabited since early times. Originally it was owned by the Blakeney or Blackeney family. George Blackeney took the Kingís side with Luke Netterville in the rebellion of 1641 and was dispossessed of Rickanhore, which was then granted to the Plunkets. The Plunkets lived here until 1751 when the house was sold to Hamilton Gorges to cover debts. Hamilton Gorges had married an heiress named Catherine Keating, and they had the house extensively renovated, and re-named Catherineís Court. Their only son, Richard had succeeded his father as member of parliament after his fatherís death. His only daughter married Sir Marcus Somerville, but they had no male heir. He severed his connection with Swords after the Act of Union, and he donated his £5,000 compensation money to the founding of the Borough School.
The Corbally Family
In 1805, he rented the house to the Corbally family, and he sold it to them in 1832. The Corbally family changed the name of the house back to Rathbeale Hall, and they effected a number of changes such as the addition of a secondary staircase, bath and billiard room and a dairy.
Lady Mary Corbally
Elias Corbally married Lady Mary Corbally, the daughter of the Earl of Cottenham, and Lady Mary lived at Rathbeale Hall until her death in 1957 [See interview with her daughter, Evelyn in Swords Voices 2.]
Joe Keeling
Her son, Everard, sold the house and land in 1958 to Johnny Byrne, a cattle dealer, who never lived in it. It was bought in 1960 by the Pecks who restored it, and in 1973, it was sold to Prince and Princess Azamat Guirey. It is now owned by Joe Keeling.