Cumann na gClann Ui Thighearnaigh
The Tierney Clans Society

Welcome Page

Brief History

Clan Rally

Useful Forms

Archives

Y-DNA Project

Links
Newsletter Extracts
Contents

Clan Newsletter Vol 2 Issue 2 April 2001 – St. Tighearnach's Cemetry

<![if !supportLists]> <![endif]> Clan Newsletter Vol 2 Issue 3 July 2001 – Patron Saint of The Tierney Clan

Clan Newsletter Vol 2 Issue 3 July 2001 – Believe it or not!! (Hoover Dam)
<![if !supportLists]> <![endif]>

<![if !supportLists]><![endif]> Clan Newsletter Vol 2 Issue 5 Jan 2002 – Clans Christmas Connection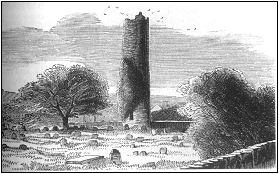 Our esteemed clan member Gilbert Tierney, France, mentioned to me in a note that whilst traveling through the town of Clones in County Monaghan, he had come across a cemetery named 'St. Tierney's Cemetery'. This intrigued me and I had to investigate further. This cemetery is on the site of an old monastery that was founded by St. Tighearnach in the 6th century. The site presently contains the ruins of a Church and a Round Tower. In the town center of Clones there is a 9th century High Cross and this it is thought stood near the Round Tower originally. The Round Tower is retained to a height of 75 feet or 23 meters and has a square headed door and windows. Nearby is a shrine in the shape of a house, with interesting finials, called St. Tighearnach's shrine. It is carved out of one stone. Tradition says that there is a vault underneath it, "in which bodies were placed having been taken from their coffins which were later destroyed beside the shrine". In the nearby churchyard is The Abbey that is a 12th century nave of a nave-and-chancel church. It has a chancel arch and a round-headed window. In the graveyard there are a number of 17th and 18th century gravestones, some of which bear an indication of the profession of the person buried beneath, others having skulls, crossbones, hourglasses etc.
My interesting Tierney this issue must be the Clan Patron Saint. As promised I have a resume on St, Tighearnach (also spelt Tigernach, Tihernach or Tighernach). According to tradition he was the illegitimate son of Derfraych the foster daughter of Eochaidh, a chieftain in Limerick, who was descended from the Colla-dá-Chrich, who were of the Airghailla Race. His father was Cairbre who was of the race of Cathaoir Mór, King of Leinster, descendant of Cathaoir Mór, High King of Ireland 120 A.D. to 123 A.D., who in turn was the son of Feidhlimidh Firurghlais, who in turn was a descendant of Tighearmas, High King of Ireland, from whom the name O'Tighearnaigh or (O')Tiern(e)y comes.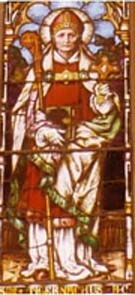 Tighearnach was captured by Welsh raiders and taken to Britain. He later escaped and made his way to the monastery of Candida Casa at Whithorn in Galloway, Scotland, where he received his education for the priesthood. He went on a pilgrimage to Rome and is said to have brought from there to his native country relics of the apostles Peter and Paul.
On his return to Ireland he established a monastery at Clones, which was named the 'Abbey of St. Peter and St. Paul'. Some sources state that, prior to this, he had been bishop of Clogher in Co. Tyrone.
He was renowned for raising the dead to life, which he performed on several occasions. On one occasion he raised from the dead Eithne, daughter of the King of Munster, who had taken her own life because she had been unwillingly betrothed to a British prince. On another occasion it was no less a person than Duach, Archbishop of Armagh.
St. Tighearnach died at Clones in 549. The 'Annals of Ireland' writer by The Four Masters record the death of Diucuill, Abbot, inn 700 A.D. and in 714 A.D. they also record the death of another Abbot called 'Cele-Tighearnach' or, Servus Tighernachi' or 'the Servant of Tighearnach', proving at what an early date the name of the founder, 'Tighearnach', became "invested with sanctity and honour".
 Of the monastery there survives a handsome carved High Cross, situated in the Diamond in Clones town, a Round Tower – now roofless, and fragments of a Romanesque church and a tomb, all described in the last issue.
The life of St. Tighearnach in Latin can be found in the 'Acta Sanctorum' at the 5th April, and on this day we celebrate his Feast-day, a special day for the Clan.
Whilst browsing through various books in an effort to learn about St. Tighearnach of Clones, I was amazed to come across not just one St. Tighearnach but several. The following is a list; St. Tighearnach of Doire-Melle (in Co. Leitrim) Nov. 4th; St. Tighearnach, priest Mar. 17th; Tighearnach Abbot of Killeigh who died in 805 A.D.; Tighearnach Abbot of Fennor died 837; Tighearnach Abbot of Dromiskin died 876; Tighearnach Boirceach Abbot of Moville died 1061; Tighearnach Uí Bhrian the Annalist died 1088. Not all were of the Tierney 'Célte', but we are pretty certain that St. Tighearnach of Clones was.
The Hoover Dam is situated in Black Canyon on the Colorado River, about 30 miles southeast of Las Vegas, Nevada. Originally called Boulder Dam, this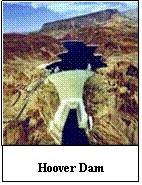 engineering marvel was re-named for Herbert Hoover, the 31st President of the United States. Construction of Hoover Dam began in 1931, and the last concrete was poured in 1935, two years ahead of schedule. President Franklin D. Roosevelt dedicated the dam on September 30,1935. The power plant structures were completed in 1936, and the first generator began commercial operation in October of that year. The 17th and final generator went into commercial operation in 1961. Hoover Dam was without precedent, the greatest dam constructed in its day. An arch-gravity structure rising 726 feet above bedrock. It is 660 feet thick at its base, 45 feet thick at its crest, and stretches 1,244 feet across the Black Canyon. There are 4.4 million cubic yards of concrete in the dam, power plant and related structures.
The dam controls floods while it stores water for irrigation, municipal, and industrial uses. The dam also provides hydroelectric power generation, recreation and fish and wildlife habitat.But, more interesting than the facts and figures of the Hoover Dam's construction are the people who made the d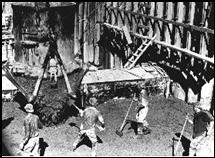 am possible – the workmen, and an interesting story of the first and last men to die on the project. It goes something like this. On December 20, 1922, J. G. Tierney, a Bureau of Reclamation employee engaged in a geological survey from a barge in the Colorado River fell in the river and drowned. Thirteen years to the day, on December 20, 1935, Patrick W. Tierney, a Bureau of Reclamation employee and son of J. G. Tierney, fell from one of the intake towers. What has all this got to do with Tierney! This story has become folklore because of the relation between the two men and the thirteen years that separate their deaths, but there is a certain amount of artistic license in the tale. First, the dam was built from 1931 to 1935, so J. G. Tierney was not really involved in the "construction" of the dam. He was doing a geological survey to decide where the dam would be built, but he was not the first person doing the survey to die. On May 15, 1922, Harold Connelly, also fell off of a barge and drowned. So, why isn't he considered the first person to die on the project? Well, for one thing it would not make as good a story as the Tierney family. To get around this people point out that Connelly died while surveying a canyon upstream from the present site of the dam, while both Tierneys died in the canyon where the dam was eventually built.
Did you know that the Tierney Plant Badge is the Holly?
We do not as yet know why this is so but the Holly was a very sacred tree in ancient Celtic Ireland. Holly has been used as a decoration representing good will and rejoicing

throughout the ages. [Maybe this is why it is designated as the Tierney plant. For doesn't everyone know that we Tierneys are full of good will towards all and we love to rejoice – give us any excuse for a party!]  There are many legends about this evergreen tree with its shiny leaves and bright red berries.

One legend associates the holly with the burning bush Moses encountered in the wilderness. Another tells us that Christ's crown of thorns was woven from holly, and before the crucifixion the plant bore white berries, which later turner to crimson.

On the night that the holy family fled out of Bethlehem, when King Herod's soldiers were very close, legend tells us that Mary and Joseph hid the Baby Jesus under a holly bush until the danger had passed. The Christ Child blessed the holly so that it would remain forever green – a symbol of immortality. Ever since then, the evergreen holly has been associated with the promise of everlasting life.

Welcome Page

Forms

Clan Rally

Brief History

Archives

Y-DNA Project

Links
All material contained in this website is the property of The Tierney Clan Society and is subject to copyright ©2000-07
Cumann na gClann Uí Thighearnaigh – The Tierney Clans Society.
For problems or questions regarding this site, and especially if a link does not work, please contact otighearnaigh@eircom.net
Last updated Eanáir 2007.