"In the noble field of remarkable anqituities and full of beauty, The pride of the height, the clear heaven with its glorious show. Forts that lie amid the glimmering terraced crags A barren and dry land on its summits but with underground rivers and silver-laced waterfalls in its glens. Rock gardens of exquisite flowers, gorgeous cranesbills, creamy mountain avens, ferns and sedums adorn the nooks and shelves of the limestone. Magnificent sheets of colour carpet it, when the Spring Giver makes it bloom with flowers like sapphire and the loveliest of its flowers blue gentian and violet, sheet the ground and primrose and foam-white anemone the ledges."
- Thomas Johnson Westropp
introduction
The Burren gets its name from the Irish word 'Boireann' which means 'a rocky place'. It is situated in North Clare. Rising in the south from the foothills above Killnaboy and Kilfenora; it is bounded on the East by the Gortaclare mountains and sweeps down to Abbey hill with its fantastic views of Galway Bay. It is an area of 100 square miles of silver-grey limestone rock that has weathered into curious pavements, and elsewhere into mountains or cliffs. Despite its superficially bleak and windswept appearance, it is the home of rarest of Irish wild flowers.
As early as 7,000 years ago, man left his mark on this landscape in the form of stone-age burial monuments such as Poulnabrone Dolmen and Gleninsheen Wedge Tomb. Then the Iron-age ringforts such as Cahercommaun or Ballykinvarga some of which remained in use to the beginning of this century. Bronze-age remains include Poulawack. Here we also have a blend of Celtic and Christian tradition produced in a distinctive art form in stone - a very good example is Kilfenora Cathedral with its famous high crosses, grave slabs and east window. Corcomroe Abbey and Oughtmama are other examples. Other early churches in the Burren include Kilnaboy, Noughaval, Templecronan and Kilmacduagh with it's leaning round tower.
The Burren is a haven for the naturalist who loves to wander through the lonely hills and people who have interests in nature. It is a wonderland for the botanist, the lepidopterist, the antiquarian and archaeologist. At the end of a day of walking and hill climbing, one can enjoy a swim at one of the many sandy beaches, Fanore, Bishop's Quarter and Flaggy Shore (Burren).
---
Views of the Burren

A typical view of the Burren, Co. Clare.
Limestone pavements set agains a backdrop of rolling hills. In this picture, the native Ferral Goats are visible. These animals freely roam the Burren mountains in herds.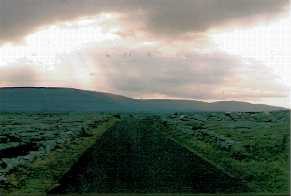 A road leading through the limestone pavement. Each season in the Burren has its own unique atmosphere created by the changing light.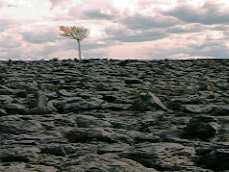 Although most of the plants growing in the limestone of the Burren are forced to hug the ground for warmth and protection, occasionally a tree braves the elements. This single ash tree is alone on the limestone pavement.
---
Note: Visit Odontognophos dumetata Hibernica for information on a moth which was relatively recently discovered in the Burren!
© 2005 Villa Maria