The Crew of Warp Four / Press Gang
Pat Sheridan Niall Fennell Jack Harrison
Tom Crean Seán Corcoran Guests
The new Warp Four line-up 2002:
Seán Corcoran, Pat Sheridan, Tom Crean and Niall Fennell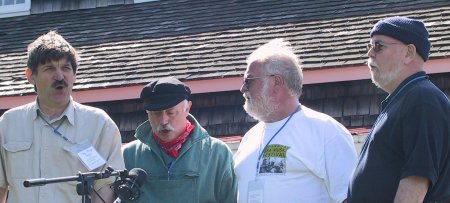 PAT SHERIDAN is the founder member of Warp Four. He was originally introduced to a capella singing by Niall Fennell (Press Gang) in the early sixties and further encouraged by a very large and kind donation of traditional material from Tom Crean (Press Gang). He joined Garland (another Dublin-based a capella group) in 1970. Garland specialised in the songs of the Watersons, The Young Tradition and The Copper Family. Their sound was also influenced by Steeleye Span who were at their best around that time.
Garland took their name from a Waterson album, 'A Yorkshire Garland' , which was brought back from England by Michael Andrews who was working through his summer holidays and was attracted to the close earthy harmony singing. The album was played and replayed until the harmonies could be identified and from this they subsequently developed their initial material. Garland's regular venues included The Universal Folk Club, Parnell Square; The Coffee Kitchen Folk Club, Molesworth Street; the Swamp and of course Slattery's in Capel Street.
Pat's other folk-related interests include Mid-Winter Mumming Plays, Wren Boys, Straw Boys customs, Cork/Kerry county bounds or Sliabh Lucra district set dancing as a dancer and teacher, learning the polkas, slides and jig sets from Timmy McCarthy over the last fifteen years.

NIALL FENNELL has a wealth of experience in the music world as a French Horn player with the Army Band and as a singer with the Press Gang. He continues to be involved with many musical groups in Limerick and Clare, including horn player with the Limerick Orchestra. The Press Gang were a very well known Dublin based a capella group during the sixties and seventies. They were the first folk group of their kind in Ireland and introduced a revolutionary sound to the Irish folk scene at the time. The Press Gang were a regular feature in the famous Tradition Club in Paddy Slattery's of Capel Street. The group was comprised of Tom Crean, Dave Smith, Seán Corcoran (now of Cran) and Niall Fennell.
In the late sixties, Niall was involved in the formation of an experimental group which attempted to marry different instruments into a new sound. The players were Liam Og O'Flynn, Alec Finn, Rick Ward and Phil Lynott and featured guitar, fiddle, uillean pipes, french horn and bass guitar. The sound included vocals. The group practiced Beatles and Rolling Stones music and some traditional Irish music too. Unfortunately they never went public. It is conceivable that this experiment may well have had an influence on such groups as Planxty, De Danann or The Chieftains.
Niall occasionally sang with Pat in Limerick in a club run by Tommy Hayes (Stockton's Wing) during the early eighties and made a point of meeting and singing every time they were in the same geographical location. They mainly sang the songs of Ron and Bob Copper and learned to adapt the styles and words of the various songs which they had previously sung with the Press Gang and Garland respectively.

JACK HARRISON lives on the shores of Galway Bay where he sails at every opportunity. Jack plays fiddle and guitar as well as singing with the group. He also sings with a medieval choir in Galway and is a fan of the blues.
Further information will appear here shortly.

TOM CREAN
Information about Tom Crean will appear here shortly.






SEÁN CORCORAN has had a long career as a solo singer before founding Cran with Desi, and is internationally renowned as a skilful interpretor of songs from the Irish tradition, both in English and Gaelic.
From the port town of Drogheda, on the banks of the river Boyne in Co.Louth, he was surrounded by music from his childhood.
He has been at the heart of the traditional and folk-music scenes in Ireland for many years and has played with all the well-known performers in the field - Paul Brady, Donal Lunney, Christy Moore, Mick Moloney and Kevin Coneff of the Chieftains. A collector and innovator, his name constantly appears in the credits of many a best-selling Irish folk album (check out The Chieftains' Kevin Coneff's solo offering and also the recent C.D. from Maighréad Ní Dhómhnaill). He has performed all over Europe and in Japan and North America (including the Smithsonian Festival) He has been a performer, broadcaster, folk-music collector and documentary-maker. He is currently series editor of a comprehensive collection of field-recordings of Irish music, published by the Arts Council, under the title Harvest Home.
Sean Laffey - Jenkin's Ear
Tom Kelly – The Goodies and the Baddies, Macroom
Dennis Emery – Shanty Singer, Cork
Don O'Brien - Shanty Singer, Cork
Dennis Ryan – Garland, Dublin
Mick Culloty – Four by Forty, Buttevant
Jean Louise Maguire – Concertina / Box player, Manchester
Frank McGrath – Nenagh Singers Circle, Tipperary
John Wright - Maritime Specialist Lecturer / Performer and traditional musician
Mick Broghan – Singer/Sailor, Galway
Michael Canavann – Singer/Sailor, Galway
Paul Noyes – Garland, Dublin