<![if !vml]>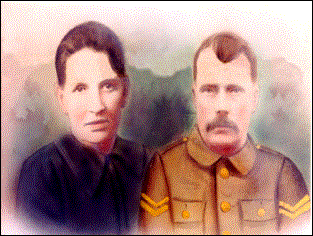 <![endif]>
Ellen & John Bell
John Bell
There are several phases to John Bell's military career, stretching from 1908 to 1918. He spent several years as a part-time soldier in peacetime. In 1914 he was mobilised for wartime service at home. He then spent a brief period of time in the warzone, as a result of which he became a casualty of war and was discharged from the army.
Special Reservist
There were conflicting family stories of John Bell having been in the Boer War and the Great War. It emerged that he actually joined the Army in peacetime as a Special Reservist. The Army Special Reserve was formed in 1908. It was the equivalent of the modern day Irish F.C.A or British Territorial Army. Its members were part-time soldiers. They did several months initial training at the regimental depot (the Curragh Camp, Co. Kildare, for the Royal Dublin Fusiliers). After training they returned to civilian life. They were obliged to attend 15 days annual training for the rest of their time in the Special Reserve. They received an annual bounty, plus pay at Army rates for the days spent training. The part-time nature of this role is indicated by the 1911 Cessus in which John is recorded as a general labourer – only fulltime soldiers gave their profession as been military. After the loss of his book-trade job, John worked as a caretaker in a local school. In 1908 John Bell had eight children to provide for. Thus, John Bell's participation in the Special Reserve can be understood by the economic benefits it brought him and the relatively few hardships involved. However, it was to be his misfortune to be caught up in the Great War.
<![if !supportEmptyParas]> <![endif]>
At the end of July 1914 a crisis broke out in the Balkans between Serbia and the Austro-Hungarian Empire which drew their various allies into confrontation. Suddenly Europe was at war. Britain entered the war on the 3rd August 1914. The next day, all Special Reservists were summoned to report to their barracks (as they were obliged to do on outbreak of a war). John Bell would have reported to the 4th Battalion RDF depot.<![if !supportFootnotes]>[i]<![endif]> The battalion was stationed in Dublin when war broke out, but within a month it had been posted to Cobh, Co. Cork (then called Queenstown). Then, in October 1914 it was moved across to Sittingbourne, Co. Kent, England.<![if !supportFootnotes]>[ii]<![endif]> It is worth noting that John attained the rank of corporal at some point in his seven year career as a Special Reservist. This was the next rank up from a private. There is not much documentary evidence for the Special Reserve, either before or during the war, so we have only a bare idea of the battalion's activities. A Special Reserve battalion was not intended for front-line action as a unit. Its duties were to supply individuals to replace losses in the regular battalions (like 1st and 2nd RDF) and to train new recruits who would be used to form new service battalions.
<![if !supportEmptyParas]> <![endif]>
<![if !vml]>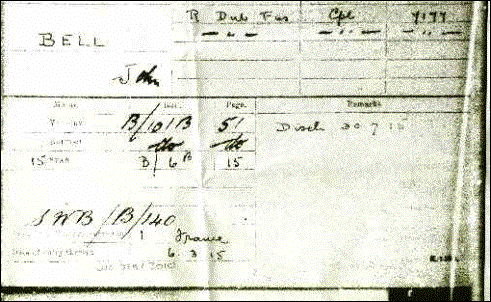 <![endif]>
<![if !supportEmptyParas]> <![endif]>
<![if !supportEmptyParas]> <![endif]>
Medal Record for John Bell
<![if !supportEmptyParas]> <![endif]>
At the Front
The surviving records for John Bell show that he was drafted to the front line and arrived in France on the 6th March 1915. This involved a transfer from the 4th RDF (Special Reserve) battalion to the 2nd RDF (Regular) Battalion.<![if !supportFootnotes]>[iii]<![endif]> He and the others who were drafted with him would have been transported to the battalion's position on the front and assigned to a company. The 2nd RDF was attached to the 10th Brigade, 4th Division. It had been badly mauled in August 1914, but it had a 'quiet' start to 1915 whilst based in the area of Nieppe. There were no major offensive in the area at this time, but the brigade sustained daily losses from snipers, small trench raids and artillery, the constant dangers associated with trench warfare.
<![if !supportEmptyParas]> <![endif]>
We had the start and end dates of John Bells tour of duty on the Western Front as 6th March to 26th April 1915 but not the precise date on which he was wounded. However in the course of researching this an important new source came to light in the form of the battalion diary for the 2nd RDF.<![if !supportFootnotes]>[iv]<![endif]> Each battalion was obliged to keep a daily account of its activities. The details of March reinforcements gives us two possible dates at which John reached the front-line: 10th March (when the battalion received a draft of twenty-five other ranks) or 16th March (when one officer and fifty other ranks joined). The diary tells us that the battalion was based at the frontline on the French-Belgian border around St. Yves-La Creche-Nieppe. It was attached to the 10th Brigade with whom it shared the task of manning its section of the frontline. It would go into reserve whilst the 1st Royal Warwickshire Regiment manned the forward trenches and vice versa. This system of rotation was required because of the arduous nature of the trenches, both in terms of danger and discomfort. The Dubs did not undertake any offensive raids in this month, but enemy artillery and sniping killed eight men and wounded over thirty others during March, including Corporal John Bell. His injury is recorded on the 21st March on what was a 'quiet day' for the battalion: one man killed and three wounded, John included. He had been in the frontline for less than thirteen days.
Casualty of War
John spent a month after being wounded in France going through the medical system. We have no known records of his medical treatment, but generally wounded soldiers received first-aid at an advanced dressing station in the frontline as soon as combat conditions allowed. Horsed wagons and motor vehicles were used as ambulances to then convey the wounded to a main dressing station near the frontline. From here ambulance trains would ferry the injured to hospitals away from the front-line (and the danger of shelling). Serious cases were sent back to Britain or Ireland in hospital ships.<![if !supportFootnotes]>[v]<![endif]> From the docks he would have been transferred by an ambulance or civilian motorist to a city hospital.<![if !supportFootnotes]>[vi]<![endif]>
<![if !supportEmptyParas]> <![endif]>
We have it from family tales that John was badly injured in the legs, either by artillery shrapnel or bullets. It was the objective of army medical services to return as many men as possible to combat fitness. John's wounds were so serious it was judged that he would not be able to return to duty and on the 30th July 1915 he was formerly discharged from the army "having been found medically unfit for further military service."<![if !supportFootnotes]>[vii]<![endif]>  He probably spent from April to July in hospital. Family sources have John Bell at home some point after been wounded, so upon his discharge he may have been released from hospital directly to his families care.
<![if !supportEmptyParas]> <![endif]>
John Bell's last few years were spent crippled. But his injuries were not only physical: According to one family member he came back a changed man.<![if !supportFootnotes]>[viii]<![endif]> He did not bear his injuries well and his temper suffered. But to add to his pain, he had to bear the loss of his wife and then his eldest son before his own death. When he died on 5th September 1918, aged 48, it was from a kidney infection. But his health was doubtless weakened by his wounds. He is buried in an enpurchasable grave in Glasnevin cemetery.<![if !supportFootnotes]>[ix]<![endif]>
<![if !supportEmptyParas]> <![endif]>
One consequence of his misfortune was that the family were to receive a pension from the government. Hence one family members observation about their childhood: "It was the British government fed us".
<![if !supportEmptyParas]> <![endif]>
<![if !vml]> <![endif]><![if !supportEmptyParas]> <![endif]>
War Diary    Discharge Form    Medal Index Card    2nd Battle of Ypres
War Years   Jack Bell   Christopher Bell   War Medals   War Map
<![if !vml]> <![endif]><![if !supportEmptyParas]> <![endif]>
<![if !supportEmptyParas]> <![endif]>