The War Years
<![if !vml]>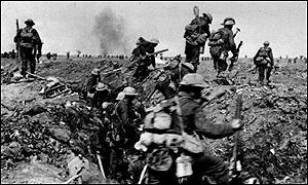 <![endif]>
<![if !supportEmptyParas]> <![endif]>
The period of the First World War (also called the Great War) spanned 1914-1918. For Europe it witnessed the involvement of most of its empires in devastating conflict. The principal belligerents were the German, Austrian, and Turkish empires against the Russian, French and British empires. All across the Continent young men were conscripted (or voluntarily enlisted) into their armed forces, for the service of their country in its rightful struggle against the enemy. The fighting that ensued witnessed the slaughter of millions, and the wounding of many more, in mind and body. For the Bell family, the war years were to witness great tragedy, as the family in turn lost their mother, eldest brother and their father.
<![if !supportEmptyParas]> <![endif]>
The outbreak of war saw Ireland involved as part of the United Kingdom. Ireland was distinct from all other countries involved in the conflict in that it did not experience conscription (the enforced service in the military for men of eligible age). However, Dublin instead had another powerful motivator for enlistment: poverty. Its slums were among the worse in Europe and its levels of unemployment had been swelled by the recent Great Lock-Out of 1913. For the Bell family though, the economic benefits of soldiering had had an influence long before the war broke out. Their father had joined a new part-time militia, the Army Special Reserve, during peacetime. The war resulted in John Bell been mobilised for full-time duty, while at some point after the outbreak of war, his two eldest sons, John and Christopher, voluntarily enlisted in the army. Their personnel experiences in this tragic conflict are pieced together below.
<![if !supportEmptyParas]> <![endif]>
<![if !vml]>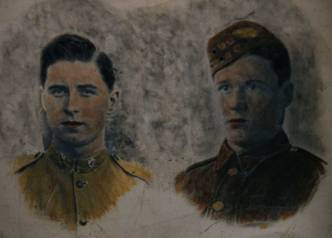 <![endif]>
<![if !supportEmptyParas]> <![endif]>
John Bell† Jack Bell Christopher Bell
<![if !supportEmptyParas]> <![endif]>
<![if !supportEmptyParas]> <![endif]>
If the grind of poverty and war were not enough, the family also had to contend with the consequences of the 1916 Easter Rising. This brought about the physical destruction of Dublinís city centre, with the heaviest fighting taking place close to where the family were living. In its wake the government imposed curfews and other restrictions on the population. Family tales tell of soldiers shouting up for lights to be put out during curfew and of Johnís children rushing down to plead with them, telling them their father was dying from war wounds. The soldiers relented. On a lighter note, it may be wondered if our ancestors were among those who took part in the looting of Dublin stores during the Rising. But the impact of the Rising was overshadowed for the family by the death of Ellen Bell. She fell victim to tuberculosis and died 8th May 1916. She was buried in Glasnevin Cemetery on 16th May.<![if !supportFootnotes]>[1]<![endif]>
<![if !supportEmptyParas]> <![endif]>
<![if !supportEmptyParas]> <![endif]>