After the devastation of Y2K the asylum has moved here.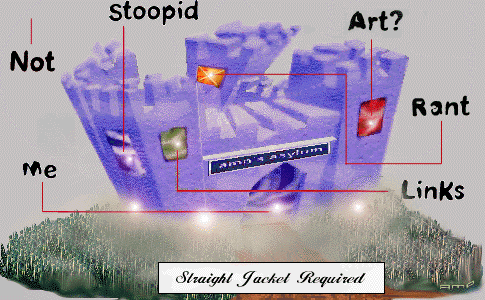 v1.421a354?432234333425555Hello67.65577.55734553.2.3
[Me] [Stoopid] [Art?] [Not] [Rant] [Links] [Text Version] [TMG] [Patient-Book] [-Read that]

+
mixed fruit and nuts since 5th April 1996
---
Created by..uhh..Adam Jewell 1996/97/98/99/2000 using Homesite 1.2, Netscape Composer 4.5, Netscape Gold 2.01, PSP 3.12/4.2, Cuteftp 1.04b, Mapedit 2.24, Mapmaker32 2.0c, Rhino 3d 1.0 Beta, Frontpage 2000, FTP Explorer v1.0, Photoshop 3.04/4.0, KPT 3.0, Notepad, vast ammounts of nicotine, beer and Oasis. Parts of this page may have been plajerized. Last update: 28/01/2000. All my opinions are my own and no-one elses. All references to the band "Ace of Base" are un-intentional. No animals were eaten alive during the making of this page. Please do not click here if you do not wish me to not sell your address to no passing strangers.

Member of the Internet Link Exchange

My URL: http://zap.to/amp



I got it for free at http://come.to