Clonakilty

The heritage town of Clonakilty which in addition to its friendly people was declared to be Ireland's Tidiest Town and also Europe's Entente Florale winner. Visit the towns fine new regional library (once a mill). This impressive cut stone building was completely renovated, the renovation being so successful that the building won the prestigious Europa Nostra award in 1987.

The West Cork Museum in Clonakilty is also worth visiting as is the Post Office, uniquely located in the old Presbyterian Church.

Clonakilty boasts one of the finest Catholic Churches in Ireland. Built in the French Gothic style it was opened in 1880 having taken about ten years to build. The magnificent spire was added some years later.

Take time out to visit the West Cork Model Railway Village in Clonakilty. Theres a child in all of us and when the urge to return to simpler times is strong there can be few better places to achieve that than in Clonakiltys Model Village. The exhibits include delightfully detailed scaled models of the towns of West Cork, every street, every house, so that strolling around the pathways you can see how life was lived in our communities many years ago. You can enjoy a coffee in the old authentic dining car and browse through the gift shop in an old train carriage.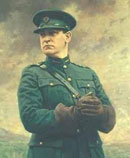 West Corks most famous son, Michael Collins, Irish leader and patriot, was born in Woodfield near Clonakilty in 1890 and died in ambush on August 22 1922. Thousands of people attended the unveiling, by actor Liam Neeson, of a life size bronze statue of Collins in the patriots native Clonakilty on August 22 2002, the 80th anniversary of his death.

Collins' two closest living relatives laid wreaths at the foot of the monument which carried an epitaph of his last written words, "The people here are splendid".

And so, if you want to enjoy Irish hospitality at its best and make your holiday a memorable experience, be sure to visit Clonakilty, its the secret to having the time of your life.