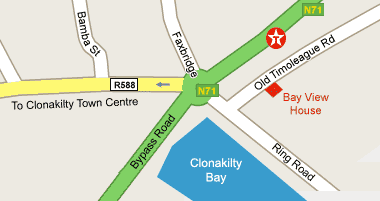 Location:
Approaching Clonakilty on the N71 from Cork/Kinsale, you will pass the Texaco Service Station on your left. Now enter the left lane as you approach the roundabout, exit left and immediately left again. You are now on the Old Timoleague Road. Bay View House is the fourth house on your right.
Bay View House is just a stones throw from Clonakilty Bay and town centre.
A luxurious home in a peaceful, scenic location signposted at the N71 roundabout on the Cork/Kinsale approach road.
GPS Location:
N - 51.623905
W - 8.879921