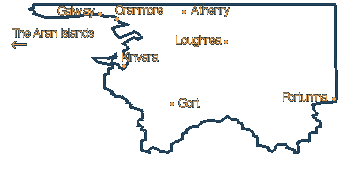 The Aran Islands
The three islands, Inishmore, Inismssn and Inissheer used to be part of the Burren and have the same limestone base. Although, in language and culture they now have a stronger affinity with Connemara and Gealic is still spoken. This is a world forgotten in time, perched on the very edge of the Western world. The voices of the past ring out around the wedge-tombs and great stone forts.
St. Enda came to "Aran of the Saints" to found a monastery in 490 and many other saints including St. Brendan studied here before Viking raiders destroyed the monastery. (Teaghlach Bheanain, St. Brendan's little stone oratory can be found on Inismore.)
Ionad Arann, Aran's heritage center is also on Inismore.
If you want to take a first hand look at the traditional lifestyle try Inishmaan, whilst Inisheer has an O'Brien 15th century tower house, built inside an earlier stone fort.
Dún Aengusa, Inishmore, one of

the finest stone forts in Europe, bodly stands on the edge of a 100 metre cliff. The fort consists of three concentric semi-circle enclosures surrounded by walls and also has a chevaux-de-frise.
Legend says that the fort belonged to Aengus, a chieftain of the Fir Bolg, banished from the mainland after the Battle of Moytura. You can travel to the Islands by ferry from Doolin, Galway and Rossaveal Harbour or fly from Connemara airport.

Woodford
(ClanrickardeGraig na Muilte larainn - the village of the iron mills)
A neat and orderly village just over the Galway border, set among some delightfully wooded countryside, with a backdrop of the Slieve Aughty Mountains. It achieved national fame during the Land War of the 1800s as the home of the Notorious absentee landlord, the Marquess of Clanrickarde. The Woodford Evictions received worldwide attention, which helped the oppressed tenants to victory, championed by Charles Stewart Parnell and Micheal Davitt.
The name alludes to iron smelting which was the foremost local industry for centuries. At that time the surrounding hills were thick with oak trees from which charcoal was gain to fuel the fires.

Portumna
(Port Omna - river of the oak)
One of the most attractive towns in South Galway, is located at the point where the Shannon enters Lough Derg. The town grew from a settlement established about the manor castle of Richard de Burgo who spearheaded the Norman Invasion of the country in the 13th century.
The former Clanrickarde demesne near by has been converted into a pleasant forest park. A new harbour provides access to Lough Derg. Portumna Castle is a rare

example of a 17th century Irish mansion and was formerly the stronghold of the Clanrickardes. It was one of the first buildings in Ireland with Renaissance features. The ruins of a small Dominican priory (1425) lie in the castle grounds.
One of the largest of the Shannon hire- cruiser enterprises is based at Portumna and there is a 9-hole golf course.
Meelick Franciscan Friary and Deerhivenny tower house to the north of the town are well worth a visit.