(Please note this is a personal reflection of what her work means to me.
(((SEE NEW FANTASY SERIES BELOW THIS)))
``Science Fiction will never run out of things to wonder about until the human race ceases to use its brain''
- Julian May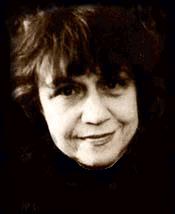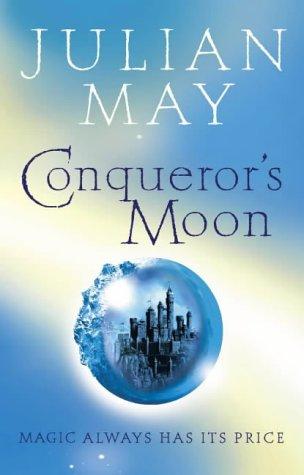 More information click above
---

The Great Saga
.If you want a brief synopsis of these
please go to this link.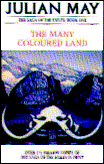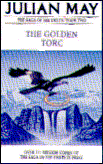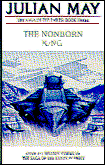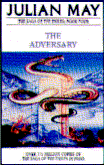 http://www.gayspermbank.com/may/leaders.htm
is also an exellent link for more on the Saga, including the Guilds and Leaders of the Pliocene past.
---
INTERVENTION
So we waited and we waited.
The story was over and yet…….
There appeared to be another story, or maybe something to be explained.
There was of course the Rebellion where Marc had such a part to play.
What led to that rebellion?
What made Marc the most dangerous (and hated) man of the 21st century?
Why was he to become known as "The angel of the Abyss", "Abaddon", the meta-psychic enigma.
Why was Diamond Mask called "Blessed", and Jon (Marc's brother) called "Saint" Jack?
What was the sequel of Marc and Elizabeth's life. What did they do in the Duat Galaxy?
We waited and then "Intervention" told part of the story, but the last two words of that book
threw us all into a state of even more confusion.
Eight years, and then two more and then another one and the whole story was told.
We meet "Fury", and the "Hydra", but who are they?
Above all, we meet Uncle Rogi Remillard and his "ghost" who will tell us between them, the tale of Intervention, and the last three stories:
Jack's birth and strange life,
Dorothea McDonald's almost stranger existence behind a mask of mental silence and her meeting with Jon.
And finally;
the telling of the Rebellion itself ending with a quotation from the Book of Daniel.
It is a story of supreme love, of loyalty and goodness, and gross inexorable evil;
And yet, essentially it is the story of one man, the most dangerous man who ever lived
and the one without whom none of the events of the eight books would ever have been told, not because he led the Rebellion,
but because he went back to the Earth of pre-history and became............
Perhaps "Intervention" will tell us…
Perhaps!…
Intervention
between the Saga

and the Milieu
---
The Galactic Milieu Trilogy*
The Galactic Milieu Trilogy describes the further struggle of the
most powerful of the human metapsychics and their interaction with
a galactic confederation of exotic beings - The Galactic Milieu.
The adventures of a group of human exiles from the Milieu to the world
of Pliocene Earth 6,000,000 years in the past is told in the Saga of the
Pliocene Exile, actually the first to be published. Anyone noticing the
possibility of a massive and paradoxical time loop should keep his or her
mouth shut.
---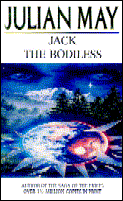 JACK THE BODILESS
This is the story of Jon Remillard, Marc's brother; Saint Jack (the bodiless)
, my favorite.
It is also the story of the birth of the entity known as "Fury", (born again from Victor, ("inevitably")
and it's assistants) "the Hydra".
It continues the tale of the Remillard family including Marc's early life.
And already he is dangerous!
Remarque!
---
DIAMOND MASK
She was never beautiful, especially after the accident, but I had fallen in love with her even before I read her story.
"She was called so many different names…and that too was part of her mask."
She was Dorothea Mary Strachan MacDonald, but to the Lylmic she was Illusio, the evasive one, and to Ti-Jean she was just 'Diamond'.
This is her story and the motive FROM THE AUTHOR'S POINT OF VIEW, for all that has gone before.
When you come to pages 188 to 193 you may find it difficult not to cry, as I did!
---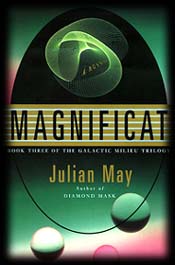 "And all is always now" - T.S.Eliot
MAGNIFICAT
The final chapter! "Inevitably"! The circle is complete.
I have always believed that "Time" is a trick devised by "le bon Dieu" to explain to us mere mortals how "Eternity" works. T.S.Eliot's "Four Quartets" goes a long way in trying to explain it, and it is appropriate, perhaps, that the final quotation at the very end of the book is from this poem. As Malama says on page 11: "past present and future form a seamless whole", so it is with the 'Saga' and the 'Trilogy'; Time, even 6,000,000 years, is but a drop in the ocean of Eternity.

---
It began with the death of a ship from a distant galaxy, and ends
with a quotation from the Bible*…well almost! There is a twist in the epilogue…a nice twist!
Whereas it is a tale of betrayal and evil, it is also a story of sublime Love and sacrifice in Malachi's sense of the word.
It does not tell the whole story; that is for you or me to tell, certainly to ourselves, and maybe some day to others…that is if Ms. May doesn't do it for us. There is, just a hint, of more to come?
---
So the fable is over…..or is it?!
*[-- King James Version --
Daniel 12:3 And they that be wise shall shine as the brightness of the firmament;
and they that turn many to righteousness as the stars for ever and ever.]
AFTER MAGNIFICAT - a letter to J.M.
Letter
So it's over?
I was always terrified it would be a disappointment, but it wasn't.
I stopped crying about half an hour ago. I think it was the passage from Daniel that finished me, but it's not the first time...oh no....
So it's time to say thank you.
Thank you for the tears, and the laughs and the sadness and the mind reaming you exerted on me.
Thank you for the sheer pleasure of it, and the beauty and the good and the evil and the language both lyrical and profane! Thank you for the entertainment and the mystery and the fantasy and the sexiness of it. (what's got into you recently?!)
Thank you for the philosophy and the faith and the 'Faith'...(one of my favourite passages is the equation: Unity = Trinity...brilliant....!)...and the science, fictional and factual.
I was moved and shocked and riveted and puzzled and I split my sides, and wept till I could weep no more. (Diamond's redaction of her father.)
Yes, thank you for the love and the hate as well.
Some questions if I may? What is the relevance of "Gaudete", or did I miss something?, i.e. What is Gaudete Sunday ?
There is a statue of Kahul mentioned, with reference to those who returned from exile, but the relevance is never mentioned again, or why the statue was erected?
(sorry I have just read it again and I realise it was only for the Dartmouth festival.) Which leads me on to whether there is a hint of more to come in the final words of dear Uncle Rogi? How happy for him, now that Elaine has returned...a nice touch! The work of a certain Lylmik I presume?
What happened to Felice, or is that a red herring provided by your devious, (yet beautiful) mind.
Was she waiting in the Pliocene just to make us think she might reappear or had she really a connection with the carbuncle as you hint at in Magnificat?
Perhaps you will not answer me, but can you blame me for wanting to know?
One more strange thing, or perhaps not so, but I had read T.S Eliot's "Four Quartets" many times, long before I read any of your novels, and even in the early stages of reading "The Exiles", I was often pulled up by the thought that much of his work fitted in with the plot of the whole great story which would finally come full circle in the "Milieu" trilogy, and then as if to confirm my feelings, you end with that most apt quotation from his poem.
I had the pleasure of meeting you in Dublin, (Ireland, not N.H.) when you read some of "Diamond" to us in Trinity College. I was the elderly one who never stopped asking stupid questions. That was after I had written to you, even before "Jack" came out, wondering if we would hear more about Marc, soon.
It is with great sadness that I must conclude. There are no words of mine that can adequately express my gratitude to you for all the splendid entertainment you have provided me, and, indeed, so many of my friends.
I feel like finishing with the words of a famous Vulcan..."live long" etc., but I won't. That would reveal that I also enjoy another space opera of a far inferior intellectual significance than your own exquisite work.
So I shall just say "slán agus beannacht" to you and your cats.
And hope that maybe..............? ***
For anyone who wishes to see the reply to this letter, please email me.
Also here is my answer to one of the requests for the "reply".
***
Quote from interview:
MJ: What about higher mind functions. Do you believe that they exist?
JM: Certainly not to the extent in which they are described in my books. I do believe that people currently hold these abilities, but to a limited extent. We have people who are healers and those who posses a certain animal magnetism. The potential is certainly there.
MJ: There seemed to be a lot of loose ends at the end of Magnificat. Will there be another book? I thought you might write more on the Pliocene Exiles, especially Marc and Elizabeth's years in the Duat Galaxy.
JM: No. I wont be writing any more books in the Milieu universe. The oeuvre is complete and more would be too much
---
My
POEM

Dawn points, and another day
Prepares for heat and silence.
Out at sea the dawn wind
Wrinkles and slides.
I am here Or there, or elsewhere.
In my beginning.



What is the late November doing
With the disturbance of the spring
And creatures of the summer heat,
And snowdrops writhing under feet
And hollyhocks that aim too high
Red into grey and tumble down
Late roses filled with early snow!
Thunder rolled by the rolling stars
Simulates triumphal cars
Deployed in constellated wars
Scorpion fights against the
Sun Until the Sun and Moon go down
Comets weep and Leonids fly
Hunt the heavens and the plains
Whirled in a vortex that shall bring
The world to that destructive fire
Which burns before the ice-cap reigns.
Letter to April (Elizabeth) about the
Julian May/T.S.Eliot connection: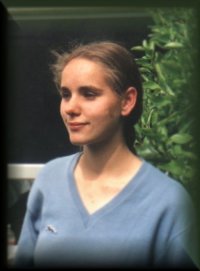 Dear Elizabeth**,
Many years before Julian May, I had read, (and re-read), T.S.Eliot's "Four Quartets".
As I mentioned to her in my letter, it came as no surprise that she quoted lines from this remarkable set of
four poems at the end of "Magnificat".
If anybody were to ask me what the May books were about, I would say
that they tell the story of three events in future history:
1. An unpardonable and heinous sin.
2. A great Intervention., and,
3. A remarkable Atonement.
When I thought of these three headings, it was not surprising that,
of course, this is the basis for our belief as Christians, and as I mentioned,
that is possibly why she called her last book by the title that she did.(see my poem!)
Above all, they are about one man, as you now know, but throughout the telling
of them they have another theme, and it is that, which brings them back to T.S.Eliot,
(himself an Anglican Christian). The poems, I hope, will be a memento of our friendship, and a
reminder of the little chats we have had about Ms. May. The theme is that of "Time", always a
subject of fascination for me, on all levels:
"It is the same road up and down". "Time is always now", and is always eternal…
that is the meaning, (or one of them) of this book of poems. A word of caution though. Don't expect to
get much from them initially, they bear reading in small amounts at first, and only later, considered
as a whole work. Try, also reading them out loud. Sometimes, it helps,
I hope you enjoy them.
Your friend,
Ti-Jean.*
me!*
April**
Time present and time past
Are both perhaps present in time future,
And time future contained in time past.
If all time is eternally present
All time is unredeemable.
What might have been is an abstraction
Remaining a perpetual possibility
Only in a world of speculation.
What might have been and what has been
Point to one end, which is always present.

The final word (almost)
??????
How have I been able to live so long outside Nature without identifying myself with it?
Everything lives, moves, everything corresponds; the magnetic rays, emanating either from myself or from others, cross the limitless
chain of created things unimpeded; it is a transparent network that covers the world, and its slender threads communicate themselves by degrees to the planets and stars. Captive now upon earth, I commune with the chorus of the stars who share in my joys and sorrows."
" It has been rightly said that nothing is unimportant, nothing powerless in the universe; a single atom can dissolve everything, and save everything! What terror! There lies the eternal distinction between good and evil."
G?rard de Nerval (1808-55), French novelist, poet. Aur?lia, pt. 2, ch. 6 (1855; repr. in Selected Writings, ed. and tr. by Geoffrey Wagner, 1958). The Columbia Dictionary of Quotations is licensed from Columbia University Press. Copyright (C) 1993 by Columbia University Press. All rights reserved.
This quotation appeared at the beginning of Julian May's "The Adversary"
The Prince of Aquitaine before his ruined tower:
My only star is dead; and now my jewel-studded lute
Will only bear the blackened sun of Melancholia . .
My forehead is red yet with the kiss of the queen; I have dreamed in the grotto where the siren swims and twice
I have crossed the Acheron, triumphant...
El Desdichado, Gerard de Nerval
---
The Answer
A Rose, in tatters on the garden path,
Cried out to God and murmured 'gainst His Wrath,
Because a sudden wind at twilight's hush
Had snapped her stem alone of all the bush.
And God, Who hears both sun-dried dust and sun,
Had pity, whispering to that luckless one,
"Sister, in that thou sayest We did not well --
What voices heardst thou when thy petals fell?"
And the Rose answered, "In that evil hour
A voice said, `Father, wherefore falls the flower?
For lo, the very gossamers are still.'
And a voice answered, `Son, by Allah's will!'"

Then softly as a rain-mist on the sward,
Came to the Rose the Answer of the Lord:
"Sister, before We smote the dark in twain,
Ere yet the stars saw one another plain,
Time, Tide, and Space, We bound unto the task
That thou shouldst fall, and such an one should ask."
Whereat the withered flower, all content,
Died as they die whose days are innocent;
While he who questioned why the flower fell
Caught hold of God and saved his soul from Hell.
Rudyard Kipling
THE LATEST SF series from the magic pen
Rampart's World

"You have to admire Julian May for the scope of her work "
-- SFX
"A certain crowd-pleaser"
--Kirkus Reviews
"Julian May has irrevocably placed herself among the greats"
--Asimov's SF Magazine
"A writer of exceptional perception and power"
Jean Auel, author of The Clan of the Cave Bear
Second in the major new science fiction series from best-selling author Julian May.
Two hundred years into the future, the great corporations of Earth dominate all life in our Galaxy. But their endless pursuit of wealth and power is about to open the door to a malevolent alien race, intent on engulfing the Commonwealth of Human Worlds.
In Perseus Spur, the disgraced Helly Frost was forced by his father to return home to save the family business empire from hostile take-over by a rapacious rival. Not only was Galapharma AC a threat to Rampart Starcorp, but also to the entire human race, for it was selling advanced technology to the alien Helly faced murder, mayhem and gun-battles in space to foil Galapharma's first attack against Rampart. In Orion Arm, Helly and his oddly assorted band of companions attempt to capture a crucial witness to the Galapharma conspiracy, who has taken refuge on a hostile planet. Galapharma's insanely ambitious boss, Alistair Drummond, will stop at nothing in his quest for power, and Helly is marked for death as the two corporations continue to do battle.
Meanwhile, the Haluk follow their own appalling agenda, using human science to mutate their bodies
and allow them to infiltrate human society. Helly must find a way to alert the Commonwealth to the Haluk peril,
while also saving his family from Drummond's increasingly desperate efforts to annihilate the Rampart Worlds.



Synopsis
After Helly Spur's attempts to break the Galapharma conspiracy with the Haluk against the Human Worlds,
this carries on where "Perseus Spur" left off. Helly and his companions attempt to capture a crucial witness to the conspiracy,
who has taken refuge on a hostile planet.
--------------------------------------------------------------------------------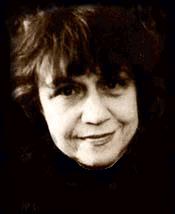 LINKS
Please notify me by mail of expired (new) links

---
Bibliography
May, Julian (USA, 1931-)
Achievement Awards:
Novels
Short Fiction
Milieu - Julian May discussion list
a Poem from me
http://www.bcde.demon.co.uk/saga.htm
http://scifiarchive.com/mayjulian.htm
http://ds.dial.pipex.com/town/estate/xbo61/
http://www.ballarat.net.au/onfire/may.html
http://www.amazon.co.uk/exec/obidos/ASIN/0002246244/webcraftcomputer/026-3025838-0797834
MORE LINKS
Julian May - Bibliography Summary

Julian May - Bibliography Summary. ... May, Julian (USA, 1931-). Awards: [Lc] = Locus Poll Award: [1982] Interviews: Interview: Julian May (1993). ...

http://www.sfsite.com/isfdb-bin/exact_author.cgi?Jul... (AOLSearch, Google, MSN) | More Like This

Works of Julian May

Works of Julian May. 1st writer of undefined time-period. Here since 12.3.1995 Julian May is one of my favorite writers. All ...

http://kyyppari.hkkk.fi/~k23100/may/
Julian May is one of my favorite writers. All her works are situated in the same 'world' - our earth from now till 22nd century and six millions years before...The major differences are the development the mind powers, an alien milieu ready to receive the humanity into a mental unity and a one-way gateway to Pliocene Earth.
Her first four books, the Saga of the Exiles:The many-coloured land,The Golden Torc,The Non-born King and The Adversary tell the tale of those misfits or adventurers who pass through the one-way gateway into distand past - and meeting aliens on the other side!
The next book,Intervention follows the Remillard family through their history (mostly) from 1945 till early 21nd century as told by Rogatier Remillard alias uncle Rogi. This book has also appeared in two parts:The Surveillance and The Metaconsert.
Her latest works, The Galactic Milieu Trilogy:Jack the Bodiless,Diamond Mask and the upcoming Magnificat continue the story of Intervention - telling about the great personae of the previous books and of the hunt for the Fury.
I Have listed books and given the back-cover texts but I won't give any more about the plots in hopes that you will read the books - and I hope that you do! Truly enjoyable reading.

Milieu - Julian May discussion list

Milieu - Julian May discussion list. ``Science fiction will never run out of things to wonder about until the human race ceases to use its brain -- Julian May ...

http://yoyo.cc.monash.edu.au/~wigs/milieu.html

SFBookcase.com - Julian May

Julian May, About Author. Writes both fantasy and SF. Julian May published her first story - the sf classic Dune Roller - in the 1950s ...

http://www.sfbookcase.com/author.asp?authorid=45

Julian May

Julian May. ...

http://www.spies.com/~rawdon/books/sf/may_julian.html

Julian May Bibliography

A bibliography of Julian Mays books and short stories, with book covers and links to related authors. ... Julian May USA (1931 - ) aka Lee N Falconer, Ian Thorne. ...

http://www.fantasticfiction.co.uk/authors/Julian_May...
1.

Works of Julian May
Works of Julian May. 1st writer of undefined time-period. Here since 12.3.1995 Julian May is one of my favorite writers. All ...


2.

Julian May's Pliocene and Milieu Sagas
JULIAN MAY Pliocene and Milieu Sagas. ... Julian May by Wigs; Works of Julian May


3.

Jack the Bodiless
By Julian May. Buy now for $6.99 or order used. Read reviews and discover similar items.


4.

Milieu - Julian May discussion list
Milieu - Julian May discussion list. ``Science fiction will never run out of things to wonder about until the human race ceases to use its brain'' -- Julian May ...


5.

Yahoo! Groups : Julian-May-discuss
... Description, Category: May, Julien. An area to discuss the works of the author Julian May, with a focus on her Pliocene Exile and Galactic Milieu story cycle. ...


6.

Books - Compare Prices for Julian May
The Nextag price comparison guide helps you find low prices, including tax and shipping, on books, CDs, Dvds, computers and electronics. Read our merchant reviews before you buy.


7

An afternoon with Julian May
The web site of the Melbourne Science Fiction Club


8

Buy Julian May Books at Alibris
Buy used, rare and out-of-print books by Julian May. With over 30 million books from thousands of booksellers worldwide, we have what you are looking for.


9.

SS > SF > book reviews > Julian May
Julian May. ... 1984). Other information. see also: Non-fiction works. Novels/Collections : reviews. Julian May. Sagittarius Whorl. Del Rey. 2001.


10

Julian May
Julian May, Books


11

Unity SETI@Home Team
SETI@Home team dedicated to "The Galactic Milieu Trilogy," by Julian May. Provides speed tips and links.


12.

Julian May listings on Thepaperbackexchange.com
...metaconcert, the, may, julian...


13.

Julian May Bibliography
A bibliography of Julian May's books and short stories, with book covers and links to related authors. ... Julian May USA (1931 - ) aka Lee N Falconer, Ian Thorne. ...


14.

Julian May - Science Fiction Books
Books of Julian May - Science Fiction by a master of the genre - from Brough's Books. ... Diamond Mask by Julian May (Mass Market Paperback -- March 1995) ...


15.

Julian May listings on Patcat.net
...the many-colored land, may, julian, del rey...


16.

SFBookcase.com - Julian May
... Writes both fantasy and SF. Julian May published her first story - the sf classic Dune Roller - in the 1950s, and then ...

Be careful of the new sites above. There are several "spoilers", which
you may not want to see.
Those who are in the know, however, may browse with interest!

---
Another link to SF authors
The Link?ping SF&F Archive: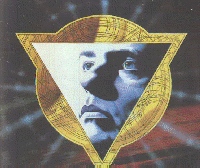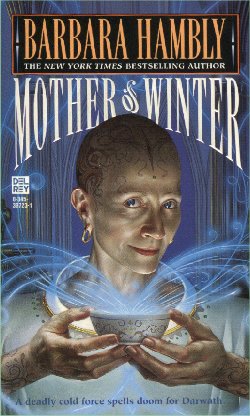 Authors
http://sf.www.lysator.liu.se/sf_archive/sf-texts/SF_resource_guide/

---

Caution
has its place, no doubt, but we cannot refuse our support to a serious venture
which challenges the whole of the personality. If we oppose it, we are trying
to suppress what is best in man - his daring and his aspirations.
And should we succeed, we should only have stood in the way
of that invaluable experience which might have given a meaning to life.
What would have happened if Paul had allowed
himself to be talked out of his journey to Damascus?
Carl Jung (1875-1961), Swiss psychiatrist. Collected Works, vol. 11,
"Psychotherapists or the Clergy" (ed. by William McGuire, 1958).
PAGES AMENDED JULY, 2004
"Every light is a shade, compared to the higher lights, till you come to the sun; and every shade is a light, compared to the deeper shades, till you come to the night."
—John Ruskin, 1879.
Very true, but do you want proof?
The most fascinating illusion of them all

||design|| (C)David Spurgeon ||David Spurgeon's page||

All pages amended May 12th 2004