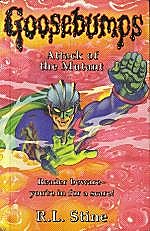 Title: Goosebumps -
Attack of the MutantAuthor: R.L. Stine
Publisher: Scholastic
My name is Gary Walsh.
I got this book because a friend of mine said it was a very good book. So I decided to read it and see if he was right.I was glad I did.I really enjoyed it.
Skipper just lives comics especially when they are about the Masked Mutant an evil supervillain who's out to rule the universe. So when skipper finds a building that looks exactly like the Mutant's secret headquarters he has to go inside. Soon skipper finds himself in big trouble. Didn't anyone ever tell him not to mess with a supervillain?
I have read 4 other 'Goosebumps books'. I would give it 10 out of 10 and I would recommend it to you.
Written by:

Gary Walsh