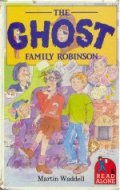 Title: The Ghost Family Robinson
Author: Martin Waddell
Publisher: Penguin Group
My name is Raphael Hogan. I got this book in the library. It is about a boy and four ghosts. The Ghost family Robinson lives at Mrs. Watt's house. He goes after school so that he will know more about them.
One day Mrs. Watts said she was going on holiday this weekend so that they would to stay at Tom's house. The ghosts don't like staying on there own. Tom's mother and father don't believe in ghosts. Saturday morning was all right and nothing much happen. In the afternoon Hetty started moving things. Just small things like my Dad's magazine and my Mum's screwdriver. Tap, tap, tap went her feet across the ceiling and his Dad went upstairs to see who was doing the tapping. Then the tapping stopped.
There are four chapters and the book contains 80 pages. I like the book because the writing is big and there are big pictures. A boy in my class has read The Ghost Family Robinson at the seaside. I won't tell you anymore because it might spoil the story.
Written by: Raphael Hogan
1998