Fifth Class School Tour '99 --: We went on our School Tour on Tuesday, June 8th 1999. We went to Clara-Lara Fun Park in Co. Wicklow. We gathered at the school at 9 O'clock, 26 Fifth Class boys and two teachers; Ms. Harrington and Mrs. Hayes went on the tour. We were lucky with the weather, it was a lovely day.
At 9.20 we set off on Carey's bus. Some of us were a bit squashed but we all managed to get a seat. Mícheal Costello and George Linehan provided the musical entertainment on the bus. Our route took us through Waterford City, New Ross, Enniscorthy, Gorey, Arklow, Avoca (Where "Ballykissangel" is filmed) and Rathdrum, and we arrived at Clara-Lara at 11.50 am. When we got there we had our picnic lunch in a green area beside a lake. Everyone was really hungry.
The Great Slides in Clara - Lara
Then we changed our clothes and got ready to start our activities. There were lots of things to do. There is a huge waterslide in Clara-Lara, it's the biggest outdoor slide in Ireland. It is really steep. It was scary at first but we soon got used to it. We tried to get our teachers to go down but they wouldn't. That would have been fun.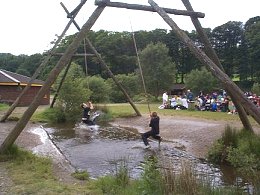 We all had a go on the assault courses. It was great fun swinging out over the water on ropes. We all fell in. The water was freezing but we didn't mind! We were so cold at this stage that we went to the café to warm ourselves up with soup, hot chocolate and chips. Some of us were blue with the cold and David Clarke's teeth were chattering so much he could hardly speak. After a change of clothes we were ready to go again. Some of us tried the Crazy Golf, it was hard but good fun. We had a great time on the go-karts, although the green go-kart was very slow. It didn't take David O'Driscoll long to get the hang of the go-karts, but I think David Phelan and Edward have great futures ahead of them as Formula 1 racers. There was a huge tree-house three storeys high. The view from the second floor was amazing. One of our favourite activities was boating on the lake, although quite a few of us ended up in the water!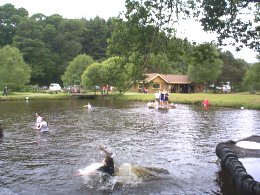 We also tried our hand at canoeing and rafting. We met lots of other children in Clara-Lara. There were schools from Dublin, Wicklow and Wexford on their school tour as well. We also met a lot of French and Spanish students. We had hoped to go to Glendalough but we were having so much fun in Clara-Lara we ran out of time. Kevin Griffin was raging as he wanted to see the place, as he is called after St. Kevin, the man who had a monastery in Glendalough. We left Clara-Lara at four o'clock and arrived back in Tramore, tired but happy, at half past six. We had a brilliant day and we all think it was the best school tour ever. We all want to go back to Clara-Lara next year. We also want to thank our teachers for bringing us there and also our bus driver Mick.
It was a brilliant tour. Ms. Harrington was with us for a few weeks as our class teacher, Mrs. Buckley was out having a baby. She had a new baby girl. Ms. Harrington will not be here next year as she will be in a school in Castlebar, County Mayo, which is in the west of Ireland. Aren't they lucky.
Fifth Class '99