Cliff makes Sporting History--: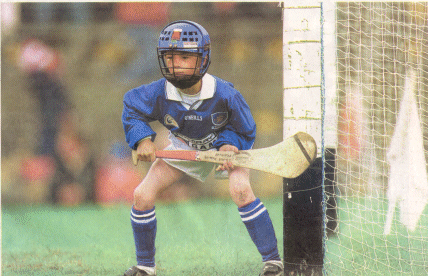 My name is Cliff English. I live in Tramore.County Waterford. This is a photograph taken of me when I was playing on goal for the Waterford Primary Schools team.I was the goalkeeperand it is my job to stop the other team scoring especially goals. In hurling a goal is worth three points. A goal is scored when the ball hits the back of the net. I am using a special hurley with a large bos( top) which helps me to hit the sliotar (ball) further , when I hit it out to start play. Hurling is our national game here in Ireland.It is played in almost everypart of Ireland. everyyear there is a national competition to find the best county team in the country. It is called the "All Ireland" and the final is played in Croke Park in Dublin.

The photograph was taken by Ray Mc Manus and appears in a special book published in November 1999 by Sportsfile called "A Season of Sundays". This is a very colourful book showing aspects of hurling and football all over the country. Some photographs are happy and some are sad or funny. The photogrsph also appeared in the sports section of the 'Examiner' newspaper. We played Cork in Semple Stadium in Thurles, County Tipperary. The GAA was started in Thurles in 1844. There was around sixty thousand people watching us. It was a great day and one that I will never forget. We got to keep the jerseys, socks and shorts after the game. After the game all the teams went for a meal in a local hotel. I had burgers and chips. We saw the senior players from Waterford and Cork. Cork beat us by 2—2 (8 points) to our 1 – 1 ( 4 points). In the senior match Cork also beat Waterford by 1 –1 to
I was captain of the under 11 school team last year which won the « Garda Cup » by defeating Ballygunner in the county final.It was the first hurling cup ever in our school. You can read all about it in the sports section.

Cliff English
©Photo Sportsfile used with permission