All Ireland Champions visit school -- :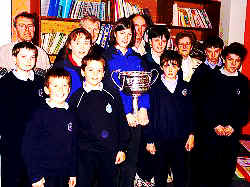 We had a visit from the Waterford All- Ireland Senior Football Champions on Thursday, October 15th, October, 1998. Only three of the team called to the school because the rest of the team were at work. Their names were Siobhan Ryan, the full back and captain, Sara Hickey, the goalkeeper and Julie Torpey, the wingback.
They brought the Brendan Martin cup with them. It is a very big cup and it is made of solid silver. It is worth over £25,000. It is a new cup. Waterford are the first team to win it. Fr. Tom Flynn from Tramore Ladies football club came with them. A few boys were picked from each class for a photo with them.We all gave them a big cheer when they held the cup in the air. We hopew the hurlers will bring the hurling cup into the school some year. One of the sixth class boys took the photographs with the digital camera. Last year was a great year for Ladies football in Waterford. In the All- Ireland finals last year, the first game ended in a draw but the Waterford Ladies emerged victorious after a very hard second game.
We gave them a big cheer when Siobhan held up the cup.We are standing beside the cup to the left. It is nice to have special visitors to the school. We hope the hurlers will bring the cup to the school before too long.Waterford hurlers have not won an All - Ireland since 1959.
Declan King and Daniel Goggin