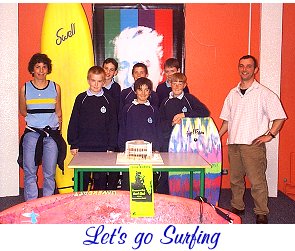 We had a visit from Tramore Bay Surf Club Instructors, SheilaWalsh and Billy Butler who talked to us about the great sport of surfing. They showed us a video from California showing great waves and great surfing. It looks so easy when you see it on a film. They spoke to us about the new clubhouse been built on the sea front in Tramore. It is a most unusual design and was built with money from European funds and the County Council. It will be officially opened this summer. It will have a shower room a meeting room and a place to store boards and suits.

We were all given a free lesson on the following day. It was great crack. Everybody had a wet suit, which keeps you warm no matter what the weather. Some of the boys are members of the surf club already. A surf board would cost about £100 (second hand) and from £200 to £500 for a top of the range board. A wet suit second hand would cost you about £25 for a cheap one to £150 for a new one. Most young people do not buy a new suit to start with as they would grow out of it very quickly. You have to fit exactly into the suit because it has to hug your skin, otherwise you would not stay warm.
Some of the boys have "body boards" which are a lot smaller and cheaper than a full surf board. On a body board you lie flat but on a surf board you have to stand up. Some of the lads hopw to get more lessons and maybe get their own board.

If you ever come to Tramore don't forget that you can have a lesson from one of the many qualified instructors at the clubhouse. It will cost you about £15 for an hour's lesson. You can read more about the club when you click on the link on this page or phone them directly on (051-391297).Got to go the surf's up.