Meet Tabs --: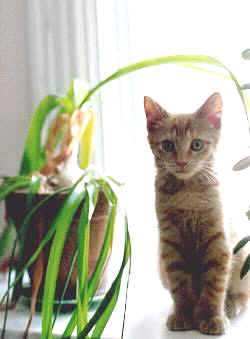 I have a pet cat. I call him Tabs. Tabs is a marmalade cat, which means that he is orange and white. He is a tom cat and he is eight years old. We got him when he was a kitten from my aunty in Dunhill, which is a place near Tramore. She has six cats and fifteen dogs. My Dad picked the name for the kitten. Tabs love to drink milk and his favourite food is corn flakes with milk on them. The food cost about £3.99. He eats from a bowl in my house. I feed my cat before I come to school.

My Dad decided to get the kitten. He loves to play with me when I come home from school. He sleeps on a sheet in a box. My pet does not damage anything. He was trained when I got him. My pet has good habits. He does not have bad habits. My cat does not annoy me. One day when I was in school Tabs got in to a fight with another cat. There was cat fluff everywhere. He wasn't hurt that much. He got lost once before. I was worried that I would not see him again but he came back after a week.

I used to run home from school to see if he had returned. He goes hunting for mice. He does not eat them but drops them outside in the back and then I have to pick them up and throw them away. He is a lovely cat. I would miss him a lot, if he went away for good or got killed. I have to look after him. He plays with a cat next door.
Jimmy Coffey
Third Class