Meet Bouncer--: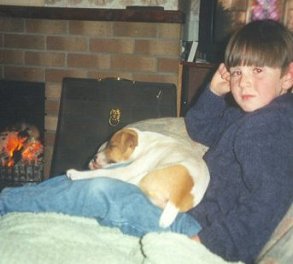 We like sitting beside the fire
I have pet dog. His name is Bouncer. He is a brown and white Jack Russell. He is two years old. I have him just over one year. My nanny gave him to me. I decided on the name myself. He has a patch on one eye and he has no tail. He had to get it cut off because there was something wrong with it. He eats dog food. He drinks milk and water. I feed my dog Bouncer dog food from a tin. He eats out of a bowl. The cans of food cost 45p a can. I bring Bouncer for walks down the beach.He has a kennel out my back. He sleeps on a blanket. He loves to chew on shoes. I trained him. I wash him and feed him twice a day.He has good habits.

He is well trained and does not leave messages around the house and cause a smell. He has no bad habits. He is always jumping on me. He has an ear infection so we called the vet. He will stay in my Nannyís house. If he ran away I would miss him. He never got lost. He bit a horseís leg in my Nannyís. If he ran away I would miss him. He is a friend with Beano, a dog next door. At night he stays in and watches television, just like us. He is very friendly. I look after him because I donít want him to get sick. The vet told me how to look after him, when she spoke to us in school. We also watched a video and she let us hold and touch some of the pets she brought in. I got books in the library to read about dogs. My teacher gave me some information as well. I brought in a picture of my pet and me and we scanned it onto the computer.
Kenneth Coffey
Third Class