Roger Barron --: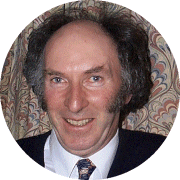 Roger Barron is a native of Clashmore in West Waterford (and proud of it). He was educated in Clashmore N.S. and Youghal C.B.S. He is a graduate of St. Patrick's Training College, Drumcondra, a Dublin and says he is one of the few male NT's (National Teachers) left in the teaching profession. He feels that the "Male Teacher" should become a protected species and that in coming year's school with such teachers in them should be part of a local heritage trail. In this way schools could raise extra funds to keep the places going.

He is a member of the staff since 1972 and is now more local than the locals themselves.

He has a keen interest in several sports. A former All - Ireland multi-medal winner with the Waterford cross country team in the seventies, which included such company as Olympic and World Champion, John Treacy, also a native of West Waterford. (Roger only mixes with the best).

Currently Secretary of both the Waterford Board and Munster Council of the Pitch and Putt Union of Ireland. He coaches a number of interested pupils in the school and says he has a few exciting prospects. Interested in gardening and television.