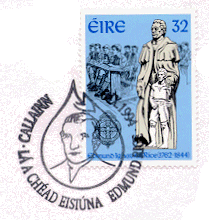 Blessed Edmund Rice -:
Our school is called after this famous man. He is not a native of Waterford at all, as he was born in Callan, County Kilkenny on June 1st.,1762 but it is through his work in Waterford that he became famous.Edmund Rice has been commemorated twice on Irish stampsThe stamp below was issued in 1944 to mark the centenary of his death, which occurred in 1844 and the stamp on the right was issued in 1994 to mark the 150th anniversary.

Edmund came to Waterford city as a young man in 1779 and became a ship's chandler in his uncle's business. In 1785, in his mid 20's he married Mary Elliot . But she died in 1789 after falling from a horse while pregnant and having given premature birth to a seem-invalid daughter.This tragedy marked a turning point in Edmund's life.He retired from a very successful business in 17900 and spent much of his wealth on helping the poor and sick of the city.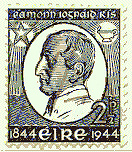 Unhappy at the lack of educational facilities for poor Catholic boys in the city of Waterford , he established a school at Mount Sion in 1802/03, in a converted stable,and quickly opened more schools locally. From this simple beginning the order of the "Irish Christian Brothers" have offered education to thousands of young boys all over the English speaking world.Having taken religious vows along with eight others in 1808, he secured papal recognition in 1820,when Pope Pius V11 approved the new order. Brother Ignatius was elected the first superior general. When he retired in 1838, the brothers had 22 houses in Ireland and England He died in Waterford on the 29th.of August, 1844. The case for his beatification was opened in 1863 and he was Beatified in Rome on October 1996, by Pope John Paul 11. You can read more about this saintly man on another part of this site.
The second stamp was issued on the 6th. September 1994 to commemorate the 150 anniversary of his death.An enlargement of this stamp was presented to the school to mark the departure of the Irish Christian Brothers from Tramore in June 1993. It hangs in a place of prominance in the main hall of the school.
To read a more detailed account of the life and times of Blessed Edmund Rice click here