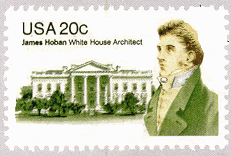 Joint Issues--: The first joint issue between the Irish Post office and a foreign postal union took place with the the United States Postal Services on the 29th. of September 1981, with the joint issue of the James Hoban Commemoration Stamp. He was an Irish born architect, who designed the White House, in Washington D.C., home of the US Presidents. Both stamps featured the same design on which artists from both postal unions worked together. The stamp was issued as a single 18p stamp in Ireland and as an 18c and 20c value in the United States.

James Hoban was born in Desart, near Callan, County Kilkenny, Ireland ,quite near the home of Edmund Rice's family. Having studied architecture in Dublin, he emigrated to the United States and soon established himself as an architect in Philadelphia. In 1792 he moved to the District of Columbia and submitted plans in a competition for the design of the Presidential residence.Hoban's design was successful and from 1793 to 1800 he oversaw the work of construction. During the war of 1812 the building was attacked and burned leaving only the charred shell standing.Restoration work under Hoban's supervision was completed in 1817. James Hoban died in Washington D.C. on December 8th. 1831.

Since it's restoration in 1817 the White House of Hoban's design has been enlarged by the addition of the North and South Porticoes and also the West and East Wings. In 1948 a balcony was built behind the pillars of the South Portico.

Hoban's design for the White House is said to be modelled on the design of Leinster House, Dublin, originally the home of the Duke of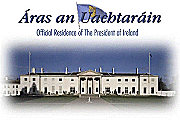 Leinster and now the seat of the Irish Parliament(The Dail).The design on the stamp features the White House as it was in Hoban's time.He also designed Aras an Uachtarain , the home of the Irish President in the Phoenix Park in Dublin, Ireland.