Joint Irish / Mexico Issue--: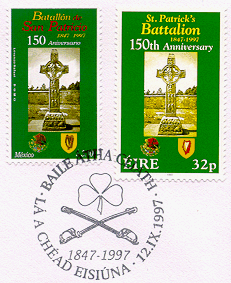 On 12th September 1997, a new 32p stamp marking the 150th. Anniversary of the San Patricio (St. Patrick's Battalion) Mexican Army, was issued simultaneously by the Irish and Mexican Post Offices.The stamp, which was designed by Lorenzo Rafael, was available along with the Mexican stamp 38p ($3.40) on the official first day cover. The first day cover itself features a soldier of the San Patricio and was designed by Glen Thompson. The stamp featured a Celtic High Cross, with the crest of the battalion. We scanned the cover.


The San Patricio followed in a long tradition, dating back to the 16th century, when young men left Ireland and joined in the armies of their adopted countries. In the case of the San Patricio, many of its members were persuaded to join following capture in the Mexican-American War 1845-47. Although it was made up of a number of nationalities the majority were Irish, serving under a green flag bearing the harp, shamrock and the figure of St. Patrick. They fought with distinction at the Battle of Buena Vista and in the defence of the convent of Churubusco in Mexico City before being overwhelmed. Following the battle, fifty members of the battalion were executed, while the surviving members disbanded after the war. A plaque in the town of San Angel, where some of the hangings took place bears the inscription:



"The Irish soldiers of the heroic San Patricio Battalion, martyrs, who gave their lives for the cause of Mexico"