Useful Philatelic Terms

Many young collectors find the many terms confusing to start with so to help you we have included a list of the most common terms as a guide.
Adhesive: A stamp intended to be affixed by means of gum, as distinct from one printed or embossed on postal stationery.
Block: An unseparated grouping of four stamps forming a rectangle or square.
Booklet: stamps are sold by many countries in booklets for convenience. They are also sold from slot machines outside post offices.This way you don't have to go looking for a stamp every time you need one.Sometimes, special souvenir booklet is issued. On the right a recent issue to show " Irish Horse Racing".

Cancellation: a defacing mark on a stamp to prevent its re-use usually gives the place and date of posting.

Coil: rolls of stamps used in vending machines(usually found in cities).

Condition - Factors that can assist in determining the value of a stamp. Factors include colour, plate or die variations, unusual faults, hinging, gum, and markings.

Cover: the collector's name for an envelope used in the post.

Definitives - Regular issues of postage stamps that are normally sold for a longer period of time. Normally printed in large numbers.

Error: a mistake on a stamp, either by the designer or by the printer.

Essay: a suggested design for a stamp.

Face value: the postal value printed on a stamp.

FDC : FIRST DAY COVERs - Envelopes with a new postage stamp and a cancellation showing the date and place where the stamp was first issued. Some covers will have a cachet (design) on the envelope describing an event.

CLICK ON IMAGE FOR A CLOSE UP VIEW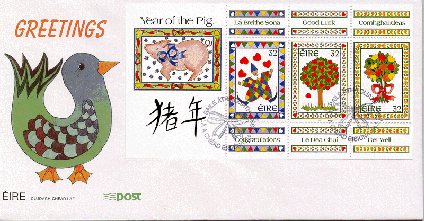 FRANK - A stamp, mark or signature that shows payment of postage on a piece of mail.
Greetings Stamp: stamps specially designed for use on greetings mail i.e. the Love stamps series.
Gutters: a blank space left between two rows of stamps.
Imprint: Inscription of the printer's name on the sheet margin.
JOINT ISSUE - Two or more stamps issued by different countries to commemorate the same event, topic, place or person.
Margin: the border outside the printed design of a stamp or the border Of a sheet of stamps.
MAXIMUM CARD - :A picture postcard with a reproduction of the stamp or related subject from which the stamp was derived.
Miniature sheet or sheetlet: a small sheet containing two or more stamps usually with a decorative border. They are sold intact at post offices.Below is an example of an Irish minature sheet to commerate Irish narrow gauge railways. Click on sheet for a close up view.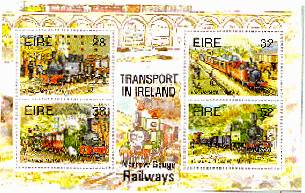 MINT -: A stamp in the same condition as the day that it was printed.
Overprint: Something, other than face value, printed on a stamp subsequent to manufacture for example a Stampa Exhibition Souvenir.
Pane: part of a sheet of stamps, surrounded by a margin; also used to donate a block of stamps from a booklet.
PERFORATIONS -: The lines of small holes or cuts found between rows of stamps which makes it easier to separate them.
PERFORATION GAUGE - A tool used to measure perforations.
PHILATELIST - : An individual who enjoys collecting and/or studying stamps and other postal items.
Postage dues: stamps affixed by postal officials to indicate that unpaid postage or a fine is due for payment on delivery.
POSTMARK - The marks place by postal authorities which may indicate date, rate, route, or place of the mailing. Similar term to Cancellation.
Presentation Pack: a folder enclosing a selection of stamps specially mounted.
Self-Adhesive: A new style peel n' pick stamp.
Se-tenant -: stamps of different denominations, or showing different varieties, joined together in a pair or a larger multiple.
Show cancel -: Special Post Office cancellations designed for and applied at a philatelic show or exhibition station.
SOUVENIR SHEET -: A small sheet of stamps with a special commemorative inscription or decorative border.These are collector items and you are not meant to seperate the stamps from this special souvenir.Keep it safely in your album.Click on image to get a close up view.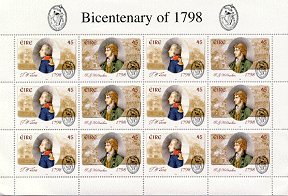 Traffic lights: describes the colour- code panel on the margin of a sheet.
Unused - The condition of a stamp when it does not have any cancellation marks.
USED -: The condition of a stamp when it has been cancelled.
WATERMARK -: A design pressed into stamp paper when it is manufactured. Designs may sometimes be seen by holding the stamp to a strong light.