Newfoundland --: Newfoundland is an island on the East Coast of North America. It is a province of Eastern Canada, together with the coast of Labrador. It became a province of Canada in 1949. It has a land area of 405,720 km2. Newfoundland lies at the mouth of the Gulf of St. Lawrence and is bounded by the Atlantic Ocean (N, E, S).

Newfoundland has a rocky,irregular coast and a generally cool and moist climate. The cod-fishing area of the GRAND BANKS, southeast of the island, is probably the best in the world and cod,lobster, herring, and salmon are caught in the coastal waters.Click on image to view map of province.


Capital City
St. John's is the capital of Newfoundland and Labrador.

Population
The population of Labrador is 30,375.
The population of the Newfoundland and Labrador is 568,474.

Climate
The Island of Newfoundland has a mild sea climate. Winters are usually mild with a normal temperature of 0 degrees Celsius. Summer days range from cool to hot, with a normal temperature of 16 degrees Celsius. Good swimming weather begins at the end of June. The normal annual rainfall is 1050 mm and the normal snowfall is 300 cm. Labrador winters are much colder than those on the island of Newfoundland are. While summers are shorter and generally cooler, extreme high temperatures are not uncommon in Labrador.

Currency
The Canadian dollar is the currency used in Newfoundland and Labrador

Time Zone
Newfoundland is actually 3.5 hours west of Greenwich, which is in England and as a result has its own proper time zone. The Newfoundland Standard Time Act of 1935 enshrined this time zone before Newfoundland joined Canada in 1949. It is 3.5 hours behind Ireland

Newfoundland Coins
From 1834 - 1949 Newfoundland issued her own coinage and bank notes, many of them are now valuable collectors' items. The coin denominations issued were 1 cent, 5 cent, 10 cent, 20 cent, 25 cent, 50 cent, 2 dollar and gold. You can purchase Newfoundland coins from many coin dealers.

Provincial Flag


In this flag, the primary colours of red, gold and blue are placed against a background of white to allow the design to stand clearly. White is representative of snow and ice; blue represents the sea; red represents human efforts; and gold confidence which the people have in themselves and their future. The flag was officially adopted on June 6, 1980. The flag was designed by artist Christopher Pratt.

Newfoundland Dogs
The Newfoundland is a large dog. He has a heavy coat to protect him from the long winters and the icy waters surrounding his native island. His feet are large, strong, and webbed so that he may travel easily over marshes and shores. Although he is a superior water dog, the Newfoundland has been used and still is used in Newfoundland and Labrador as a true working dog, dragging carts, or more often carrying burdens as a packhorse.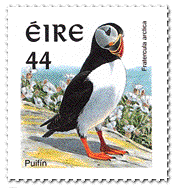 Official Bird of Newfoundland
The Atlantic Puffin is the provincial bird of Newfoundland. Some people call it the Sea Parrot About 95% of all North America's puffins breed in colonies around the Newfoundland and Labrador coasts. The puffin can also be found off the coasts of Ireland. It is a funny little bird.You can read more about the puffin by visiting a project we did on Irish birds by clicking here.