Newfoundland Stamps --: Between 1857 and 1949, Newfoundland issued its own postage stamps. In all, more than 300 issues were distributed and they were, and still are, renown for their beauty, history and high collector value.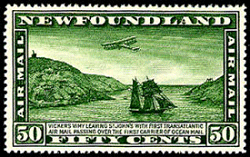 The stamps of Newfoundland are almost unique in the world because nearly every aspect of the early development of the nation of Newfoundland is shown on them.A study of Newfoundland postage stamps is a study of it's history, politics, natural resources and geography. Many parents educated their children using Newfoundland postage stamps as valuable reference material, prior to union with Canada in 1949.
The earliest Newfoundland postage stamps were the Pence issues and they include what is probably the most valuable regular Newfoundland postage stamp of them all, the one shilling orange (12 pence) of 1860. Only 1000 of these stamps were distributed and today a fine example is worth more than $30,000. During the early years of Newfoundland stamp collecting, many forgers were hard at work making illegal copies of Newfoundland postage stamps. Today, many of Newfoundland's most valuable stamps are sold with a certificate of authenticity( to say that it is real) which is backed by the reputation of a proper postage stamp company. However, forged Newfoundland postage stamps are not a problem for most collectors.
The first individuals to appear on a Newfoundland postage stamp were Queen Victoria and her husband Prince Albert in 1865. This stamp is very beautiful and very much in demand by collectors.

In 1897 the first commemorative postage stamps were issued. These postage stamps marked both the 400th anniversary of John Cabot's discovery of Newfoundland in 1497 and the 60th anniversary of Queen Victoria's coronation in 1837. Various themes such as fishing, hunting, logging and mining are depicted on these postage stamps.
In 1919, 12 postage stamps were issued to recognize and remember the service and sacrifice of Newfoundland soldiers and sailors during World War 1. On each postage stamp is inscribed the location of an important action which took place during the war.

Also in 1919, Alcock and Brown made the first non-stop transatlantic airplane flight. Their trip from St. John's, Newfoundland to Ireland was made 8 years before Charles Lindburgh's solo flight from Long Island, New York to Paris, France.

Newfoundland issued its first airmail postage stamps in 1919 and they quickly became popular with stamp collectors. Today, a 1927 DePinedo airmail postage stamp (especially overprinted for the flight) is worth more than $90,000.
On June 23, 1947 the last Newfoundland postage stamp was issued before Newfoundland joined Canada in 1949. Newfoundland postage stamps remain valid for mail posted anywhere in Canada, although they are rarely used for that purpose.