---
Welcome to the great

Quiz
---
To win a mega Sony Playstation answer as many questions as you can below. Remember to be in with a chance of this week's prize, don't forget to read the other pages on this web site, where you will find the answers. Please leave your name, address and email address so that we can contact you if you are lucky enough to win.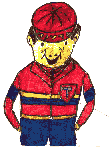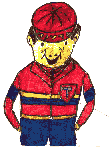 "The great Tayto Quiz",
P.O. Box 9,
Dunlaoghaire,
Co. Dublin.
OR
E-Mail us at tayto@indigo.ie.

---
Q1. Tayto was founded in:
Q2. Tayto was founded by


Mr. Joe Murphy

Mr. John Murphy

Mrs. Joan Murphy


Q3. The first Tayto factory was founded in


Moore Lane

Moore Street

Moore Road


Q4. A new factory was built in 1968. Where was it built?


Colbridge

Coolock

CabinKeely


Q5. Tayto employ in excess of:


250 people

550 people

850 people


Q6. Finish the sentence. Tayto's new slogan is


Tayto are the best crisps

Tayto, the tastier crisps

Tayto, its a national pastime


Q7. Tayto crisps are fried in hot oil at a temperature of


110 degrees

215 degrees

185 degrees


Q8. Which type of potatoes are used to make Tayto crisps?


Kerr Pinks

British Queens

Records


Q9. The Irish snack market is worth about how much per year?


55 million

74 million

94 million

---
Best of luck!
And remember, "There is nothing like a Tayto crisp".
---

Summary of main links:


Tommys' fishing game | Tessys' Cook Book | Timmys' Quiz | Tara's word search
---