Looking for something unique and creative within your garden?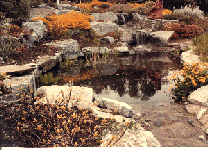 Consider a rock or water garden, cascading waterfalls or natural ponds as an option.
Water features are created using either natural stone or manmade materials.

Rock pool in a watergarden
Rock and Watergarden features include:
Dry rockeries
Waterfalls and cascades
Fountains and pools
Natural scree and moraines
Planting layout as per detailed specification.