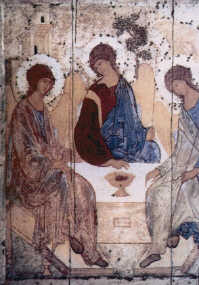 "No one should feel excluded, for whatever
reason, from the table."
Rublev's Icon.




Grace Dieu Manor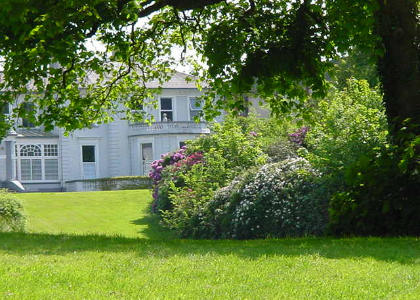 Grace Dieu Manor offers a hospitality that reveres the value and uniqueness of each person. Throughout the year we host and develop programmes that we believe enhance the quality of life in our ever-changing world. From days and evenings, through weekends and longer retreats, we offer a variety of ways for you to take time for your Self - to rest, relax, reflect and notice that all creation is charged with the grandeur of God. For all of us are seekers who yearn to discover meaning and direction for our lives.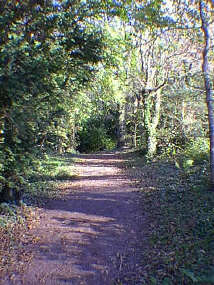 Who should come to Grace Dieu?

For more than 21 years we have opened our doors to a wide variety of visitors, some coming as part of a formal group to take part in one of the many courses and retreats referred to on this website, others simply choosing a quiet time alone in order to ponder upon their life's journey. Whatever the reason by which an individual or group arrives at this place, the purpose is always the same - they are seekers, questing for a deeper understanding of themselves and their life under the guidance of a loving God. Some choose to undergo this journey alone in the quiet privacy Grace Dieu provides, while others may prefer to be accompanied on this quest. For this reason the house is staffed by a team of Spiritual Directors and Counsellors any of whom you are welcome to call upon.

Our Staff
John Bennett msc   Finola Cunnane   
Counselling and Therapy.
Personal and relationship issues can be explored in a safe and confidential atmosphere.
Individual and Group psychotherapy available.
For further information contact: John Bennett msc.
Spiritual Accompaniment/Direction
Members of the house team are available for Spiritual Accompaniment/Direction.
If you would like to explore this further please contact a member of the team.
Supervision
Individual and Group Supervision is available to people working in the following:
Ministry
Pastoral Care

Spiritual Direction
Finding God in your Daily Life.
By focussing on your own experience and on the Word of God,
the Spiritual exercises of St. Ignatius enable you
To grow in sensitivity to God
To notice what is going on in yourself
To develop your own prayer life
To find out how God is leading you
To find God in the everyday.
For further information contact: Mike Serrage msc


Click Here For More About Our Team
Home Contact Us On-Line Bookings
Grace Dieu Manor is the property of and run by the Missionaries of the Sacred Heart, a religious order of
priests and brothers within the Roman Catholic Tradition.